Top 5 Free Bunny Brushes for Photoshop: Add a Little Spring to Your Publishing Projects!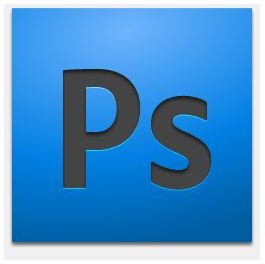 Bunnies have long been used as a symbol of Spring, the mascot of Easter, and a front runner in the "cutest animal" contest. With their floppy ears and big round eyes, it's hard not to love them! Whether you're doing baby shower invitations, Easter greeting cards, or just adding a final cute touch to a project, this article will show you five of the best bunny brushes for Photoshop. Please remember that these brushes are 100% free to use, but don't distribute the brush packs themselves.
Bunny Brushes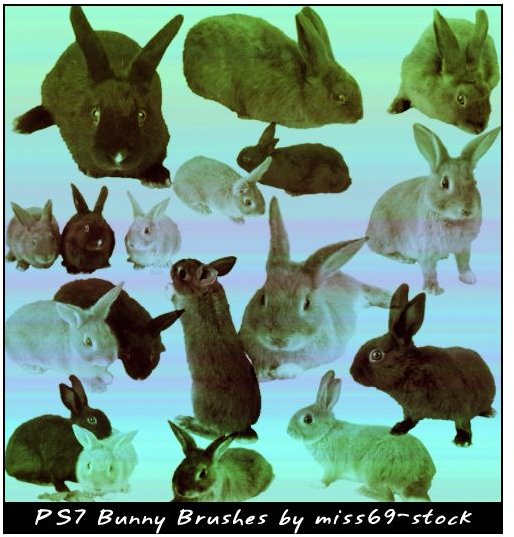 If you're looking for the ultimate in realistic brushes, check out Bunny Brushes by miss69-stock. These brushes were made from high quality pictures of some adorable bunnies in different poses. This pack includes thirteen cute rabbit brushes for Photoshop 7 and up.
In you use, please credit: miss69-stock.deviantart.com
Bunny Love Brushes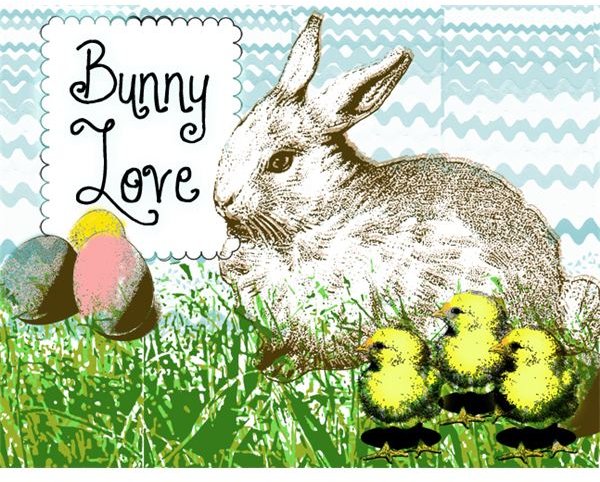 Looking for something a little less realistic? Don't worry, charmedbyjessica over at deviantART has that covered. Bunny Love Brushes includes bunny, chick and egg brushes for Easter and Spring related projects. These are absolutely adorable illustrations that can be used to give a classy storybook feel to whatever you're working on.
Special note: These are not for commercial use, so you may not sell anything you create with them.
If you use, please credit: charmedbyjessica.deviantart.com
Stitched Bunnies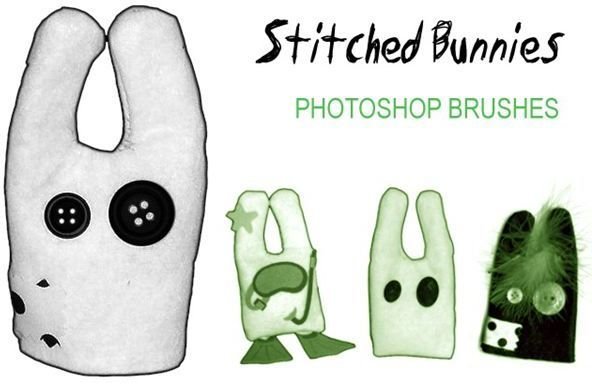 Okay, if you're looking for something a little more twisted but still incredibly adorable, you need to check out Stitched Bunnies by InvisibleSnow. These are nine brushes of real photographs of silly and strange stuffed bunnies. This set is compatible with Adobe Photoshop CS and all versions after that. This would probably have to be my favorite set, by far.
If you use, please credit: InvisibleSnow.deviantart.com
Very Cute Bunny Brush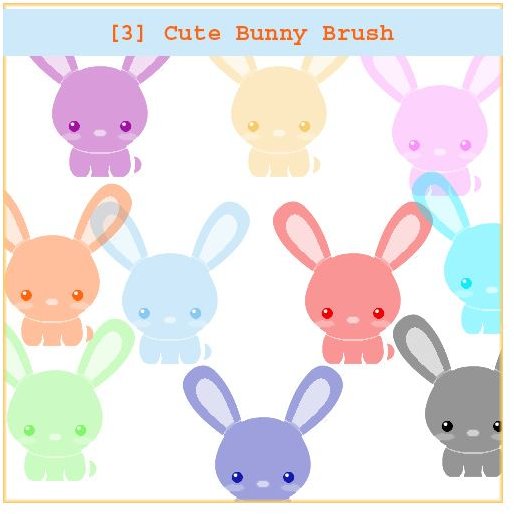 Very Cute Bunny Brush by kiger8kiger is the cutest bunny brush I have to offer up. This set is compatible with Adobe Photoshop 7 and upwards, and contains two cartoony brushes - while they look the same, one of the brushes is more transparent. This just seems to scream "Baby Shower Invitation" to me.
If you use, please credit: kiger8kiger.deviantart.com
Bunny Head Brush
xlilbabydragonx at deviantART has created an absolutely adorable Bunny Head Brush for Adobe Photoshop CS2 and up. This would be great for a child's birthday card or an Easter greeting, or maybe even just a "Thinking of You" card. If you're looking for something cute and cartoony, this is exactly what you need.
If you use this, please credit: xlilbabydragonx.deviantart.com
Image Credits
All images above are property of their respective creators and are used as examples only. A big thanks the artists at deviantART who have created these brushes for public use!