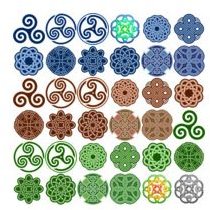 Celtic Glyphs and Icons
The Celtic theme is a popular one both for online designs and print work. There's no need to be Irish, Scottish or Welsh to showcase a love for Celtic glyphs when working on any type of desktop publishing project.
The trick to working within this design theme is in finding high quality Celtic glyphs and icons that will complement your projects needs. Here we explore five of the best offerings online for Celtic glyphs and they are all free.
You can go even further with the Celtic theme by using Celtic fonts. For a sampling of free fonts in this theme, see Four Free Celtic Fonts.
VeryIcon
The VeryIcon site is one where designers can offer their work for free download. One of the themes that they cover is that of Celtic glyphs among the various sets that are available.
In the image to the left is the Celtic Knot Collection created by designer Catherine Prickett. There is the option of downloading the entire collection or only downloading the pieces that you need by style and color. To get this set and view the many others that are offered for free through VeryIcon, click through here: Celtic Knot Icons
Free Vector Gallery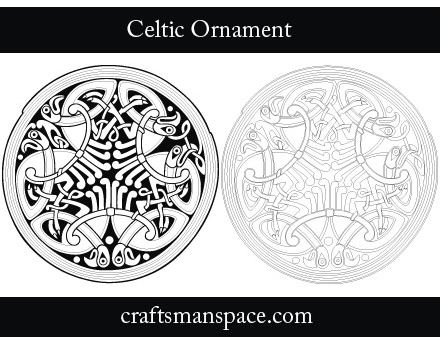 The Free Vector Gallery web site is another one where designers can offer their work for free download. Under the Celtic glyph category that have both free for commercial use and free for personal use sets that are available.
In the image to the left is a preview of the Celtic Ornament set created by designer Anicka for Craftsmanspace.com. This set is free for both commercial and personal use and includes a set of circular glyphs depicting various Celtic themed and knot work patterns. To get started on downloading this free celtic glyph set and view more themed sets, click through here: Celtic Ornament
FontSpace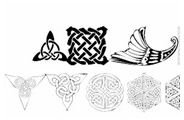 The FontSpace web site is well known within the desktop publishing and graphic design communities. Many designers use this site to offer their work for free as a way to generate interest for full paid glyph collections.
Because of the size of the web site, they are able to offer over ten pages of free Celtic glyph collections. In the image to the left is an example of one of those collections called 101! Celtic DeZingZ font created by designer Nght's Place. You can view the full ten pages of free glyph sets by clicking through here: Celtic Glyphs
Aon Celtic Art & Illumination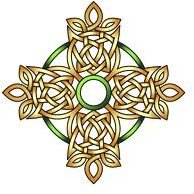 Celtic artist Cari Buziak showcases a lot of her work online through her web site. One of the gifts that she shares is that of over one thousand Celtic glyphs for free with personal use. Each glyph is free for download and can be used for a multitude of design needs.
The free glyphs are broken down into categories at the Aon site which range from clip art through to fonts. In the image to the left is one Cari's Celtic Cross designs. To check out all of her Celtic glyphs, click through here: Aon Freeware Celtic Clip Art
The Ireland Book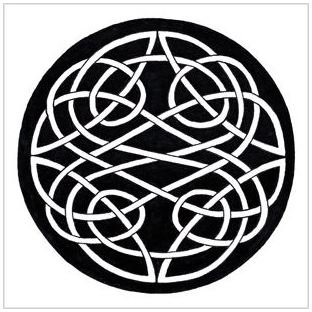 This web site is in the spirit of learning fun things about Ireland by Robert Sullivan. His basis for the site is a regular blog but he offers a selection or free Celtic glyph knot work art that can be used for just about any Celtic themed project you may need it for.
In the image to the left is the free circle knot design in a simple black and white. To view the other knot work images that Robert offers for free, click through here: Ireland Book Clip Art