Printable Color Map of United States: Online Resources For Maps of the U.S. to Print Out at Home, School, or Work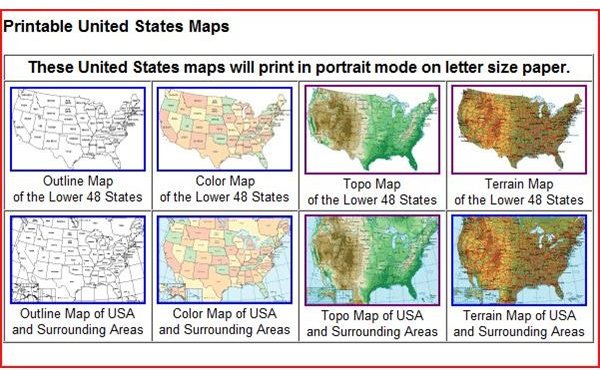 Online Resources for U.S. Maps for Many Purposes
Creating a printable color map of United States is a relatively easy process with the resources gathered here for that purpose. Whether you need one for school, work, or just to appreciate the magnificent contours of our great nation, we've got the means to get it done for you. All you will need is a computer, access to the Internet, and your printer. We have some different sources to get the job done to your liking. Plus, your options will include color maps for various reasons such as state boundaries, terrain features (rivers, mountains, deserts), topo drawings, and indicating national and state recreational areas.
If you're just looking for a printable U.S. color map that fits neatly on one piece of standard printer paper, check out the selection at United-states-map.com (some examples shown to the right). There, you will find a wide variety of styles designed with teachers, students, road-trippers, and anyone else looking for a good reference in mind. Amongst the assortment you'll see maps that reflect history, transportation, natural resources, military installations, and recreational areas (national parks). This is a really good source because if you scroll down the page, there are many links given to other sites that provide quality printable maps such as the USGS, Online Atlas (www.onlineatlas.us), and American Byways (featuring the scenic highways of America).
While we're on the subject of maps, it's worth it to mention all the capabilities and features that Google Maps provides, because you can always print a screenshot in map, satellite, or terrain mode. This Google Maps tutorial for beginners presents a great overview of Google's capabilities.
State Capitals, Postal Abbreviations, Climate References and More
If you're looking for maps geared specifically for educational purposes, your kids or students would benefit from the offerings at Houghton Mifflin Harcourt: Education Place. They have maps that delineate state capitals, state postal abbreviations, geological features, and climates. Just choose the ones you want, and send each to the printer.
If you want a map that is larger than a single piece of printer paper, you can find examples that print individual sections of the country and then you assemble the pieces. For example, there is a printable color map of the United States that measures nearly seven feet across available at https://www.yourchildlearns.com/megamaps.htm. Use it to trace a sprawling cross-country journey, to mark the Oregon Trail, to teach environmental features and habitat, or anything else you'd like.
Just to show you the wide breadth of knowledge and expertise we offer at Bright Hub, perhaps you're interested in maps for a portable GPS device. We review a wide range of navigational devices of this sort, along with all the types of maps you can download onto them, from aerial imagery to Topos. Check out this article about Third Party Free Maps for Garmin GPS to see what I'm talking about.
So there you have a very decent selection of maps you can easily print at home or the office. It's a great idea to foster an appreciation for the geography and features of the land of the free, and the home of the brave. If you find another source that you particularly like, drop us a line in the comment box below. We're all about sharing information here.