15 Free Monogram Fonts for Weddings, Embroidery, Logos, Linens & More

A monogram is a time-honored way to say, "this is mine." They're made by combining two or more letters, usually the initials of a person, persons, or company, in a way such that they are connected. GE's famous logo is a monogram, as is the interlocking "C"s of the Chanel logo. Monogram fonts are also used by couples getting married as a way to demonstrate their interconnectedness: once they were two; now, with the intertwined letters of their monogram, they are one.
Whether you're designing a monogram for a serious company logo or for a wedding or embroidery project, check out these 15 free fonts. Some are classic, some modern, some even a bit grungy. All fonts listed here are free for personal use and available at Dafont unless otherwise specified. If you're interested in using one of these fonts for commercial use, contact the font's designer for licensing information.
Classically Swooshy
These fonts make gorgeous wedding monograms.
Exmouth, by PrimaFont, comes with accented characters as well. It's got a strong italic lean and its graceful characters reflect that.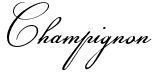 Champignon, by Diogrene, comes in regular (above) and a swash version. Champignon alt swash has deep, expressive swashes on letterforms with ascenders and descenders, such as "b," "p," and "y." Champignon doesn't have any punctuation symbols, so be aware of that if your monogram requires commas, periods, or other punctuation marks.
Modern
These free fonts deliver a more modern feel yet retain the classically swooshy feeling that defines many monograms. Unlike fonts that follow predictable curves and angles, modern monogram fonts are more unpredictable, with a more personality and handwriting-driven feel to them.

Angular and expressive, Dali comes with several punctuation characters but unfortunately not the Euro symbol or accented characters.

Freebooter Script, by Apostrophic Labs, comes with a full set of accented characters and the Euro symbol. With lots of swooshes at the very ends of ascenders and descenders, Freebooter is feminine without being overwhelming, and its capital letters make for a somewhat classic modern monogram.

Gabrielle, by Dieter Steffmann, comes with a full set of accented characters. It's capitals, which would be used in monogramming, are very round and open, which lends them a warm feeling.

Henry Morgan Hand, by Manfred Klein. Includes the Euro currency symbol and limited accented characters.

Miama, by fuex, comes with a full set of accents plus the Euro. Similar in open feel to Gabrielle, Miama is a bit rounder.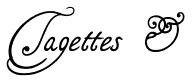 Tagettes, by Pia Frauss, comes with the Euro currency symbol and a complete seet of accented characters. It also comes in an additional alt swash version.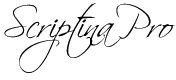 Scriptina Pro, by CheapProFonts, comes both with the Euro currency symbol and a full set of accented characters. The original Scriptina was created by Frederic Nader, and CheapProFonts decided to update it by cleaning up the kerning pairs and outlines, adding alt letters without fewer swashes, and extending the character set dramatically.
Embroidery and Fonts Designed to be Monograms
These fonts are completely designed to be used as individual letters or monograms. They're virtually unreadable when used to form entire words, but that's okay; all we need are the initial capital letters.

Kingthings Embroidery, by Kingthings, comes with the Euro currency symbol. The font's capital letters look like detailed embroidery, as above, while its lower case letters are have a simpler embroidery feel.

Elite Monogram, by Alternika, is a digital conversion of an early 20th century signage font. It's just the capital letters A–Z and the numbers 0–9 but that's all you need, isn't it?

Monogram KK, by koeiekat, is pretty much the definition of a monogram font. Haven't you seen this or a version of this on every monogrammed towel you've run across in your life? Yeah, me too. However, the classics are that way for a reason—they have staying power—and that's why Monogram KK is here.

Multu Ornamental, by Gazoz, comes with accented characters.
Grunge Monogram
Some call it grunge; I call it grittily authentic. Porcelain and Selfish, both fonts by the same company (Misprinted Type), feel like they are written with a scratchy, slightly leaky fountain pen. You'd expect to see this lettering in the handwritten title of, say, an Edgar Allen Poe manuscript. In fact, let's see how that would look in Selfish font:

Not bad!

Porcelain includes some accented characters but no Euro. You can't tell from the samples here, but Selfish is a much blacker face than Porcelain, in spite of their similarities. Like Porcelain, it comes with some accented characters and punctuation, but no Euro.
Consider trying one of these monogram fonts in your next project, especially if it's a company projecting a steady, reliable image, or if it's, say, wedding invitations. Monograms often get overlooked in modern design, so you may be setting a trend!
This post is part of the series: Free Display Fonts
Need an unusual or artistic font? The Free Display Fonts series covers dozens of fonts that look like monograms, handwriting, bubble fonts, and more. When you need a font that looks like a pirate wrote it or like a tattoo, this is the place to look.