Top 10 Free Graffiti Typefaces: Great for Urban & Grunge DTP Projects

Aerosol
Aerosol is a hollow-styled typeface with a bubble graffiti look. This typeface is definitely one of the more legible and cleaner typefaces belonging to this guide making it ideal for designs that only need to add an extra bit of the street to be perfect.
Click any image for a larger view.
Akareb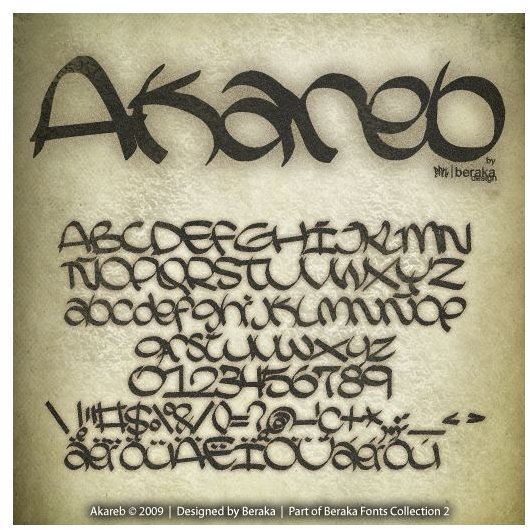 Akareb is a unique graffiti typeface that is a bit cleaner and offers both capital and lowercase variations. Akareb features urban elements without becoming too stylized or unoriginal, making it transferable to a wide variety of designs.
When using this graffiti typeface please credit: José Lobos or beraka.deviantart.com
Amsterdam Graffiti

Amsterdam Graffiti is another traditionally inspired typeface that isn't so overly stylized that it is difficult to read. This typeface is probably a good fit in more simplistic designs such as the font used for blog post titles or in simple site navigation headers.
Bored Schoolboy

The Bored Schoolboy typeface is incredibly true to its nature. This graffiti typeface is heavily inspired by the sloppier graffiti you might have seen somewhere on the back of your high school's gym (depending on where you grew up). Certainly not the cleanest of the bunch, but those looking for a grungy, hand-drawn style of graffiti might consider using the Bored Schoolboy typeface.
Brooklyn Kid

Brooklyn Kid is a typeface that is clearly inspired by traditional graffiti works. While it is not as over the top as some of the more stylized graffiti works, it has a very organic feel to it. Definitely a typeface to check out if you're looking to add a very natural look to your urban graphics.
Detroit Ghetto

The Detroit Ghetto graffiti typeface plays off more natural looks rather than heavily stylized graffiti art. Detroit Ghetto is definitely the most playful out of the fonts featured in this article as evidenced by the Os. A definite choice for projects where it's okay to add some fun without sacrificing the urban vibe.
Dope Jam

Dope Jam is a simpler typeface which makes it transferable to pieces that require legibility. Dope Jam offers a style that isn't completely orthodox but is definitely different which sets it apart from the other typefaces. Dope Jam is likely ideal for business cards for a DJ business or club advertisement fliers.
HipHop-Demi

HipHop-Demi has a clear look to it which also makes it a versatile typeface. HipHop-Demi is a good choice for those looking for a professional but still graffiti inspired look for a professional music blog's header graphic.
PhillySans

PhillySans is a thicker graffiti typeface that isn't traditional graffiti but has definite inspirations from graffiti works. Because of the boldness of the font, it is useful in logo design for hats and apparel where the name needs to be clear without losing its street cred.
Urban Riot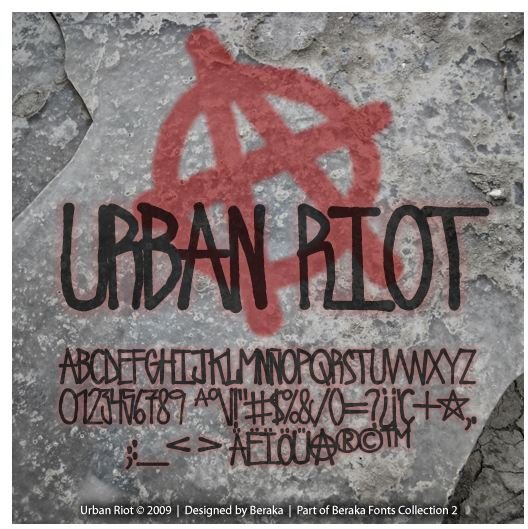 Urban Riot is a typeface that is heavily inspired by punk and the anarchist graffiti style. Urban Riot has a great blend of both street and grunge to it while remaining easy to read. This graffiti typeface would likely work well with those of the rocker persuasion using the font for CD cover graphics, band logos, and a multitude of other projects.
When using this typeface please credit: José Lobos or beraka.deviantart.com
Image Credits
All images are for promotional use only and belong to the typeface creators. Thanks to EagleFonts.com, Fontslog.com, and José Lobos for providing your work for public use.