18 Free Handwriting Fonts for Scrapbooking, Invitations, Flyers, Brochures, Logos, & More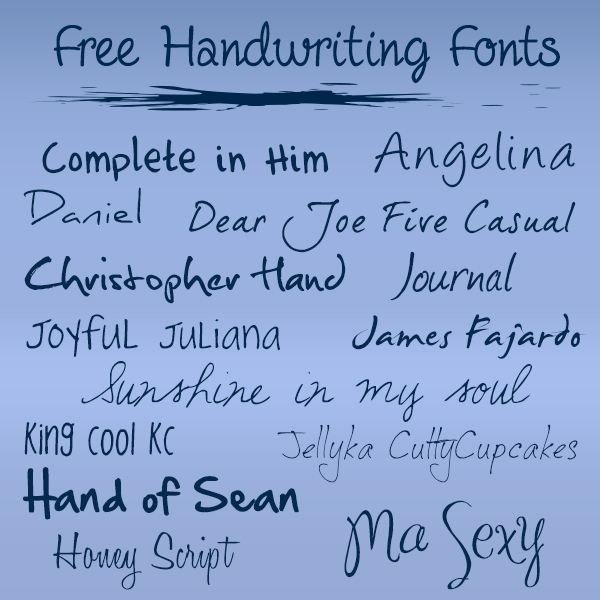 The Personal Touch
Handwriting fonts are a subset of script fonts: they're still script-like, but they are often less formal than the average script face. They're also often based on real people's handwriting, meaning that a genuine personality shines through. There are lots of free handwriting fonts available, but quality free fonts are difficult to find. I've done the work for you, though! Here are 18 of them for you. Some of these fonts look like scribbles in a high school notebook; others are clean, angular and hip; some look like picture-perfect penmanship; some are penmanship class dropouts.
All of these fonts are free for personal use. Inquire with the font's designer about commercial use.
All of these fonts can be downloaded at Dafont.
High School Love Affair
All four of these fonts had one of those annoyingly cute little hearts at the end of their previews, but I spitefully removed the heart from Joyful Juliana.
The hearts may be what made these handwriting fonts seem like something doodled in a notebook during a dull history class. Complete in Him has slightly backward-tilting strokes, making it feel even more private and personal.

King Cool KC has a more boyish look, and an intriguing use of no ascenders or descenders.

Journal really does make one think of writing in a diary.
Angular and Clean
When you want some classy handwriting, try one of these five fonts. Balanced letterforms and lots of angularity give them energy and vibrancy.

Hand of Sean simply had to be included here. Just look at that smiley face dingbat. It's worth it for that alone. Joking aside, the thick, confident strokes of this font give it a strong, but friendly, feel.




Angelinca, Christopher Hand, Danel, and Dear Joe Five Casual follow in the same mold: brisk and energetic, great for family outing-themed scrapbook pages.
Just Barely Handwriting
These handwriting fonts are SO almost not handwriting, but they're too adorable not to include here.

Fineliner Script makes one think of writing with a Sharpie, and its rounded feel is inviting.

I'm pretty sure that Honey Wheeler, from the Trixie Belden girls' mystery series, had this exact handwriting. It's swooshy, curvy, and clean, and just the tiniest bit feminine.
Penmanship Class
Never Let Go and Sunshine In My Soul are the stars of penmanship class, with their cursive-perfect capital "I"s, loops in the "o"s, and more. Somehow the perfect penmanship makes these fonts feel sensitive and touching, like someone very gentle has written them.


Failed Penmanship Class
"Failed penmanship class" is a little bit exaggerated for these fonts, but we mean "failed" in the sense that these particular fonts represent handwriting that's evolved beyond standard penmanship. Usually when you learn how to write in cursive (are children even taught cursive anymore?), you write very close to the letter norms, like above, for quite a few years. Then, usually in junior high or teen years, your handwriting becomes more personalized, less formal, with little touches that mark it as yours and yours alone.
That's what James Fajardo, Jellyka CuttyCupcakes, and Jellyka – Estrya's Handwriting represent: Very individual, very grown-up or nearly-grown-up handwriting.



Better Than Handwriting

Pappo's Blues Band was developed to expand upon the logotype used on the cover of a popular album by Argentine musician Norberto Napolitano. See the swoosh under the word "Pappo's"? There's a swoosh like that under nearly every capital letter. The overall impression is edgy and intelligent.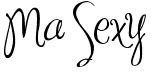 Ma Sexy by Margarete Antonio is another mature, swooshy-looking handwriting font. Hand-drawn but probably not taken from real handwriting, it's full of loops and curves, and its varying line-heights make it jaunty and vibrant.
In Conclusion
Handwriting fonts are a unique way to jazz up and add personality to scrapbooking, projects and more. I've personally used them in everything from party invitations to a high end lamp catalog—at the client's request!— to a frou-frou wedding guide. That's with a commercial license, of course. Remember you can use all of these fonts for personal projects completely free of charge.
Use fonts like this sparingly, as accent text, in short headlines for instance. Or as initial caps in a pull quote. Handwriting fonts can be difficult to read when used in large blocks of text. Keep it simple and you'll have a winning design that showcases the fonts rather than bop the reader over the head with them. Whatever you decide to use them for, these free handwriting fonts are high quality and hand-picked to make your font decision easier.
Image credit: all screenshots ©Amy Carson.
This post is part of the series: Free Display Fonts
Need an unusual or artistic font? The Free Display Fonts series covers dozens of fonts that look like monograms, handwriting, bubble fonts, and more. When you need a font that looks like a pirate wrote it or like a tattoo, this is the place to look.
Free Fonts for Monogram Designs: 15 Great Choices!