Fairytale Wedding Invitation Wording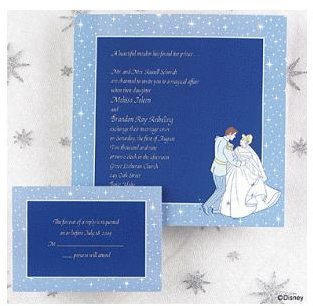 What is a Fairytale Wedding?
Themed weddings are a popular choice for many couples that are heading down the aisle. Today's weddings have gone beyond the traditional to include themes such as video games, books, movies, time periods, holidays and just plain fantasy. There are even basic themes that center on stripes and or polka dots.
One of the more popular themes is that of a fairytale wedding. This theme focuses on the bride being in the role of a fairytale princess who has met and will be marrying her prince charming. Ideals for this theme can be centered on old-fashioned fairy tales through to the modern Disney treatment of fairy tales. In fact, the Disney group has created their own fairytale wedding packages that include designer gowns based on popular princesses.
Invitation Wording
The wording that is used for wedding invitations is normally a formal set. Normally, the wording sets would follow a very polite form and request for a guest's presence that is followed up with an RSVP request. When working on invitations for themed weddings there is more wiggle room to be had based on what the theme will be. For example, in a western themed wedding one could include the wording of "howdy" or "rustle."
When creating fairytale wedding invitation wording, one can use words such as "prince," "princess" and "happily ever after." Here we are going to give some examples of what wording has been used for a fairytale themed wedding. On the bulleted left-hand side there will be the more formal word that is used, which will then be followed by wording alternatives based on a fairytale theme.
Bride - Princess, Fairy, Sprite and Lady
Groom - Prince, Prince Charming, Knight and Lord
Location - Castle, Carriage, Court and Kingdom
Themed Wording - Fairytale Romance, Happy Ever After, Fairytale, Happy Ending, Storybook Romance, King, Queen, Magic Wand, Fairy Godmother, Fairies in Waiting, Best Knight, Best Lord, Fairy of Honor, Lady in Waiting
In the image to the left is an excellent example of what fairytale wedding invitation wording can come out looking like. Based on the very popular fairytale theme of Cinderella, the top of the invitation states that "A beautiful maiden has found her prince…" and that the parents of the bride "are charmed to invite you to a magical affair."
One option when it comes to having fairytale wedding invitations is in making them yourself. In this economy DIY projects are often the way to go and since modern weddings can end up becoming very expensive, making your own invitations can bring down the price. An added bonus to making invitations yourself is in the ability to control the wording that is used in them. For help with creating wedding invitations on your own, see Do-It-Yourself: Make Your Own Wedding Invitations. For different font choices, check out Free Wedding Text Fonts and see if there is a fairytale themed style to fit your invitations.
*Cinderella Wedding Invitation "Under the Stars" is provided by and ©Disney