Finding the Best Free Custom Photoshop Shapes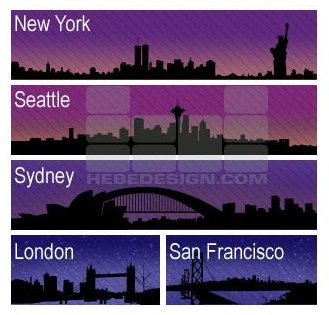 Photoshop Shapes: Why Should You Get Them?
Sometimes when you're working on a project, you need a simple shape, not unlike a silhouette or stencil, to achieve that perfect effect. Photoshop brushes are always an option, but they don't always scale correctly. This means that you'll probably need something vector-based to work with. You could create a shape in Photoshop using the pen tool. But that take's time and a bit of skill. Let's face it. We don't all have the time or skill required to create our own Photoshop shapes. Fortunately, there are a lot of creative people out there who have posted their works free of charge to those of us who want to add a little something extra to whatever we're working on.
Finding Custom Photoshop Shapes
Finding great Photoshop shapes is surprisingly easy. My website of choice is deviantART.com, which is a large online community of artists from all realms. The people who provide Photoshop shapes on deviantART are often active members of the community who enjoy offering up their work for public use. The place to find deviantART shapes on the website is: Browse > Resources & Stock Images > Application Resources > Photoshop Custom Shapes, or alternatively, you can just click right here. You will need an account to download the shapes, but membership is free.
Alternatively, here are some other great places to download Photoshop shapes:
Adobe's Community-Run Shapes Board
Remember: If you use anyone's custom shapes for a public project, it's a great idea to credit them somewhere. Also, avoid distributing any of these packs (free or otherwise) as this is copyright infringement.
Skyline Collection
If you've ever visited a city and wanted to recapture the experience with a scrapbook entry or custom-made t-shirts, this is the shape pack for you! Skyline Collection by hebedesign allows you to explore the skylines of big cities, including New York, Seattle, Sydney, London, and San Fransisco. This pack is absolutely fantastic for those of you looking to add a little big-city style to all of your projects.
Compatible with: Photoshop CS and up
Credit: hebedesign.deviantart.com
Kiddy Stuffs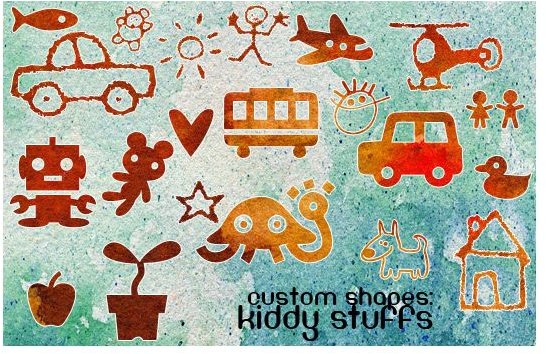 Sometimes it's hard to find shape packs that meet your specific needs. For instance, you've got a kid's birthday party to make invitations for, but you can't find anything you like! Now you can rest easy, because Kiddy Stuffs by hikaridrops is an amazing pack of 72 shapes with kids in mind. Great for classroom projects, birthday invitations, baby announcements, thank you cards, and so much more, these shapes are great for all your kid-themed needs.
Compatible with: Photoshop CS and Up
Credit: hikaridrops.deviantart.com
More Custom Shapes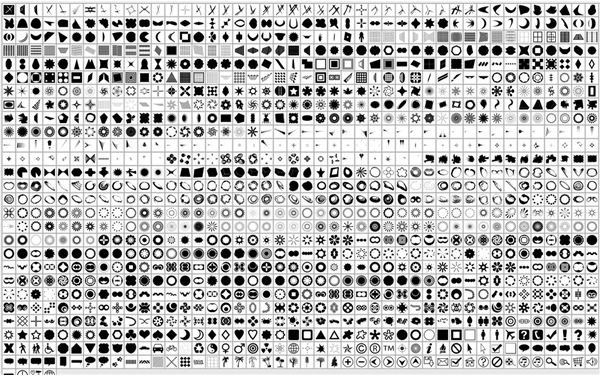 If you're lacking in custom shapes, you might want to check out More Custom Shapes by naderbellal on deviantART. He's gone ahead and created an absolutely gigantic pack of shapes for you to use. Some of these shapes are extremely simplistic, such as cubes and outlines of basic shapes. Some are more complex, wild shapes. All are fairly abstract, so your ability to use them is only limited by your imagination.
Credit: naderbellal.deviantart.com
Photoshop Paisley Shapes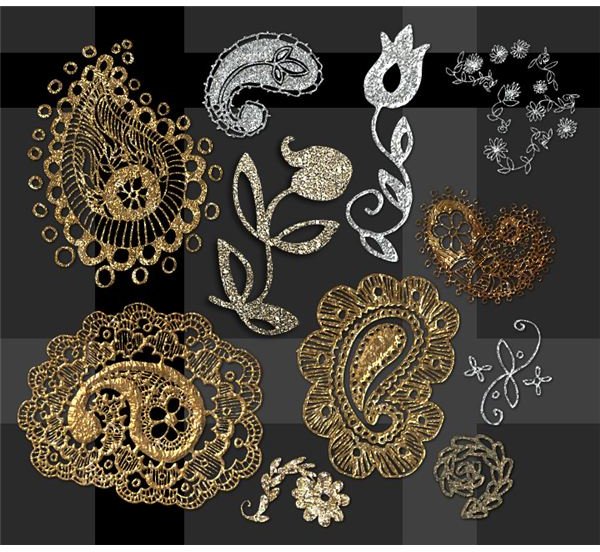 Photoshop Paisley Shapes by beanslayer is absolutely adorable, and classy to boot. This pack comes with several different paisley shapes to add to your projects! Imagine how cute this would look on a little girl's birthday party invitation, or on a bridal shower thank you card. This is personally one of my favorite custom shape packs, as it is incredibly detailed and very well designed.
Compatible with: Photoshop 7.0 and up
Credit: beanslayer.deviantart.com
Donkolondoy's Free Custom Shapes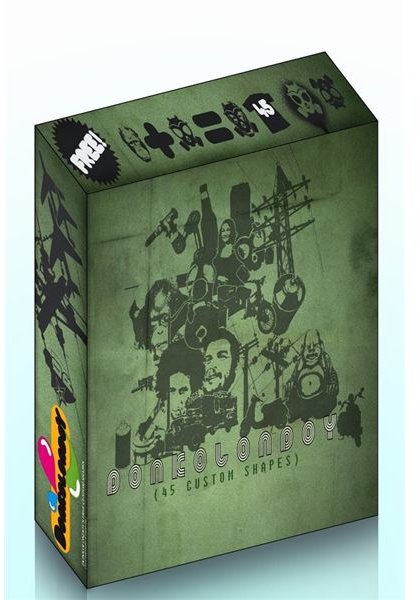 Donkolondoy has come up with 45 custom shapes for you to download! These shapes range from simple to complex, and span all sorts of subjects. A great base pack to build up your shapes - after all, you never know what you might need next.
Compatible with: Photoshop CS2 and up
Credit: donkolondoy.deviantart.com
Image Credits
All images above are by the author of the custom Photoshop shape packs, and are used for demonstration purposes only. A big thank you to all the artists who have created and freely distributed such great packs to the general public!