Your Renaissance Wedding Invitation: Wording, Style, and Colors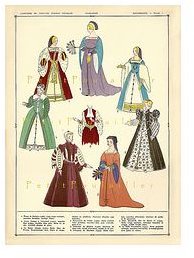 Planning a Renaissance Wedding?
True Renaissance themes copy the lusty yet romantic costumes and customs of the years between the fourteenth and sixteenth centuries, especially the reigns of England's King Henry VIII and his daughter, Queen Elizabeth I.
But there were also Renaissance periods in other European countries. The Italian Renaissance began in the 1300s, and it influenced the Germanic Renaissance during the 1500s through the 1600s. There were also French and Celtic Renaissance periods. Throughout Northern Europe, the Renaissance meant the end of the Dark Ages. People became fascinated by literature, architecture, and science.
What's the best way to enhance your wedding invitations with authentic Renaissance wedding invitation wording? You want to evoke the feeling of that era with the elegant and eloquent language of Renaissance times.
Creating your own wedding invitations will save you money over those done professionally or bought online. You can buy parchments in your local office supply or office store. But how do you actually make your invitations on your computer?

Begin with plain, heavy parchment papers. Baroque or floral border trimming also works. Medieval colors were generally rich and robust; think of the forest greens and the falun reds in the works of Michelangelo and Leonardo da Vinci. Paint dyes came from the natural hues of plant materials; look at a Hieronymus Bosch masterpiece for samples of the blues, browns, or pinks that will make great paper or ink colors.
Next comes the computer part. Don't be intimidated by the term "desktop publishing." It simply means using whatever computer software program that's available to create graphics on paper.
If you have Microsoft Word, open Word. Click on File and from the list of choices select New. In older versions of Word, a window will open that shows you your template choices. In newer versions, a sidebar will pop open on the right-hand side of your screen; look for Templates and then choose On My Computer. Look for a greeting card template, and use that if one is available.
If it's not available, just open a blank page on Word. Click on File and from the list of choices select Page Setup. A box will pop open with tabs for Margins, Paper, and Layout. Go to the Margins tab. Change the Top margin to 6.5 inches. That's necessary because your paper will be 11 inches long, you will be folding your invitation halfway down that page at 5.5 inches. The extra inch guarantees that your wording will be spaced away from the top fold of the card you are creating.
You can also use the template for the brochure that folds into thirds. If you are unable to find matching #10 parchment envelopes, use a heavy, creamy paper. You can even put colorful paper inserts into the envelopes and glue them to the flaps before you add your invitations and response cards.
If money is no object, print the invitation on the full sheet of parchment paper, roll it up, tie it with cotton lace, and mail it in a tube!
Microsoft Publisher is another popular desktop application. Just open it, choose New, and you will find a template called Greeting Card. Adobe Photoshop also offers easy help.
Now for the Wording Part:
Once you determine which style you're using, you can choose a special font for your wording. Look for a True-Type font on your computer so that it prints the way it looks on the screen. The most popular fonts for Renaissance invitations include:
Old English
Edwardian script
French script
Mistral
Diplomat
Gothic
American uncial
Calligraphy
You can also download your own wedding font. However, if you're emailing your invitation to someone else for printing, be certain that they also have that font on their computer.
You can use phrases such as:
An it please you
Lady [Mary Smith] and Sir [John Brown] beg the honour of thy presence
Join us for the Solemnization of Matrimony
Be with us for merriment and feasting following the Ceremony
To come up with your own Renaissance wedding invitation wording, look over the sonnets of Shakespeare to get a sense of style. Many people believe that Sonnet 18 is the most romantic. Another great poet of the time was Christopher Marlowe. It was he who wrote, "Above our life, we love a steadfast friend."
No matter how you say it, be certain to include all pertinent information: Who is announcing the marriage; the names of the bride and groom; the day, date, and time of the wedding; and the location. You'll also want to include whether—and whither!—there are "feasting and merriment" to follow!
Additional Resources
Microsoft's Help for Adding New Fonts to Office