Design Your Own Dr. Seuss Thank You Cards: Free Tips & Resources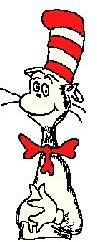 Say Thanks With Dr. Seuss
Whether your favorite Dr. Seuss character is Horton, the Cat in the Hat or the famous Grinch who stole Christmas, what better way to show your appreciation to that special coach, teacher or fellow student than with a Dr. Seuss thank you card?
Dr. Seuss, whose given name was Theodor Geisel, created over forty children's books with characters that have become not only popular among youngsters, but people of all age groups.
The Pulitzer Prize winning author, born in Springfield Massachusetts, became famous for his twist on words, unique characters, some of which have spawned trivia books! Because Dr. Seuss' characters are well known by site, they make a perfect thank you offering whether you make your own cards or buy Dr. Seuss thank you cards.
Design Your Own Dr. Seuss Cards
Many websites on the Internet offer free Dr. Seuss clip art to aid you in designing your own unique thank you cards. One such website, Clip Art for Free offers both color and black and white Dr. Seuss graphics, which can be saved and inserted into your thank you cards.
Design your own Dr. Seuss thank you cards through any word processing or desktop publishing software program and utilize good card stock with matching envelopes. Offer thanks to that teacher or coach who made a difference by incorporating more than one Dr. Seuss character into your appreciation card. A variety of card stock can be available at most stationery stores as well as craft and big box chains stores.
Another website, Lucy Learns, offers even more Dr. Seuss free clip art. If it's a Truffle Tree, Sad Sneech or you want to add a little Green Eggs and Ham to your Dr. Seuss thank you card, you're sure to find it here!
Buy Dr. Seuss Thank You Cards
If designing thank you cards isn't your thing, you can also find places to purchase Dr. Seuss thank you cards. Some of the websites who have them include:
Buy Costumes - Here you can find not only thank you cards from Cat in the Hat but also cool Dr Seuss stickers to dress up your envelopes.
Seuss Land - Explore the world of Seuss land and find great Dr Seuss thank you cards. Shop by character or occasion.
Birthday Direct - If you need a thank you card for the baby gift you received, Birthday Direct offers Horton Hears a Who Dr. Seuss thank you cards.
Tips for Buying Dr. Seuss Cards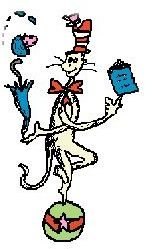 Buying anything online requires a little research and investigation including:
Secure Server – Make sure the website offers a secure shopping cart at checkout to protect your personal credit card information. You can tell if it has a secure server if HTTPS appears in the URL.
Return Policy – Inquire about the company's return policy in the event your order is damaged in any way.
Privacy Policy – Some companies will sell your email to other companies. Read the website's privacy policy to ensure they won't pass your email along.
Whether you make your own Dr. Seuss thank you cards or browse one of the websites here to purchase pre-made thank you cards, you can be sure that either choice will bring a smile to the recipient.