Alphabet in Different Fonts - 26 Free Fonts from A to Z

A
A - is for Anonymous Clippings, a free font that makes achieving the alphabet in different fonts much easier than the method used in this article.
B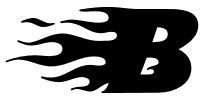 B - is for Blazed, a fire themed font that is completely free for download. It includes capital and lowercase letters, numbers, and symbols.
C

C - is for College, a place to get drunk a block letter, athletic themed font, reminiscent to the College sweater that you see John Belushi wearing in Animal House.
D

D - is for Daniel, the name of the guy who created this handwriting font.
E

E - is for Eight Track, a very awesome font, available in 4 variations.
F

F - is for FFF Tusj, a font with a weird name. Apparently, it's a handwritten version of the popular font Georgia.
G

G - is for Green Pilloww, the choice head rest for the environmentalist a very cool font by Billy Argel that he designed to educated young people about conservation and restoration projects.
H

H - is for Harabara, a free headline font that would work great for logo typography. It reminds me of the Harrah's Casino logo.
I

I - is for Ice Age, the thing that killed the dinosaurs. Also a cool font, reminiscent to carved ice blocks.
J

J - is for JF Rock, a stone age looking font. The "O" is reminiscent of the first wheel ever invented.
K

K - is for Kingthings Bloone, a font with an inflated ego, calling itself a king and what not a very awesome, balloon looking font.
L

L - is for Laundromat 1967. The dryers only cost a nickle.
M

M - is for Masterplan, another cool font by Billy Argel.
N

N - is for Nosegrind, a cool skateboard trick. Also a very cool font from dafont.com.
O

O - is for nothing. But here is the stone age wheel that was mentioned earlier.
P

P - is for Pulse. A shocking font by Eric Mynahan. Reminiscent to a pulse rate monitor that they use in hospitals.
Q

Q - is for Queen of Hearts. What a lovely font.
R

R - is for Radikal, the punch line of one of the Ninja Turtles. Also a strange font from UrbanFonts.com
S

S - is for Sanka, a cool, unique font available for free download.
T

T - is for Taco Box, a mexican food based font.
U

U - is for Unconform, another free font from UrbanFonts.com
V

V - is for Vendetta Vampire, a free dracula like font.
W
W - is for Wasabi, a Japanese cuisine.
X

X - is for Xacto Blade, a very sharp looking font.
Y

Y - is for Yellow Submarine, a hit song made famous by The Beatles.
Z

Z - is for Zebra Flames, a minimalistic handwritten font.
There you have it, the alphabet in different fonts. Click on the links for the according font name to download. Every font on this list is free. Most of the links in this list come from dafont.com and urbanfont.com, who have handily kept the fonts on their websites alphabetized.