How to Find Free Horror Fonts to Use for All of Your Scary Halloween Projects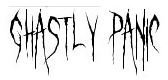 Ghastly Panic
With Ghastly Panic, you get the sense that the writer really was in a panic: the scratchy characters convey a feeling of horror. The typeface can be useful for a variety of projects, such as an invitation for a Halloween party, although it's probably best to use this font more as an accent for your project. It can be hard to read important information, like dates and times, set in this typeface. Bringing in a second font for that information may be a good idea.
Ghastly Panic
Necropsy

Necropsy
You can just imagine Necropsy's letters dripping some gross, straight out of a horror film. These characters seem to ooze with something more than a little scary. This typeface can be a good fit for a variety of projects: while it does not offer a full character set, it does include what you would need to set most text. The font has both the full set of upper and lowercase letters, as well as numerals. It also has several symbols, including punctuation marks, and the most common accented letters.
Gypsy Curse

Gypsy Curse
Just using Gypsy Curse may be enough to get you a visit from a gypsy yourself. The shaky style of this font is enough to send shivers up your spine. It is easier to read if you stick to the capital letters, although the font does include lower case letters as well. The typeface is best suited to headlines and highlighting short pieces of text. It does offer a full set of numbers as well as most punctuation marks, although no accented letters.
Nosferotica

Nosferotica
Offering a hint of vampire style, even the letters in Nosferotica look ready to take a bite out of you. Each letter has fangs, with a thin style that is easy to read. The typeface offers primarily upper case letters, although it does include very similar lower case letters, with a few subtle differences. However, because this font does not include numbers, symbols or accented letters, it is most useful for headlines and accent text.
More Horror Fonts
If you don't see quite the right font here, there are more free horror fonts available through font directories like Dafont. Dafont actually has more than a hundred different fonts perfect for giving readers a fright.