Four St. Patrick's Day Premium Designed Fonts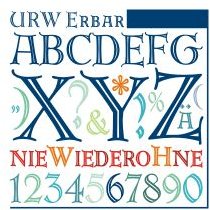 There are many online resources for free fonts geared towards a specific holiday. And though free fonts are always great, if you have a little cash in your budget, there is the option of upgrading to some premium designed fonts.
Here, we take a look at four premium resources for St. Patrick's Day fonts with full usage rights.
Erbar - For Engraved Appeal
A fun, and currently economical, choice for St. Patrick's Day is that of the Erbar font.
Created from a Hastings font base and made to have that historical engraved appearance, this font looks great on everything from holiday cards to Celtic themed invitations, newsletters and business cards.
In addition, it is currently available (as of 3/1/2012) at a great price of just $5.00.
This is a full-use font using the Latin-1 Character Set and the TrueType format.
You can download the full font set of Erbar here: Erbar Font.
Colmcille™ - A Go-To Choice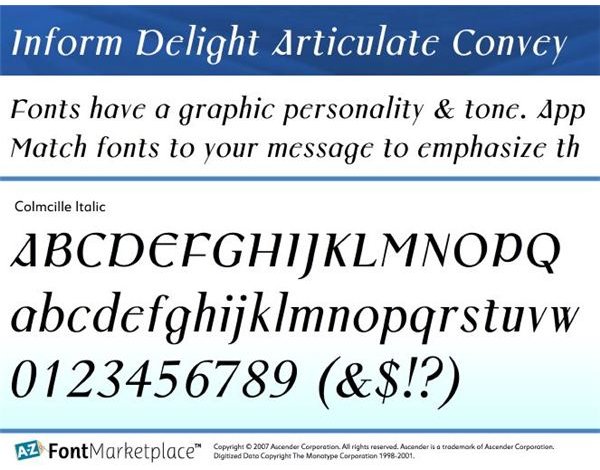 A very popular font choice for St. Patrick's Day is the Colmcille™ font. This font was designed by Col. O'Lochlainn during the 1930's and has widely been used the world over as the go-to font for St. Patrick's Day desktop and standard publishing. Character set is Lantin-1 and Colmcille™ is a TrueType format.
You can download and get the full use set of this font here: Colmcille™ Font.
Prices vary from $25.99 to $35.00 depending on your needs and the package you purchase.
Eirinn Gaelic™ - Authentic Irish Feel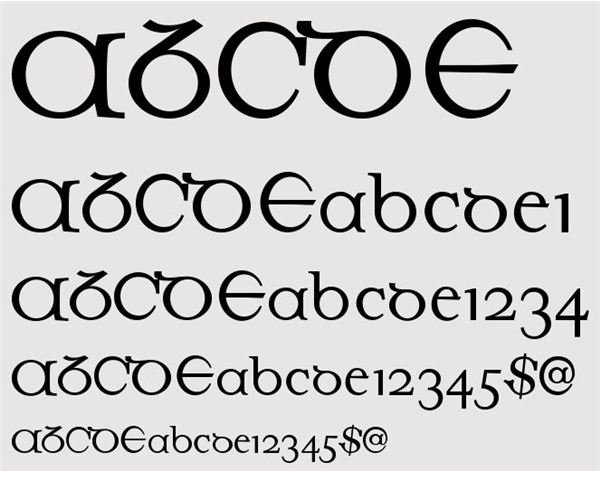 Designed by Norbert Reiners in 1994, the Eirinn Gaelic™ font has a standard Irish road sign feel to it, making it a great choice for projects where a little authenticity will go a long way.
The font family is all in lower case with a calligraphy type flourish to the text.
The Eirinn Gaelic™ font pack retails for $26.00 for either Windows or Mac format.
You can download this font here: Eirinn Gaelic™.
Hastings - Decorative & Formal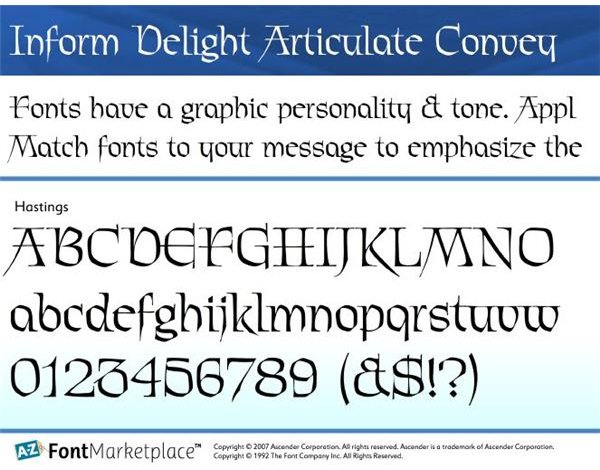 The Hastings font is a highly decorative and formal style font that you will find yourself using for much more than St. Patrick's Day. Though $20 may seem high for a font you will only use at St. Patrick's Day, you will find this striking font can be used for many holidays and other formal occasions.
Created to give a historical feel to any publication project, it was created by The Font Company.
This font also uses the Latin- 1 Character Set with the TrueType format.
You can download the full-use set here: Hastings Font.
More Font Suggestions
Are premium fonts not in the budget this year? Then you will want to check out these articles for free fonts that are also perfect for celebrating St. Patrick's Day.
Four Free Celtic Fonts - For St. Patrick's Day & Year-Round Use
Four Free and Fun St. Patrick's Day Fonts
References