Creating Your Own Font for Free--With FontStruct!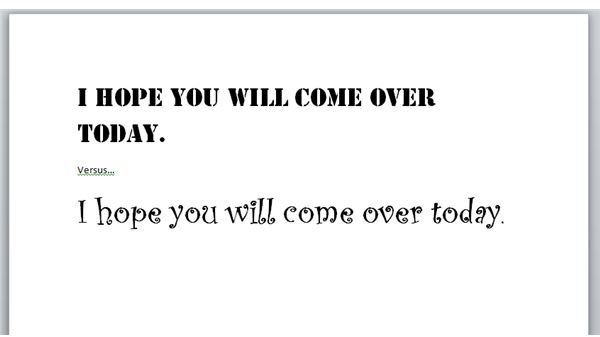 I Love Fonts
If you've read any of my desktop publishing articles, you'll know that I love, love, love everything about the process—the paper, the
layout possibilities, and probably most of all the fonts. Using just the right font means you are putting an artistic emphasis on your words. And if you're like me, you may wonder just who designs those fonts. It has to be a person other than some dry nerd sitting at his desk at Microsoft or Apple or Linux.
The example at the right shows just how much difference the right font can make. Do you want to visit the person who wrote the sentence on the top or the one on the bottom?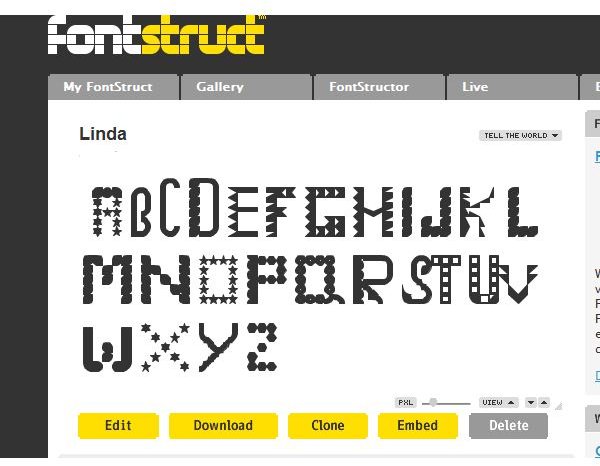 There are actually companies that design fonts, and there are even organizations that give prizes for the best ones each year—Letter.2 is the competition offshoot of the Association Typographique Internationale. There's a link below if you'd like to look at the top 53 new font designs of 2011.
Well, I was overjoyed when I found my way to FontStruct. It's a place where you can construct your own font, by placing bricks that have geographic shapes on them into position for the letter (letters!) that you want to create. I welcome you to duplicate my experience, although I hope you have better results. I'm just not that artistic, so it won't be hard to create something much nicer than my alphabet—you can see a screenshot of it to the left. I did, however, have lots of fun, and since the owners of the website seem to welcome that, create a login for yourself at FontStruct and get started!
FontStructing Deconstructed
The sign-up for FontStruct is pretty typical. Just create a user name and password for yourself, prove you're a human and you're in. The first thing you should do is locate the six gray informational tabs at the top of the graphic and choose the one that says Support. Once you roll your mouse over it you'll see the option for Getting Started—that's where you want to go.
Once you finish your font, you can download it and install it in your font library, you can publish it and share it with others, or you can keep it private. It's also possible—indeed, acceptable—to look at and download other people's fonts. They are published and downloadable from FontStruct under a Creative Commons license. So, even if you don't design your own font while you're here, you've certainly located another place to find great free fonts!
You might want to take a side trip to What Is FontStruct? You'll read that this site has been set up by a font retailer, FontShop—a foray to their website passes some interesting time, but their fonts are not free.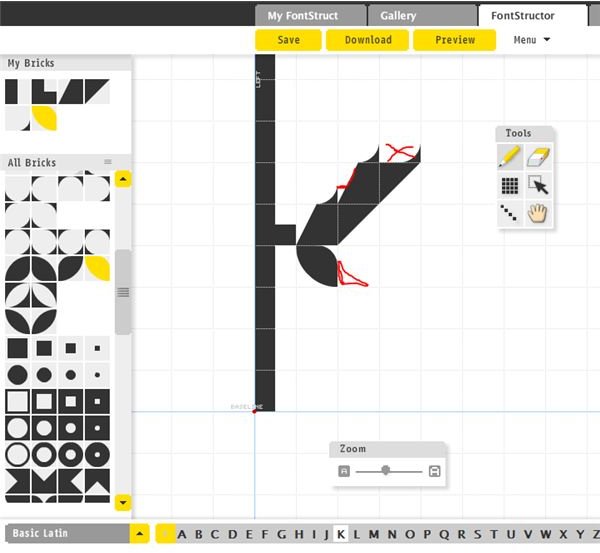 Your first step is to click on the Character Selector—whenever you enter the FontStructor (sounds like a sequel to an Arnold Schwarzenegger movie, and by the way did you know Schwarzenegger is in my computer's AutoCorrect?) the Character Selector is set at A. To your left you will see a pane displaying bricks with all kinds of designs on them, and you choose a brick by clicking on it; it will be highlighted. Then, to the right, you will see a palette of tools; choose one of them. You must place the brick on the grid against the red dot; it's your base. Be certain to make your letter BIG, because once you've finished and you download your font, you'll be surprised at how small it is.
It's so easy, it's like putting together the pieces of a jigsaw puzzle. On this image to the right you can see that all I need is the brick with the little piece filled in down in the left-hand corner. I can't find it!
Well, that's what I mean when I say that I'm not the most artistic person. You also have to be very careful to click your drawing tool in the right square; too many times I have clicked in the wrong square and erased a brick that took me quite some time to choose. But if you're someone who sits down and sees shapes coming together out of those bricks, you have the potential to put together a lovely—or eccentric—or gothic—or whatever-you-like font.
A few questions—if you have more, you can undoubtedly find the answer in the generous FAQ. Yes, someone has made a font representative of his own handwriting. No, you cannot upload a font and work from it. Yes, you can make pixel fonts with scalable vector outlines.
One problem I had when I downloaded my font and installed it in my font library was the spacing. The FAQ tells me that kerning—the ability to adjust spacing between characters proportionally—is not yet well controlled. Still, as you can see by the image showing several proudly displayed creations, people are able to come up with some great font designs.
Expert Mode Awaits—Plus More

If you're really good at FontStructing, you can make the switch to Expert Mode. It switches you to special features such as an unlimited number of guidelines and the ability to lock them in place as you work. You can also use more utensils as you move through your work.
An ad on the FontStruct site caught my eye. There's an image of a fellow wearing a T-shirt with his own FontStructed design. Now, I am not trying to promote FontStruct's proprietary products, but the idea of creating a monogram and downloading it to a transferrable decal is something I really want to explore. Apparently besides T-shirts you can buy totes, caps and even baby bibs.
So go get FontStructing! Let me know how well it goes for you in the comments box below, and maybe even leave a link to your design. I'd love to see it!
References