Designing Components of Your Wedding Stationery Using Word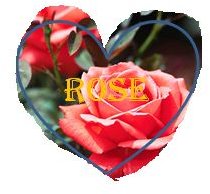 Your Stationery Plays an Important Role
Wedding stationery keeps your guests abreast of what's happening as that special date approaches through Save the Date notes,
invitations to both your shower and your wedding, and a few other pieces I'll discuss.
It also serves another purpose: It's a way to add glamour to your wedding day. It sustains a theme that you're carrying throughout your wedding. Maybe you're displaying a favorite flower throughout your bouquet, decorations on the ends of guests' seats at the wedding, centerpieces, and even on your gown. If you have a destination wedding, your stationery provides a mode of décor whether the theme is seaside, garden, a sporting event like golf, a woodsy event, or some other theme.
Most of all, considering how quickly your actual wedding day will pass, your wedding stationery is something that lingers, something people can hold in their hands and keep. They can experience the tactile sensation of the paper you choose and enjoy your colors. If you're handy with your desktop computer, you can embellish your wedding stationery with a truly personal touch.
Your wedding stationery pieces consist of the following items.
Save the Date Cards
Originally, save the dates were sent out mostly to announce destination weddings, so that guests could arrange for time off work and for travel. However, they've become almost standard for every wedding; you should send them out six to eight months in advance of your date. You don't have to provide a lot of information—just your name, the date and the location.
I created a sweet Save the Date using Avery Postcards, style number 8387—you'll pay about $13 for a package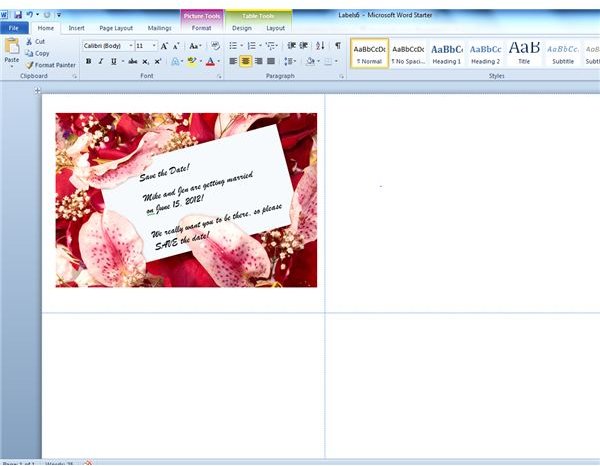 that makes 200 postcards. To make these cards, you open Word, and then choose Mailing. Go to Labels. Select the Options button in the bottom right-hand corner and then scroll down to your template number—in my case, 8387. Click OK, and then New Document. You will see the four blank postcards set out on your screen.
Go to Insert, and then Clip Art. I found this design by typing Love into the Clip Art search bar. Once I chose it, it appeared in the first pane. I was then able to repeat it in all four panes.
When I'm doing desktop art in Word, I find it easy to work using text boxes. I drew a text box on each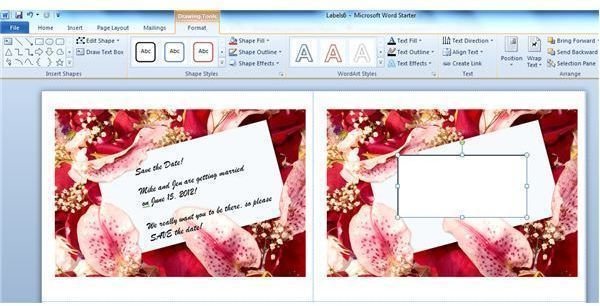 of the postcards. When you right-click on the border of the text box, you will see Format Textbox. Choose this, and then you will click Line and No color, and then Fill and No Fill. As you type in the text box, you will not obstruct any part of the design behind it.
You can also tilt the text box by moving the little green circle above the text box. Once you've finished typing, you can change the font to an elegant style and—something I didn't do in my image—select a different ink color! When you're ready to print, just print one page initially. It's possible you will need to re-position your picture or design within the postcard.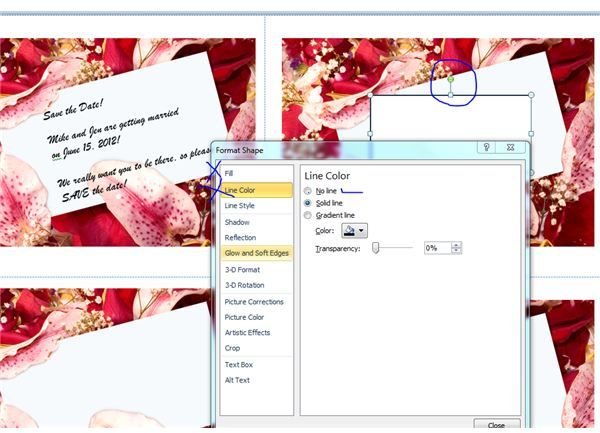 You will also need to open a new page using the steps above so that you have a fresh, clean page of postcards. On these, you can type your address in the upper left-hand corner. Reinsert your Save the Date postcard into the printer so that it will print your return address on each card. Remember, only do one card at first to be certain you have it inserted correctly.
Bridal Shower Invitation
In the past, brides were usually celebrated at two bridal showers, one for her side of the family and one for her groom's side. These days it is more commonplace to have one large shower. You can buy printable note cards and create them the same way you made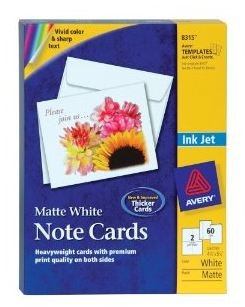 your Save the Date cards. Avery number 8315 will provide you with 60 note cards for about $16-22.
I'm not trying to promote Avery over any other brand, but most stores carry them and they work well. Paper textures are very limited, however; some brands, like Canterbury, contain the same kind of notecard template items but use a tinted or textured paper.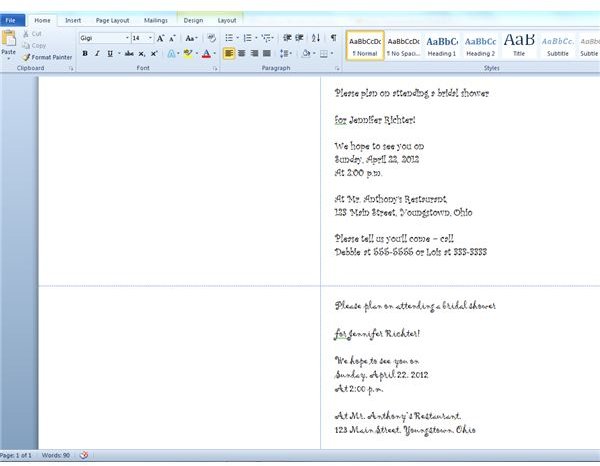 You will insert your design on the right-hand panels only—the left-hand panel will be the back of your card. Insert a text box and a type a cheerful "You're Invited" or an elegant "Please Come" into the textbox. Don't forget to format the textbox so that there are no fill and no lines.
Open another page of the same template, and on the right-hand side you will type your message: Something to the effect that you are having a shower, plus the name of the bride, day and date, time, location, the date by which they must respond, and who is accepting RSVPs. It's also acceptable to add something like "Jen needs kitchen and bath items" or "lingerie shower!" or even "Jen is a size medium and a 34C." As with the Save the Date cards, print just one of these so that you know the centering and positioning is right before you put them all in the printer.
I've also included a couple favorite font styles—the top one is Curlz, and the bottom one is Gigi. I also love Fiole Girls. Just choose whatever suits your fancy—and don't forget to change the ink color if you like!
Thank-You Note: Bridal Shower Gift
Grooms are not present at most bridal showers—until it's time to take home the gifts—so the bridal shower thank-you card traditionally comes from the bride only. This card can be a simple thank-you card or it can be an opportunity to display your own unique style for possibly the last time before you are part of a couple! You can use the same techniques as you did for the shower invitations. If you've chosen a special image for the shower invitations, you can display it, reduced, on the front of the thank-you cards, and then type the words "Thank You" in tasteful script below it.
Make each card personal; don't you dare say something generic like "thanks for the gift." Before you write each note, think about how you might use the gift and write about that: "I know Mike and I will entertain many guests over the years with these glasses, and I'll always think of you when I'm using them." Even if you don't like the gift or if you plan on returning it, make up something polite.
Wedding Invitation
Few brides attempt to create wedding invitations using desktop publishing. However, if you are showcasing a special theme or a destination wedding, it's not unheard of. Also, both craft stores and stationery supply stores offer a wider variety now than in prior years so that you have a somewhat better selection of paper. Desktop invitations are expensive, so doing your own might not save you much money. The best reason for doing them yourself is when you plan on incorporating a recurrent decoration, such as tying a ribbon around your card or applying a stencil pattern. Keep in mind that with extra ribbons or bulky trim, your cards will require extra postage.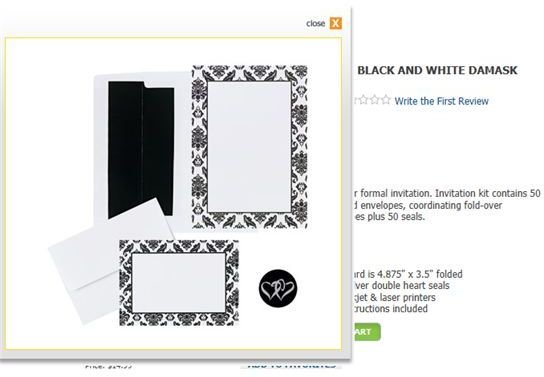 If you're planning a wedding on a budget, you can buy Avery greeting cards and make your own. One option to make these really special is to choose a rubber stamp to apply patterns. Treasure Masters' Hortense B. Hewitt makes a kit that includes both invitations and response cards. You might want to buy a pad of parchment tracing paper and cut it to fit between the two cards for that extra touch. You can buy them at places like Office Max or Amazon, and you'll spend $30-$40 depending, for 50 invitations. On top of that you have your printer ink, so ask yourself if they're really worth it.
The RSVP card is tucked inside the envelope with the wedding invitation. It allows your guests to respond with a headcount and, in some cases, a menu choice. You generally buy these with your wedding invitations, but if you are making your own invitations then you can create your own RSVP cards using the same postcards you used for the Save the Dates. Your RSVP needs only to read:
I will____ will not____ attend the wedding.
Menu choice: Chicken cordon bleu_____ Stuffed Flounder _____
Name____________________ Number Attending___________.
Wedding Program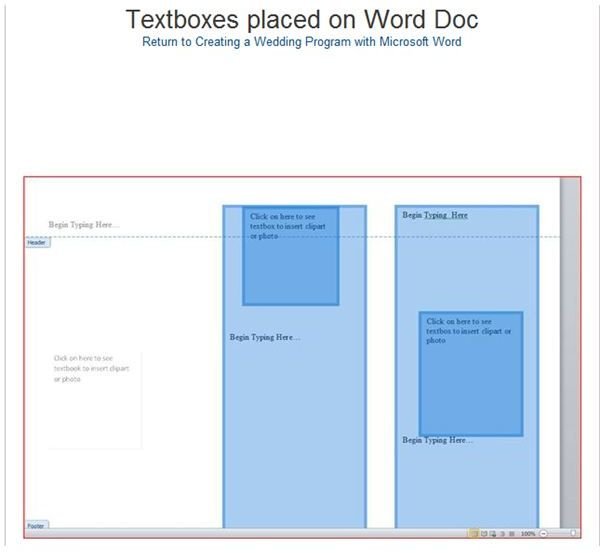 Programs have become much more popular in the last few years. Your options for its layout are wide open, and this truly becomes a souvenir for your guests. I like to make a trifold program, which means it actually has two folds.
You can buy a template, once again, or you can save even more money by using a blank Word document. Draw three long text boxes on it, and insert your text. You can draw text boxes within text boxes to accommodate photos or clipart. Read more about this in Creating a Wedding Program using Microsoft Word. In your panels you can list the order of events, the names of the bridal party (including parents and grandparents), the important songs at your wedding and reception,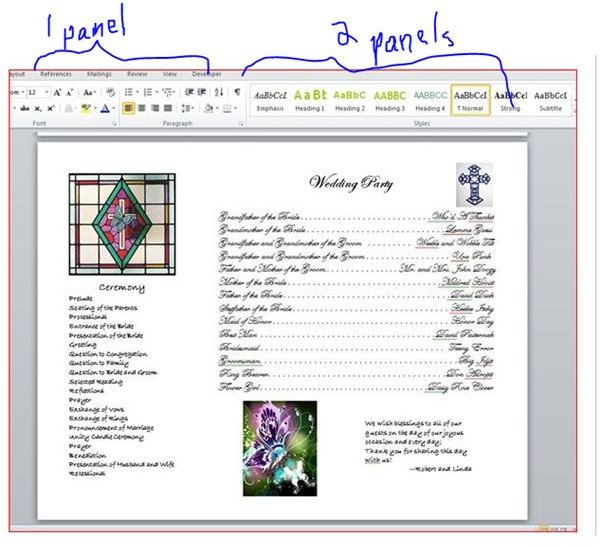 and an acknowledgment panel. One panel, the right-most panel on the first page you create, will list "Wedding of/Jen and Mike/Date/Location/Officiant."
Use a paper punch (a heart or a star) to punch a hole in the top left corner of the front fold and tie a ribbon through it.
Escort Card and Place Card
When each guest enters the reception, he or she will find a simple card that tells her where she will sit. There are a zillion cute or elegant ways to present these—I've seen them tucked into clips or wine corks, hung from ribbons, or anything that grabs your imagination. Use a business card template–try Avery number 8376, which comes in buff–and for each card you simply type in the name of your guest and seat number. You can also buy two-sided business cards; the cards fold so you can rest them tent-like on the table for your guests to find when they arrive.
The place card is often confused with the escort card, but they are two separate items. The place card will rest at the person's designated seat. Many times it doubles as a menu card. It can also be a note from the two of you expressing how happy you are that they are sharing your day. You can also have something romantic printed on the place cards or perhaps the list of key songs to be played during the reception—the bridal dance, the bride/father and groom/mother dance, the cake-cutting song, and so forth.
Thank-You Note: Wedding Gift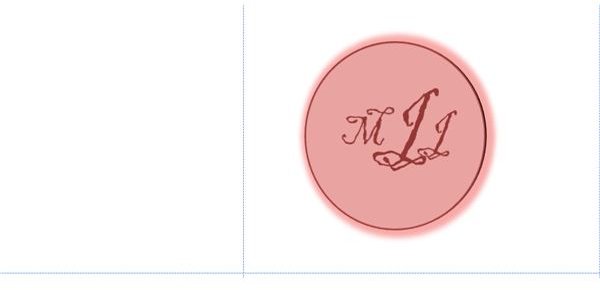 This last piece of wedding stationery is your first formal correspondence as a married couple, and so it will be different from your bridal gift thank-you cards. You might embellish it with a monogram—especially if you've paid someone to create a monogram for you, which is increasingly popular these days.
You can even create your own monogram. I've made this simple one to the left using Word's Shapes function, but creating a logo with Publisher really lets your creative juices flow. Save your design as an image, and then you can insert it onto your thank-you cards. Whatever you decide on, the people who made your day special by sharing it—and those who couldn't attend but sent a gift anyway—will enjoy receiving your own homemade note.
If you are thanking someone for a gift that you received before the wedding and the person will not attend, respond within two weeks. For those gifts you receive at the wedding, etiquette allows you no more than two months to respond.
Let me know how your wedding goes—and how well your stationery worked out!
References