Free Printable Lunch Box Notes: Fun, Inspirational and Romantic Cards to Download Now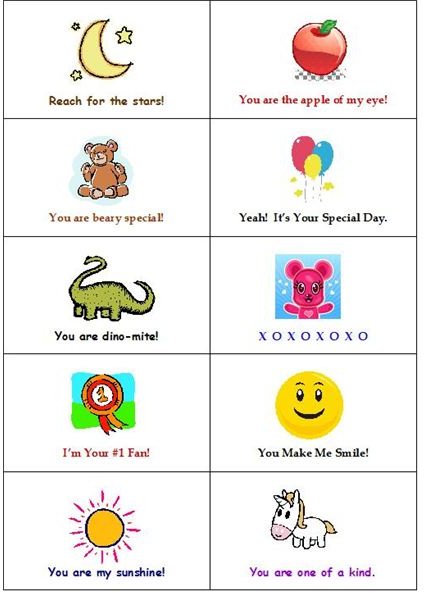 It's Easy to Make Someone Feel Special
Sometimes the smallest of gestures have the biggest impact! Lunch box notes, also known as backpack notes or love notes, have just this effect. These small cards contain a meaningful quote, saying and/or the perfect picture. To use one, strategically place a card where the recipient will discover it — hopefully, just when they need a lift the most. Finding the perfect sentiment as well as deciding where to hide it will give the sender a thrill as well.
Five different sets of printable lunch box notes are described below. They are free for download and personal use. (The links to download are located at the bottom of the article.) Each set of cards targets a different group, such as a young child or love interest. However, there is some overlap so be sure to check them all out. Use the cards provided here or whip up a set of your own using the format provided. Each sheet contains ten unique cards — 50 different cards in all.
The cards were created in Word using a business card template. A quote or saying is coordinated with a picture. If you want to change the picture, just click on the text box and choose "clipart" from the insert "pictures" options on the toolbar. A variety of choices become available. Click on your choice and re-size it, if necessary.
When it's time to print the cards, card stock or perforated business card paper works best. Each sheet is set up to print with a border around each individual card so you can easily see where to cut. Consider using fancy scrapbook scissors if you have some on hand. If you invest in perforated business card paper, then you will have a truly professional finish. If desired, remove the border before printing on business card paper.
The cards contain a lot of color. But, as they say, don't let great get in the way good. If you don't have a color printer, produce the cards in black and white and shade the pictures with a marker. They will still create quite an impact!
Finally, you can always add a personal touch, such as a date, your name or initials. In some cases, you want to remain anonymous. Small attachments, such as a piece of candy, are nice too. Other uses for these cute cards include:
Adding one to a scrapbook page.
Punching a hole in the corner and using it as a gift tag.
Leaving one behind after a visit as thank you reminder.
Inserting one in a card or letter.
The links to download the sheets are located in the References and Resources section below.
Perfect for a Child
The first set of note cards will bring a smile to a young child. Most likely, these notes are what you picture when you think of lunchbox notes. Imagine the surprise when a child comes across one of these in his lunchbox, breakfast cereal box or next to his favorite game.
Another idea for these cards is to give a few to a child to pass on. Let them write their name on the back and give to mom, dad, a sister or friend. Let them decide where to hide it and then watch their satisfaction as they do something nice for someone else.
For the Tween, Teen or Friend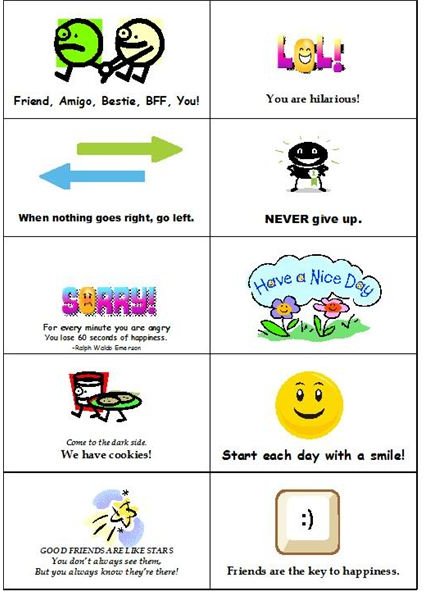 A tween or teen can be the hardest group to communicate with. These cards were designed with this age group in mind. However, the themes are appropriate for adults too.
Sometimes an understated gesture works wonders. But…think hard before you insert one in a packed lunch or other area where a sensitive teen's friends might see it. Instead, strategically place one on the bathroom mirror, a nightstand, the car dash or a favorite book. Although a friend or adult might appreciate a personalized message on the back, you may want to remain anonymous for other recipients. They may complain about how "corny" it is, but my guess is they will take note of how much you care!
When Someone Needs Inspiration or Encouragement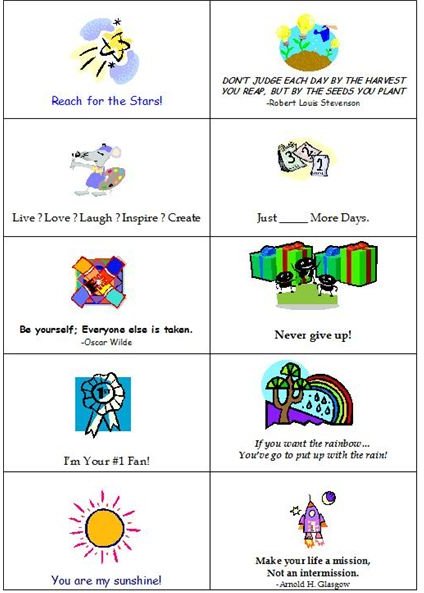 Do you know someone that is striving to reach a goal? This set of cards will provide inspiration and momentum. You may want to print a set for your own use too:
They make great book marks.
Post one on the fridge.
Become your own best cheerleader!
For the One You Love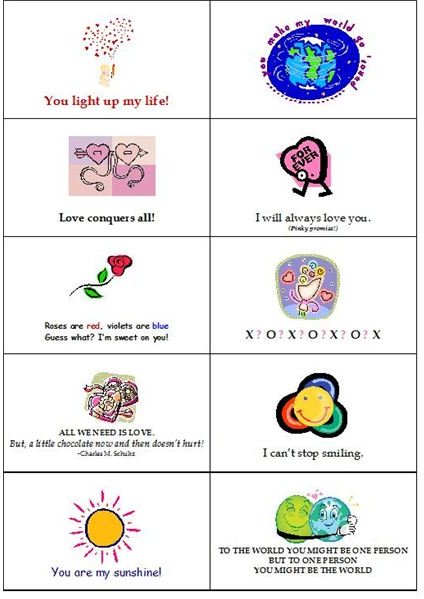 Love notes are not just for Valentine's Day! This set contain meaningful expressions for a romantic interest or any other loved one. Some will make you laugh; others may be a prelude to a more significant moment.
Engage your creative side when you present these. Are you planning a trip? Attach one to a travel brochure. Tuck one in a book of romantic poems. My favorite is the quote about chocolate…make sure you attach at least a small goodie to this note!
Seasonal Sentiments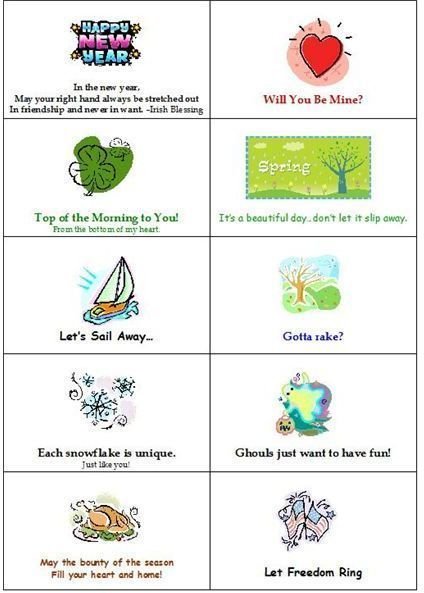 The seasonal set showcases quotes and sayings about the four seasons as well as some popular holidays including New Year's Day, the Fourth of July and Thanksgiving. Most anyone will enjoy your thoughtfulness on these occasions. If you are giving a hostess gift, attach one! Or, use them as place cards at a sit-down dinner.
By having a variety of free printable lunch box notes at your disposal, it will be easy to let someone know you care. "Pass it forward" and both you and the recipient will be rewarded.
References and Resources
The following free downloads are available for your personal use:
The clipart was used with permission from Microsoft.
The screenshots were taken by the author.