Six Free Edwardian Fonts to Download: Top Choices to Add Style to Your Projects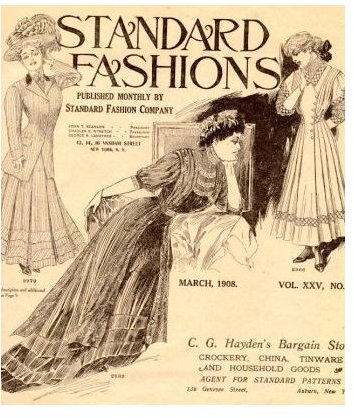 When To Use Edwardian Style
The Edwardian period of history covers 1901-1919, so any font given the moniker 'Edwardian' and put in a time machine, should feel at home in this period. Edwardian style fonts conjure up images of elegant swirls and feminine handwriting, or a more masculine, but still stylish feel, of a gentleman's newspaper. If you're finding it hard to place the look then think Titanic. This was a period when Americans found new wealth and everything was over the top – fashion was something that anyone who was anyone took an interest in.
Because of the elaborate but stylish feel of the era, many of the free fonts you'll find here are script or calligraphy fonts. Many of them also have very similar names, so I've tried to be as descriptive as I can. If you see a font you like, then be sure to find it's download link at the bottom of the page.
Edwardian by Bravenet

Many brides-to-be like to create their own wedding stationery, to both save money and to have more control over the look and design. Edwardian script fonts are a popular choice to use for this purpose as they are elegant and classic; especially a good match for traditional wedding invitations, but can be put to good use on any type of wedding stationery from wedding programs to wedding menus.
This font gets my vote as being the best option to use for wedding invitation or save the date wording as it is elegant but still clear and readable.
Download Here: Edwardian by Bravenet
Edwardian Medium LET

You know how we mentioned Titanic as being a key event in the Edwardian era? Well this font would have felt right at home reporting on this disaster in many a newspaper of the time.
If you want an Edwardian feel to your projects and are sick of script fonts and swirls then this is for you.
Superb for a school project on the Edwardian period – especially if you are mocking up an Edwardian newspaper – or perhaps used on a poster to advertise a W Somerset Maugham play, or perhaps George Bernard Shaw. Music Hall was tremendously popular at this time, and this would be a great font to use for an authentic theater bill.
Edwardian Medium on Fonts 101 (This link sends you to Fonts101.Com)
Edwardian Script by Techie Blogger on Media Fire

Another wonderful font to use for wedding projects, this Edwardian script is a little more sloped than some of the others, with a thicker look to it. I think the best way to use this, is where you are likely to need a larger font size, as much of the detail becomes lost and confusing when used on a smaller scale.
It does have a wonderful calligraphy-writing feel to it, which would make for some eye-catching titles on a wedding scrapbook layout.
Edwardian Script on Media Fire (This link sends you to MediaFire.Com)
Art Nouveau Initials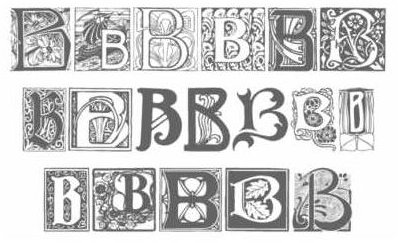 There is a certain amount of overlap in the Art Nouveau period and that of the Edwardian era, in that Art Nouveau may have started around 1880, but continued in popularity until 1910. So depending on the period of Edwardian history you are looking at recreating, an Art Nouveau font might be in order.
House of Lime offer some great, and truly elaborate, initial fonts with a Nouveau feel, that may be suitable for your projects. At the moment you've only got A-F initials to choose from, but they are still worth taking a look at, to at least embellish the first letter on your page in true, over-the-top, Edwardian style.
Art Nouveau Initials by House of Lime (Link takes you to HouseOfLime.Com)
Edwardian Script ITC

Continuing the fashion of the time, we have another appealing Edwardian script font for your consideration. Use this elegant wedding font for your traditional wedding invitations and you cannot go wrong.
As well as being stylish and representative of the period, the big bonus here of course that this font (and all others featured in this article) are free. Give your wedding budget a break, but still ensure your invitations are professional looking too.
Edwardian Script ITC by Design Graphics (Link brings you to DesignGraphics.Org)
Edwardian Scr ITC TT

The Edwardian period was not all ladies in wonderful dresses and big hats, the gap between rich and poor became much more pronounced. However, the gap between men's and women's rights began to close with the emergence of the suffragette movement. The Edwardian Medium LET font is your best bet for recreating a suffragette recruitment flyer or to announce a "Votes for Women" meeting. This script font gives you more of an insight into the style and handwriting of the time.
Just imagine the notes fellow suffragettes would pass back and forth using this swirly style of writing. This is a completely over the top font that can be seen more clearly in the capital letters – they are so swirly you can barely tell what they say.
Edwardian Scr ITC TT on Web Tool Hub (Link brings you to WebToolHub.Com)
Despite the limited availability and scope of free Edwardian fonts, we have managed to round up some great options for your project needs. Whether you want to design some elegant wedding stationery, recreate a music hall poster or embellish a page with Art Nouveau style, there should be a font here to please you. Be sure to let us know what amazing results you achieve when using them.
References