Obituary Template for Word: Free Download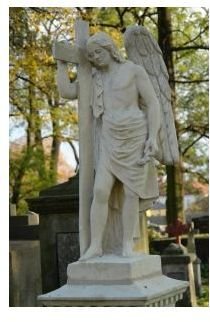 It's Not Easy to Write About Someone's Life
The obituary in essence provides the details of how someone lived and died. People seldom stop to consider the effort it takes to write a summary of another person's life. The need to create this tribute comes at a time when many of those who knew the person well feel upset by the loss, and it is difficult to think of every detail that should be included. In addition to the information about the person's life, it is also important to include details about scheduled family visitation times, interment and the wake, if there is one. Using a template can make the job much easier by offering prompts so that nothing is left out.
Before you begin the process of writing the obituary, you must consider the cost. Some newspapers charge a fee for printing an obituary. Often, there is no fee for a one-line listing of the person's name and date of death, but anything longer will result in a charge. Many will include the obituary without charge in their online (virtual) newspaper. In addition, while the major daily newspaper in your area might charge a hefty fee for the obituary, the local community weekly probably will list it free.
Most people are not aware of the fee because funeral directors typically handle this, and the cost becomes part of the final funeral bill. Find out how much you will have to pay, because this information will affect how much you include in the obituary.
Who Was This Person?
In Bright Hub's Desktop Publishing Media Gallery, you will find an obituary template for Word users. You can download it at this time and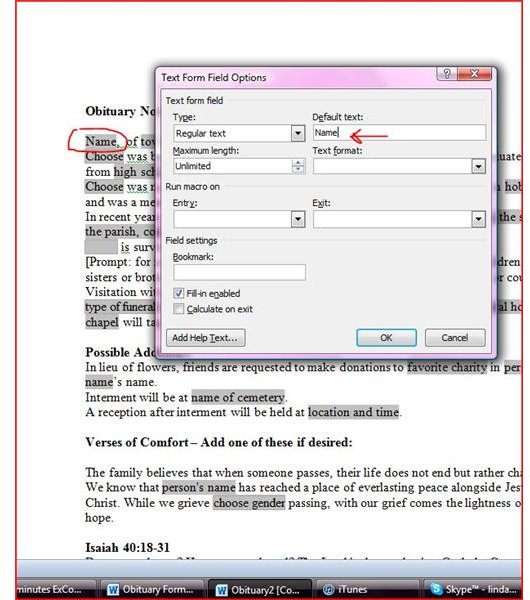 follow these instructions for completing the obituary. The document is written with form fields that allow unlimited text in some places. For other fields you will choose from a drop-down list or enter a date or time. In the first part, you will fill in details that let everyone know just who this person was.
Name. Double-click on the field and insert the formal name of the person. You have to delete the word "name" and type in the person's name. Occasionally it's acceptable to include name variations in parentheses. Mary (Kilderoy) Smith, for examples, gives the maiden name. If the person was known by a nickname, it is more respectful to insert this in the field that allows for descriptions of the person's community activities and hobbies, such as Robert, known by friends as "Buddy," was the person who emceed the dance at the Church festival every summer…
Age. Immediately after the Name field is a prompt to enter the person's age. Double-click on this and put in the age; no matter how vain the person was in life, this is always given in the obituary.
Town Where Person Lived. Once you double-click on this text field—like all the text fields in this document you have unlimited space—you can delete those words and type in the correct locale.
Choose. This field allows you to choose a short phrase describing how the person passed—not the manner, but when you double-click you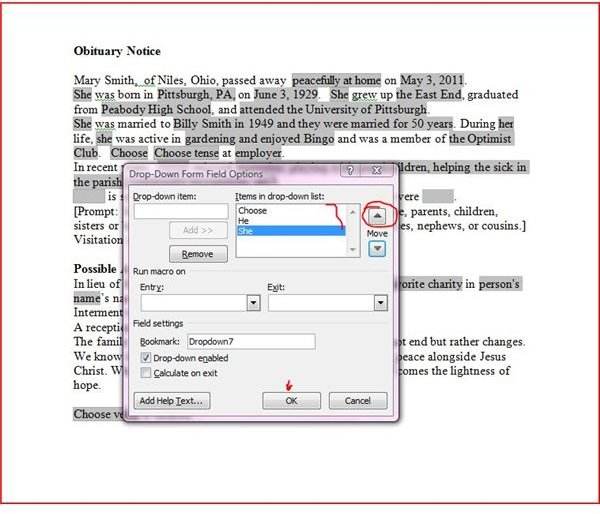 will see choices such as "suddenly," "in the hospital," "peacefully at home." If you really prefer another descriptor, type it into the box labeled Drop-down Item, click the Add button, and then select the Move arrow until your choice is showing.
Date. Double-click and type in the day and the date. You can include something like "in the early hours" if you wish.
Choose (pronoun). This field begins a sentence about the departed, and your selection will be He or She.
Birthplace. Double-click on Birthplace, and in the blank text field you can enter the date of birth—or delete it if you don't want to include that information. Beyond that is a text field so you can input the date of birth.
Choose (pronoun). Again you will select He or She, and then the field for Neighborhood allows unlimited space to enter the place where the person lived out his life, where he graduated from high school, and where he attended college or received any other postgraduate training.
The Details of This Person's Life
Choose (pronoun). Your first entry in this second part of the obituary begins telling this person's day-to-day story. Select He or She.
Spouse's Name. Type the name of the person's spouse or life partner. There is enough room here to include information about the length of the marriage or whether the spouse has already passed on.
Choose and choose (two pronouns). The next two fields prompt you to select his/her and he/she in order to describe Hobbies, including any kind of favorite or regular activities, whether it was bowling, playing Scrabble, or regularly attending baseball games. Skip over to Clubs to enter any professional organizations the person attended.
Choose (pronoun), choose tense, and employer. Use these fields to create a sentence or three about what this person did for a living. Don't forget to include any awards or unusual accomplishments.
In recent years. This section asks you to insert the person's name and then describe the things he or she was doing in the year or months leading up to the death.
Survivors. Here you will list first the surviving relatives, and then the deceased relatives. As before, double-click on the space and read the prompts so that you don't forget anybody as you type in each family member's name and relationship to the deceased.
How Is This Person's Life Being Celebrated?
This last paragraph allows you to insert information about the funeral home and times for visitation with the family.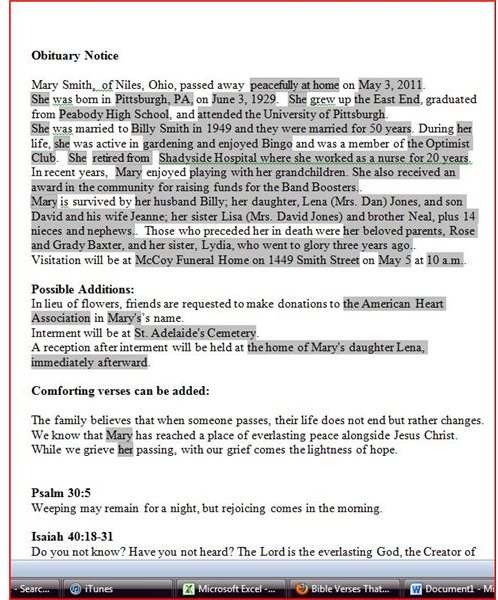 Type of Funeral Service lets you choose from several options, including Mass of Christian burial (typical for Catholics), celebration-of-life service, private service, or Christian burial service. This is another place where you can decide on another phrase, type it into the Drop-down Item box, click Add, and then use the Move Up arrow.
Possible Additions. Options here allow you to identify the place of interment, a post-burial wake or reception if you want to have an open-house, or a request for donations to charity in lieu of flowers.
Comfort Verses. In this space you will see two Bible verses plus a general comfort paragraph. If any of those appeal to you and your family, leave it in and then delete the others. There are many other suggestions for poems for use at this time available on Bright Hub.
Finish, Proofread, and Print
The form fields in this MS Word obituary template are designed to eliminate error and prompt you to include all pertinent information. Nevertheless, read through, make any necessary corrections, and print. The shaded areas will not show up on the printed copy. You will be able to hand this to the funeral director, fax or email it to your newspaper, or upload it into your city's virtual newspaper. You can even change the font to something more elegant and print it on parchment so that it can be distributed during the visitation or funeral. You can also create a funeral program using MS Word.
Resources
Talk to the Newsroom: Interview with Bruce Weber, Obituary Writer, NY Times.
Obituary Section, Tribune Chronicle virtual newspaper Warren, Ohio.
Image credits:
screenshots by the writer