A Collection of Western Clipart Borders: Cowboys, Native Americans and More

Using These Images
The western clipart borders mentioned in this roundup are free images from many different sources and are therefore in an array of styles and formats. Descriptions of the borders explain how to download the images to your computer. Browse through the list to get an idea of which options will best suit your needs, clicking on any image to enlarge it. To find out where to download any of the borders or collections, check out the References and Resources section at the end of the article.
Western Themed Border With Cowboy Hats, Horseshoes and Horses
Microsoft's image site presents thousands of pages of clipart and other graphics, including many western-themed images. This border would be cute for a little boy's scrapbook page with its repeating hats, horses, horseshoes and cacti. Download the image by clicking the Download button in Firefox or copy it to your clipboard in Internet Explorer by clicking the Copy button. Otherwise, simply right-click the image and save it onto your computer.
Rope and Parchment Border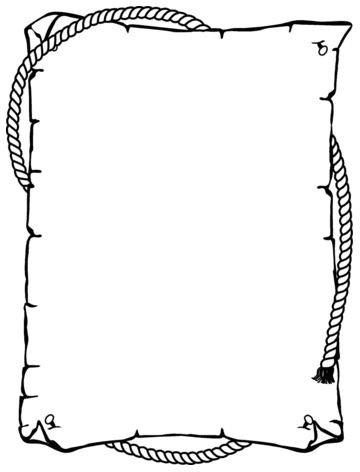 This border from Public Domain Clipart is a simple black and white image that looks like a worn piece of parchment paper with a rope winding around it, somewhat like an old wanted poster. Right-click the image and save the file to your computer to use it.
Native American Sets

Like cowboy culture, Native American artwork has a distinctively western flair. These sets of graphics, intended for web design, can easily be used as borders for your DTP project. Simply right-click an image and save it to your computer.
Feather Borders

These feather borders from Greasy Grass are charmingly attractive. Adorned with turquoise jewels and copper-colored emblems, they may be just what you are looking for to take your publication to the next level.
Western Graphics Resources

The appropriately named Gunslinger.com offers an array of western clipart images, included several backgrounds and borders you can download to use in DTP projects. Click on an image to open it on a separate page and then right-click and save it to your computer.
Cowboy Clipart Rules and Dividers

Another site with a fitting name is Cowboy Clipart, which has a page filled with horizontal rules and dividers you can use as borders in a publication. You will find everything from guns and ammo to farms and tractors to a section titled simply, "Texas." Right-click the one you want and save the GIF file to your computer.
Adcre8tr

If you are seeking something a little less traditional yet still obviously western, the unique selections at Adcre8tr might fill the bill. These horizontal borders resemble tribal designs and hieroglyphs. Right-click one of the images and save it to your computer as a GIF file.
Foxtrotters Western Clipart

Although the site is devoted to horses, Foxtrotters offers several pages of equine- and western-related clipart, included a variety of borders. Right-click the border you want to use and save the GIF file to your computer so that you can use it with your DTP program.
Tarzanna Graphics

Another site offering graphics intended for web page building, Tarzanna Graphics provides lovely Native American images that you can easily use as western clipart borders. Rather than click on an image to open it in full view, right click the thumbnail and save it as an image on your computer. The long, rectangular shape of the thumbnail makes it ideal to use as a horizontal border.
Kens Country & Western Clipart

Although the last entry on this list, Ken's Country & Western Clipart is a treasure trove of western-themed borders. Be sure to check out both the Lines and Dividers page, with border designs such as ropes, cow skulls and cowboys on horseback, as well as the Backgrounds page. Right-click any image to save it to your computer.
References and Resources
Screenshots from respective sites provided by the writer.