Great Free Sky Textures to Make Your DTP Projects Pop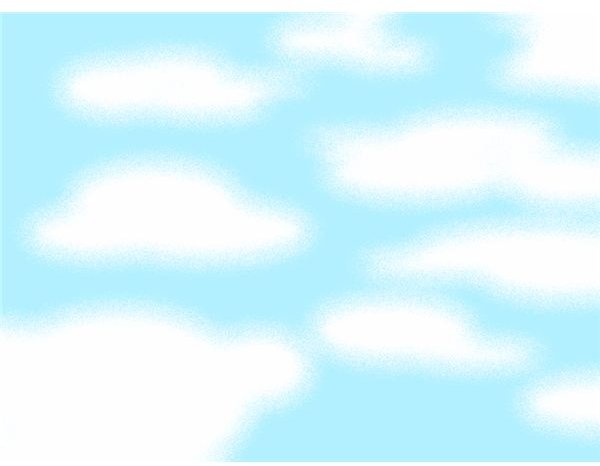 Bringing a Little Bit of Heaven into Your DTP Projects
Sky textures can be an interesting addition to your desktop publishing projects. You can use them in backgrounds for greeting cards, business cards, and other traditional desktop publishing projects. That is not the only use for such textures, though. If you have taken a picture with a lackluster sky, you can juxtapose your image with that of a much more exiting texture. If you enjoy creating "siggy" tags for forum posts, you may use such a texture to create a tag. Some people even pair images of celebrities with images of clouds and sunsets to signify their devotion.
Like other textures such as old leather textures, floral textures, and even burlap textures, you can use sky textures when creating scrapbook pages or as backdrops for photographs. For example, if you want to display camping trip photos, you might use a sunset texture as a background. You can use such projects in crafts - perhaps you want to create a framed monogram for your home. If you set dark letters against a light background, as you will find in the sunrise glory texture at the end of this article, you will create a nice silhouette. Think about how you would pair different colors for a striking contrast.
Don't worry if you do not have Photoshop or other proprietary software to work with these images. I used Paint.NET to create each of these images, and it is a free download. You will probably want to use a program that allows you to work in layers, so the standard Paint program that comes with MS Windows will likely frustrate you more than it will help you. Using one of these free sky textures as a background and then building upon it with layers will make your job much easier.
Cartoon Clouds
This simple clouds texture is probably best used in a situation where you would like to create an atmosphere of humor, such as a cartoon or a kids' birthday party invitation. The image was created by first using the paint bucket to make a flat blue background. After, I used the ellipse tool to create each of the clouds in the image. I made each cloud a similar shape to what a child might draw. Because the contrast was too sharp for my taste, I softened the image using an effect in Paint.NET called "frosted glass." This effect softened the clouds to make them fade a bit into the background. If you wanted to create your own similar texture but liked the sharp contrast, you might decide just to use the paint bucket and the ellipse tool.
Dramatic Sunset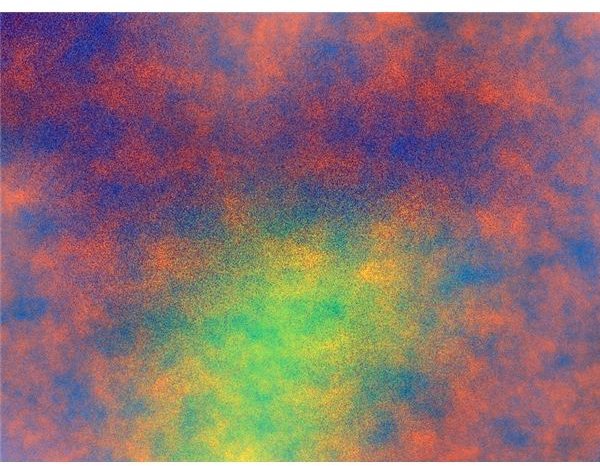 The dramatic sunset sky texture you see to the right has a lot going on in it. First, you see a glimmer of light in the middle and then a pattern that is quite dark in contrast. You might use a texture like this in a scrapbooking project or on a greeting card. While it is quite sublime in nature, it has many different applications. This texture was created by first laying down the yellow color you see in the bright spot. Next, I used different reds, oranges, blues and purples with the paintbrush to create a mottled look. I then used the frosted glass, as I did in the first example in order to blend the colors together. Finally, I used a rendering effect called "Clouds" with a light blue and a light cream color selected. This effect created the mottled look you see in the image to the right.
Soft Morning Sky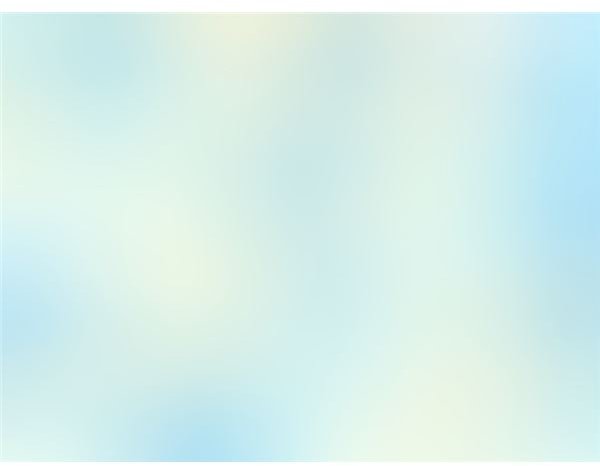 The soft morning sky texture is a subtle effect that would be appropriate for the background of a scrapbooking project, blog or even a website. The texture was simple to create and it is not a photograph of the sky (although, if you keep reading on the next page, you will see textures I created from photographs). I used the paintbrush tool set at 85 points. I selected light blue and scribbled on the canvas. Then I used a cream color. I added dots of light blue. Next, I used the crystalize effect to turn each area of color into gemstone shapes. Finally, I used the Gaussian blur to soften the colors. If you want to replicate this effect, make sure you leave some white spaces so that it blends well.
Please continue to the next page for more textures and ideas.
Stormy Sky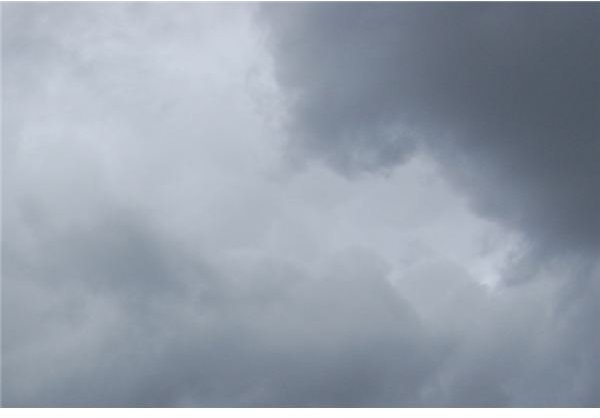 This stormy sky texture is from a photograph I took when the next county over was under a tornado warning (eek!). Though the clouds in the foreground are quite dark, you can see the sun shining through a bit, even in the storm. Use this texture on a greeting card for someone who has been going through a rough time. It could also make a nice background for a blog. The original photograph had some tree branches and phone wires in front of the clouds. I cropped the image, and then in areas where there were still obtrusions from objects, I used the eyedropper tool to select a color similar to the background in that area, and then went over the unwanted object with the paintbrush.
Blanket of Clouds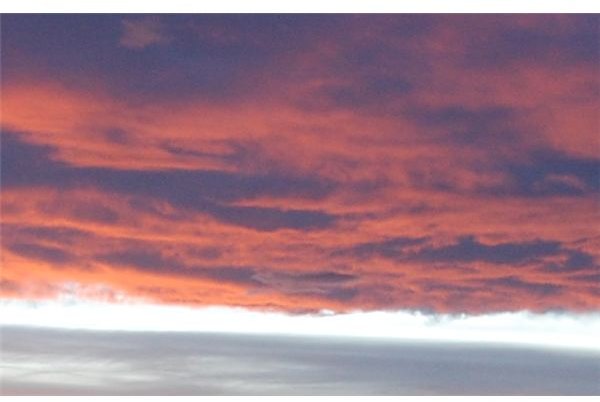 If you would like a striking background, you may wish to use the blanket of clouds texture. This can be an outstanding background if you are working on a happiness project or a dramatic scrapbooking page. Perhaps you are putting together a birthday or retirement greeting card. No matter what your purpose, this image will add a nice atmosphere to your project. This was originally from a photograph I took of a sunset. I cropped the image and pasted it into a new file.
Trees and Sunset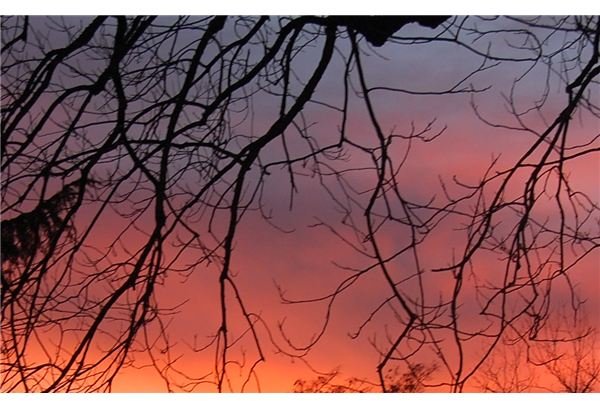 Do you need a great business card idea? Perhaps use this trees and sunset texture as your background - or as the backside of such a card. Alternatively, you could use it as a fall or winter party invitation background instead of some of the stereotypical images available. Have you considered having a soup and bread potluck tasting party? Because it is so cold in winter, such a party could warm bodies and hearts - and you could use this texture! Like the storm picture, I originally had some telephone wires going through this image. I used the same technique here to eliminate the unwanted objects. It takes time, but the result is you cannot tell that there were telephone wires in the image.
Summer Sky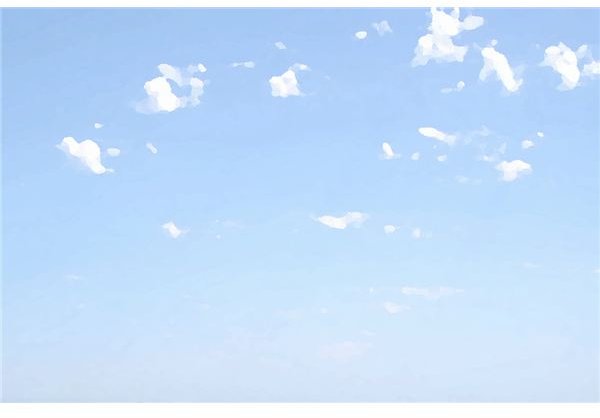 Combining this summer sky image with another photo as an added layer would create an interesting effect. Perhaps you have an awesome photograph of a barn, but the sky behind it is kind of "eh." Create a new layer, insert the image (cut out from the old sky) and voila! You have given it new life. When you download this free sky texture, you will notice that it appears somewhat different from a photograph. While the image began as a photograph I took, I cropped the photograph and then used the oil painting effect to make it appear more artistic.
Subtle Sky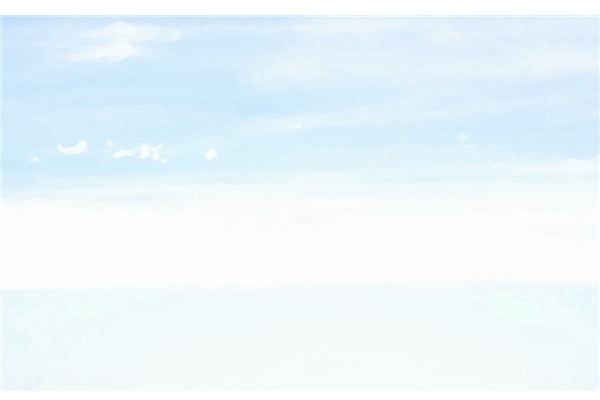 Sometimes you don't need a texture that screams, "I am a sky!" to have a good project. Perhaps all you need is this subtle sky texture. For business cards, greeting cards and even scrapbooking pages, less is often more. If you used this on a business card, you might use a glossy finish to make everything look outstanding. This image only required cropping, but as with the summer sky, I used the oil painting tool to give it an even more soft and subtle appearance.
Painted Sunset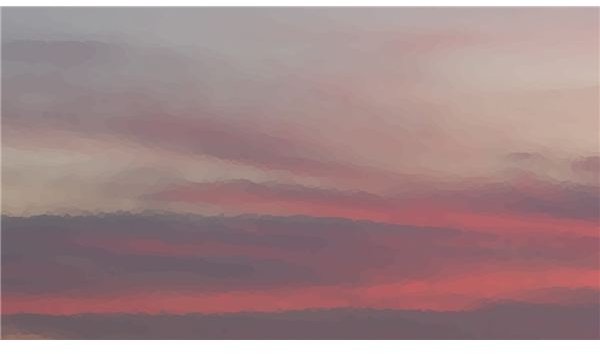 The painted sunset texture can be a great texture for your project. Have you ever taken a picture, and there is a view out a window that you are not much a fan of? Perhaps there is a painting on a wall that you do not like. You can cut out the image that is there using the lasso tool, and then on a separate layer, you can insert this image behind the first. That way, it looks as though you are gazing out the window (or at the painting) and viewing the sunset. I created this image in the same manner as the two before. I cropped it from a much larger photograph, and then used the oil painting tool to create a softer texture.
Sunrise Glory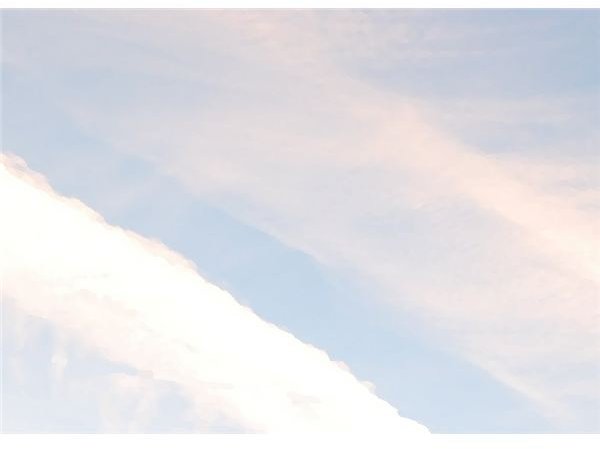 While the sunrise glory texture is the last on this list, it by no means is the least important. This would be amazing on an invitation to a baptism, a sympathy card or as the backdrop to an inspirational website or newsletter. Believe it or not, there were three electrical wires going through the center of this image. I eliminated them using the eyedropper tool, lots of patience and the paintbrush. I then applied the oil painting effect to help smooth out some of the areas where the lines had been.
References:
Paint.Net getpaint.net
All photographs and images are provided by Ronda Roberts Levine.