Finding Great Seed Packet Clipart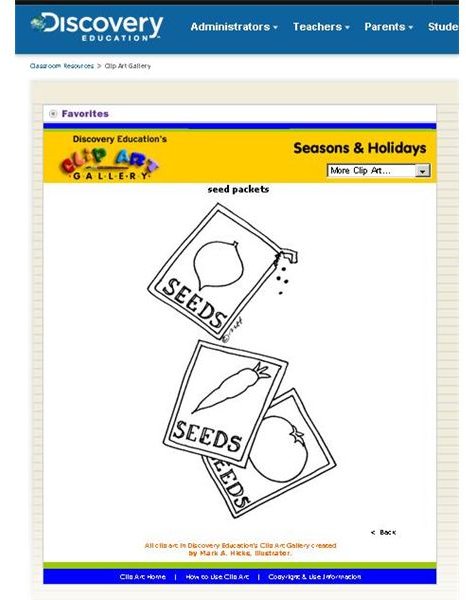 Getting Started
Seed packet clipart can be an important and valuable addition to a variety of projects. Rather than creating artwork from scratch designers can use this clipart to save time while still benefiting from important and unique creative ideas.
Many designers may wish to create seed packets for gifts or promotional pieces while others may find seed packets great for scrapbooking or for creative seed storage.
As part of getting started, think about the sort of paper one might use when working on such a project. For example, shiny seed packets could use coated 40 pound paper. This usually works best when the seed packet art will include a photograph. For old fashioned looking seed packets try using ivory 20 pound paper. This might be a good choice when a drawing rather than a photograph is used.
Depending on your preference, you can use labels to facilitate the creation of your packets. Designers needing more of a head start can find free templates for packets online at places like Microsoft or M & Co., or they can buy pre-made envelopes from places like Reimer.
Discovery Education Seed Packets
A clipart gallery at Discovery Education offers a variety of clipart that helps users create seed packet layouts for a variety of purposes.
These items come free as part of the company's "Seasons and Holidays" clipart collection.
Whether using this clipart by itself or as an element of a larger product, this Discovery Education clipart may prove to be a valuable asset in a designer's toolbox.
Sunflower Friends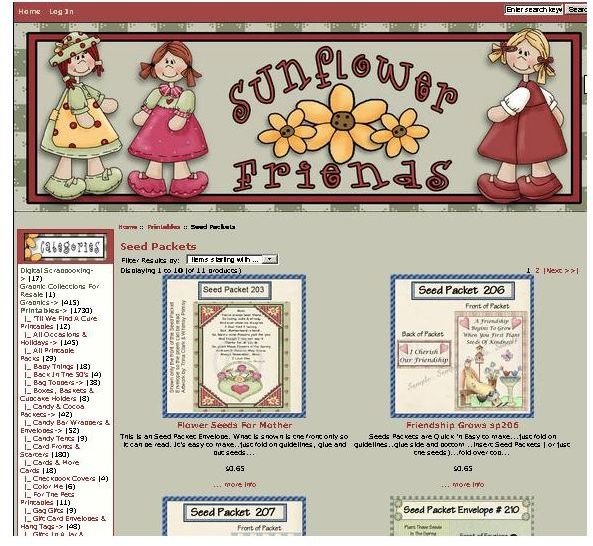 Sunflower Friends has a variety of themed clipart that can form an integral part of any artwork or publication. The graphics on this site are not free, but are reasonably priced with most items costing less than one dollar.
Choose from a variety of styles, some with poems, others with whimsical statements that make these graphics great building blocks for greeting cards and other personalized creations.
Fotosearch
Another source of high quality premium packet clipart for seeds is Fotosearch. The items on this site must be purchased, but the cost may be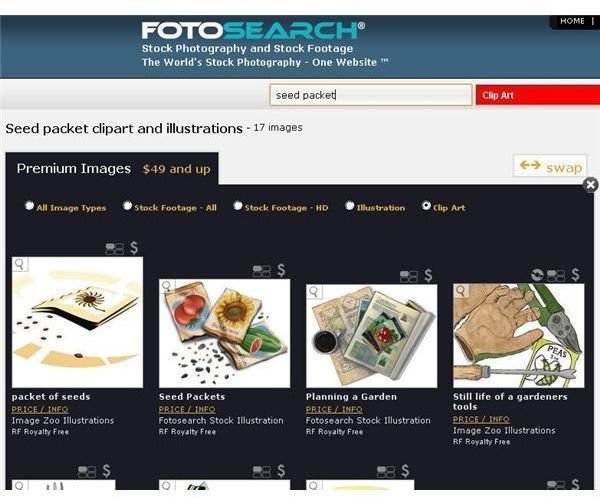 well worth it for the extra touch that it can bring to your artwork projects and jobs. Additionally, vector art is available on this site, meaning that purchased items can easily be adapted using Adobe Illustrator or other vector graphics program.
Microsoft Word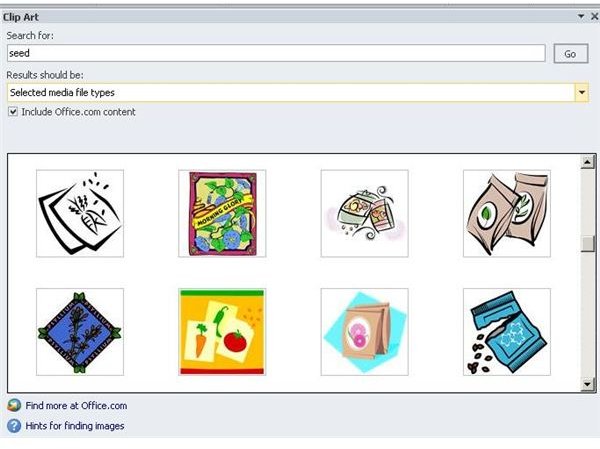 Many designers looking for seed packet artwork will need to look no further than Microsoft Word for clipart. With a Word document open, click "Insert" from the main menu and then click the "Clip Art" icon on the ribbon.
When the "Clip Art" search box opens, type "seed" the "Search for" field and then click the "Go" button. A surprising number of free clipart items are now displayed using a browsable interface. Additionally, by clicking the "Find more at Office.com" link will add more choices from the Microsoft website.
Seed Clipart Q&A
Before moving on the the clipart for your seed packet project, here are answers to some commonly asked questions that will help you choose the clipart that is best for you.
How does one determine what clip art to use for a project? The answer to this question is literally as infinite as the variety of projects. Generally speaking, however, Those who are looking for the old fashioned packet look should look for drawings or sketches rather than photographs. Also,
Should the user worry about high resolution graphics? This depends a lot on the designer's preferences and purpose. High resolution graphics are larger files, but often print better than low resolution files. Clipart of different types and resoultions are listed here to help readers find choices that are suitable for their project.
When should I use vector graphics? Software programs that create and edit vector graphics use mathematical equations to represent images rather than drawing them with pixels. When vector images are resized, they do not lose quality because the application recalculates their appearance based on the new dimnsions. Raster files will often become distorted and lose quality when resized because they merely attempt to display pixels proportional to the size of the image.
Generally speaking, raster graphics such as digital photographs and clipart that comes in the form of .jpg or .gif files look better when resized from large images to smaller images rather than vice versa. These images are edited using programs like Adobe Photoshop, GIMP or Microsoft Paint while vector programs are edited in vector graphics editors such as Adobe illustrator or Inkscape.
Because vector graphics can be edited without the loss of image quality, they are generally considered more valuable to designers.
There are ways to convert formats between raster and vector graphics, that help make the use of clipart and other images more flexible.
The best free and paid sources for clipart with seed themes are listed above. These are great for making custom seed packets or just adding seed packet artwork to larger layouts. Whatever the need, there are great clipart solutions to choose from, so readers should try the ones that best suit them and their work.
.
References
M&Co. https://mandco.typepad.com/m_co/2008/04/seed-packet-tem.html
Discovery Education. "Seed Packets," https://school.discoveryeducation.com/clipart/clip/seeds.html
Sunflower Friends. "Seed Packets", https://sunflowerfriends.com/shop/index.php?main_page=index&cPath=2_13
Fotosearch. "Seed Packet Clipart and Illustrations," https://www.fotosearch.com/clip-art/seed-packet.html
Reimer. https://www.reimerseeds.com/seed-envelopes-white-2-%C2%BC-x-3-%C2%BD.aspx
Screenshots provided by writer