3 Church Carnival Flyer Templates using Microsoft Office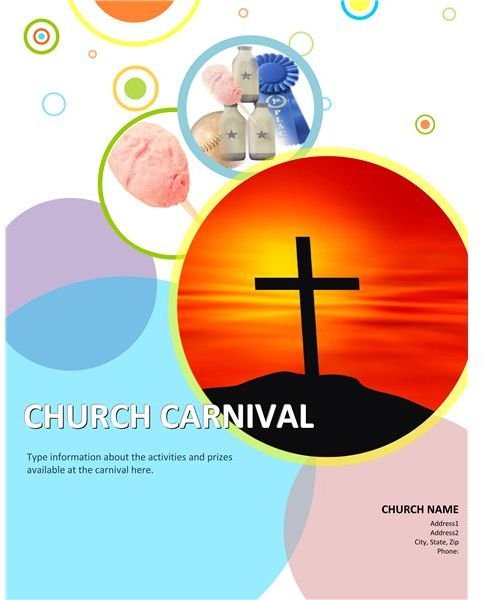 Overview
A church carnival is a great way to raise money for the church or any charity the church may be working with. It may seem overwhelming as there are not a lot of church or religious templates available in desktop publishing programs or on the Internet. Use these Word and PowerPoint modified templates, add your own graphics, edit the text with the details of the carnival, and you'll have a customized flyer for your church carnival with little effort and time.
To see a larger view of these templates, click on the image. To download the flyers in full simply use the links within each section and then hit the download link. You may also use the "File," "New" function in Word or PowerPoint to locate these templates and edit directly from Microsoft Office.
Word Bubbles Church Carnival Template
---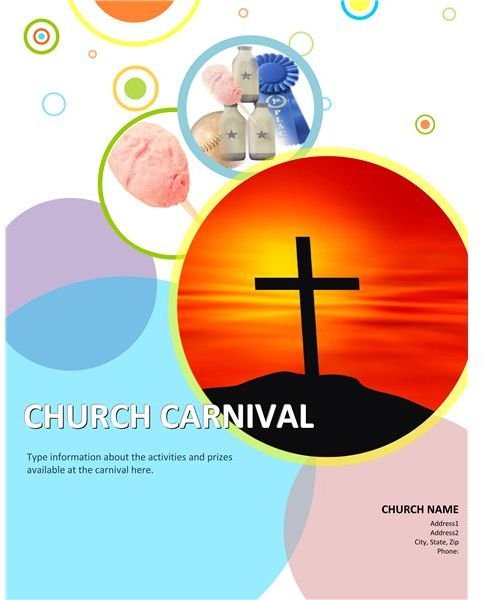 This Word template has a light and fun design with bubbles. Graphics include a cross and other items you would typically see at a carnival such as cotton candy, milk jugs, and ribbons. Add your own graphics or use these clipart images and then add your church carnival details. Once all text and graphics have been edited, simply print the flyer and pass them out to the congregation.
Download link: https://images.brighthub.com/media/26AC45_church-carnival-template.jpg
PowerPoint Bells and Candles Template
---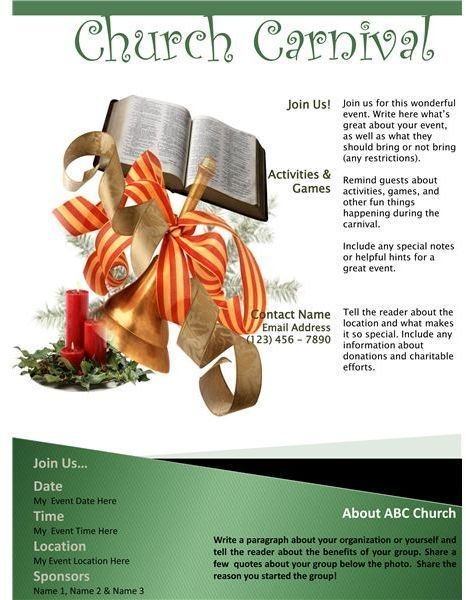 Use PowerPoint to open this template with elegant bells and candles. The text on this flyer resonates a sophisticated place of worship while providing information about a fun event such as a church carnival. Add date, time, and other specific information, including details about your church or organization, and this template is ready to print. Hand out to the congregation and spend more time working on organizing the carnival.
Download link: https://images.brighthub.com/media/1F5B9E_church-carnival-tempate-2.jpg
Word Ice Cream Church Carnival Template
---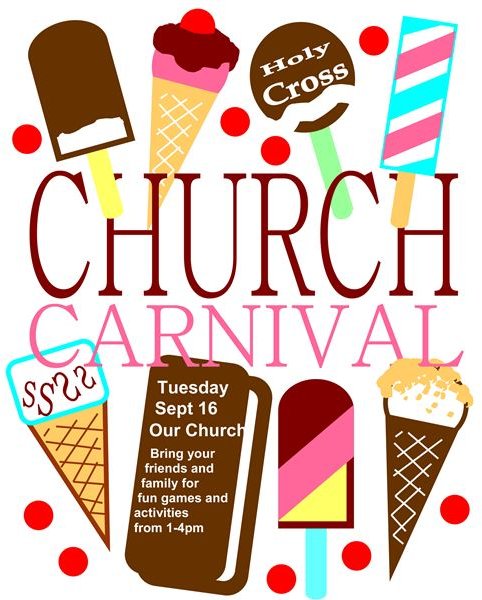 This cute ice cream theme carnival template is available in Word. I simply added certain text to specify the carnival event, the date, time, and activities surrounding the carnival.
If you prefer, you may change the ice cream images to other carnival graphics or change the colors. Most of the text in this template is setup as WordArt. To edit this type of text, simply right click and select "Edit Text." The WordArt window opens allowing you to type the specific text needed. Use the font style and size buttons to change the text as desired. Click on the "OK" button to save the new text. Now the template is customized for your specific church carnival event.
To change the colors of the ice cream images, click on the image and then select the "Format" tab. Use the ribbon to change the colors to match your church's colors.
Download link: https://images.brighthub.com/media/B31778_church-carnival-flyer-template-3-ice-cream.jpg
Summary
Each of these church carnival templates were created and customized by using an existing Microsoft template and easily editing the images, text, and colors to suit the needs of a church carnival event. By customizing the existing templates, the flyers take on an entirely different look, tailored for your event.
If you prefer more options, read Ten Places to Find Great Microsoft Word Church Templates.
Resources
Microsoft Word Flyer Templates