Free Templates for Dragonfly Place Cards: Create Shaped Place Cards and Save Money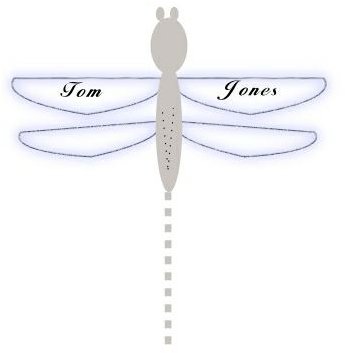 How To Use These Templates
There are two basic kinds of place cards with a dragonfly theme covered in this article.
The regular place card templates are designed with a dragonfly theme, and by printing them out and cutting and folding you can create a place card with ease, and one that stands up all on its own.
The place cards shaped like a dragonfly are an alternative to the traditional place cards, in that they are designed to look as if they have flown in and settled on the rim of the glass. These place cards easily cost a dollar each when purchased, but by using these templates and following some guidelines, you can make them yourself just for the price of materials.
The cutting out of these shaped place cards is the challenging part and there are several ways of doing it. If you are lucky enough to have a digital die cutting machine like a Craft Robo or a Cricut you can use these templates and transfer them into your software package without too much bother. The other way is to use the common scissors and craft knife approach–use scissors for the largest sections and the knife for the more detailed sections. It's also a good plan to do this is short stints and get help from crafty friends and family, to prevent aching and sore hands.
You don't need to be as exact at cutting these shapes as you may think either. A great way to add further visual appeal, as well as disguising cutting flaws, is to use scissors with shaped edges. Scalloped edged scissors work particularly well in adding detail to dragonfly wings and delicate bodies where you can (and you don't have to stick to the lines!)
Glass Decoration Perching Dragonfly
The place cards that are designed to perch on a glass, although serving the purpose as place cards, can sometimes be known as glass decorations. Use this shaped template, in conjunction with the cutting instructions above, for first class results as well as saving you money. The triangle shape with dotted line on the body of the dragonfly should be cut with a craft knife and folded down to allow it to perch on the glass successfully. Scalloped scissors used to cut around the tail would be especially effective on this design.
There is ample room on the wings for typing in your guests names using an elegant wedding font before you print out the place card too, as shown in this example–the template download is blank for you to complete your guests names.
Download: Perching Dragonfly Place Card Glass Decoration
Conventional Place Card Template With Blue Dragonfly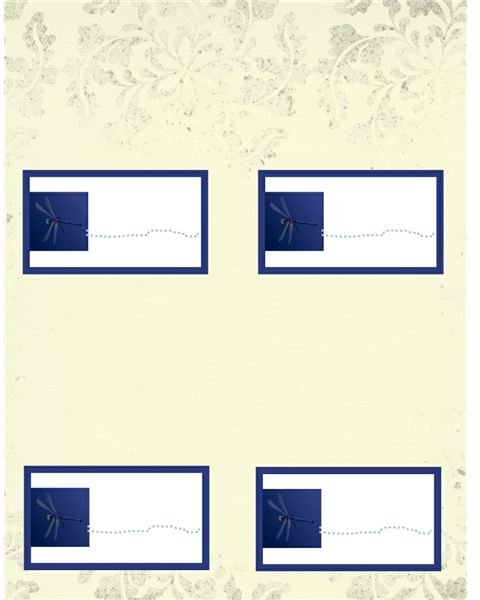 For a beautiful and uncluttered dragonfly place card this blue design fits the bill. The floral background is in a vintage style that means you get four slightly different designs to a page. The dragonfly picture has a blue background that matches up with the blue border.
There is a trail coming from the insect to indicate it has flown across the page and gives a great line to write or type your guests names. Click on the image for a larger view.
Download: Blue Dragonfly Place card Template
Black and White Place Card Featuring a Dragonfly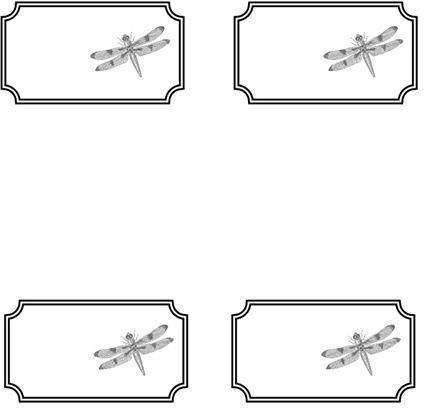 This superbly simple and elegant black and white design will never go out of style, and will suit any themed wedding. Make sure to use a wedding text font in keeping with the stylish and graceful design.
The dragonfly sketch is delicate enough to make a feature of the card, while remaining in the background, so you could even write over it to complete the necessary names if you needed to.
Download: Black and White Dragonfly Sketch Place Card
Dragonfly Shaped Place Card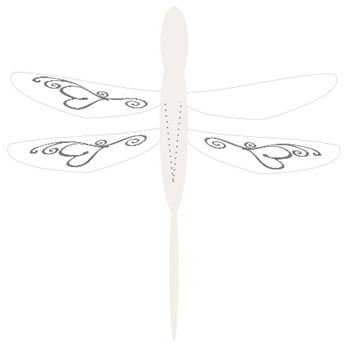 Another of our shaped place card dragonfly designs, this has superb detailing to three of the four wings–the fourth wing is left purposely blank so you can fill in guest names.
This design looks quite pale on the page but when cut out makes for one of the most stunning design options. You can fill in the name of the guest before printing out, by adding a text box in any package and then rotating it to fit the wing–there is ample room available. If you click on the image you'll get a better idea of the design.
Download: Unique Dragonfly Shaped Place Card Glass Decoration
Pale Blue Border with Flying Dragonfly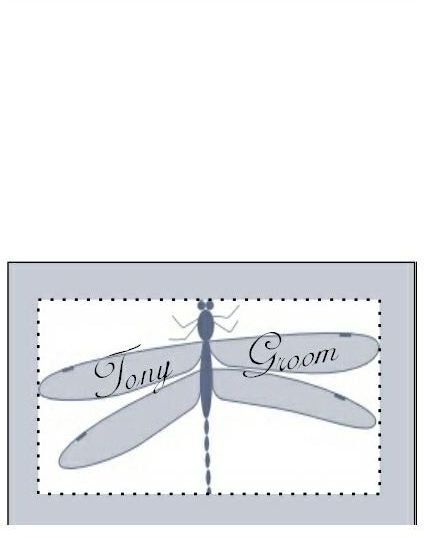 This wedding seating place card design is pretty unique in the fact that it encompasses both styles of dragonfly place card into one. The dragonfly is large enough on the traditional folded place card that the wings can serve as a background to the names of your guests. And you could just use it that way if you wish.
The second way of using it is to cut out the wings, or even just two or three of them, so that they can raise off the page. Of course you don't need to cut the wings out entirely, leave the part where they join the body. Once you've cut around the wings you can fold them forward so the wings look as if they are flying, giving a truly 3D image. This image shows what can be accomplished, but the download template comes with no names on it, with four place cards to a page.
Download: Place Card with Pale Blue Dragonfly - 3D Option
References
All dragonfly placecards were created by the author using Serif CraftArtist, and are made free for you to use for personal use only. If you want to download your own free version of CraftArtist to make place cards yourself click here.
Image credits:
All these images are released under the following license: Creative Commons Public Domain