Tips on Creating a Wedding Seating Chart: Free Sample Template for Download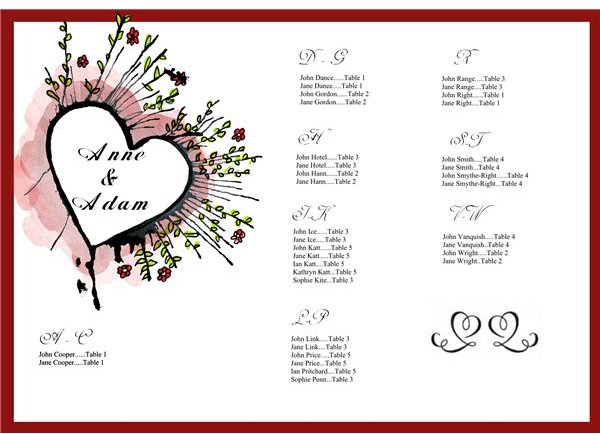 Planning Your Wedding Seating
A lot of couples don't bother with a seating chart at their wedding, but there are many good reasons to do so. You can make sure there are no awkward pairings, and that guests aren't getting stressed about getting in early for a good seat. If you have a large wedding, it is an especially good idea, as you want to have those closest to you…well, closest to you on the day. You don't want gram and grandpa way out in the back where they won't be able to hear what's going on.
However, arranging the wedding seating can become one of the biggest complications of arranging the whole day. Luckily there are ways around this. There are many great shareware programs available for free that can take the stress out of the whole affair for you. Start with one of these, such as PerfectTablePlan (see references), and enter in all the information. You can even choose the size and shape of the tables. What you are left with is a very basic plan, but it's so easy to make it more attractive to display on the day.
We'll now take a look at how to make the seating plan more visually appealing, as well as covering your standard three options in seating charts for a wedding.
Alphabetical Order Table List
Perhaps one of the easiest ways of letting guests know where to sit, is by a simple aphabetized list, with the names under headings of the initial letter of their name, and the table number they are sitting at, next to it. This saves guests desperately scanning through a large list to find their name, and once at the table they can directed to a specific seat (if required) by using place cards.
Of course a list can look pretty boring, but if you use a free software program like Serif CraftArtist Compact, or even a simple program you already have like Word, you can add some visual appeal. The simple layout here was creating in CraftArtist, simply drawing a rectangle shape and widening the line values, changing it to a color that appealed to me. The image was an embellishment in CraftArtist that just required resizing and placing into position.
To fill in any gaps, make use of free wedding dingbats as I've done in the lower right corner here with the swirly hearts.
Free Download: Blank Wedding Seating Chart Template
The template comes with no information on it, so you can fill in the names of the couple inside the heart, and the relevant names and details of your guests. Make sure to use an elegant wedding text font to add further appeal.
Layout of the Room
There are two ways to approach a seating chart for a wedding that shows the layout of the room.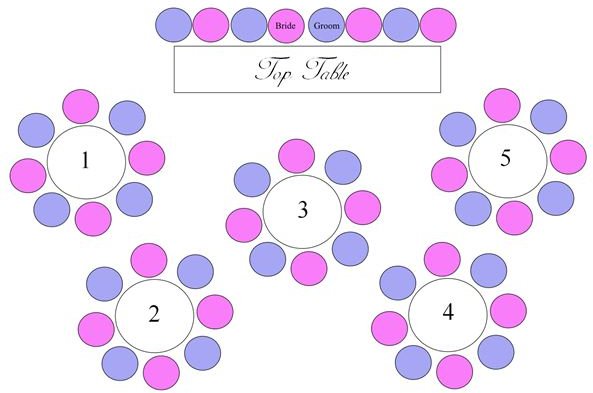 One is to have a layout with table numbers in the middle of each table, and a chair number assigned to each seat; next to each table is a key that has the person's name listed against their relevant chair number so they know where to sit.
The other is to use a larger layout, and just put the relevant names inside a circle that represents each seat at the table.
You can include as much detail as you want with regard to layout, almost like a map of the room, even showing the dance floor and cake table etc. but that is really not necessary. The idea is just to make sure your guests know where to sit. Why not make it easier for your guests by using pink seats for girls, and blue for boys—adding to the visual appeal of the layout too.
I used Serif CraftArtist Compact to create this layout which was easy enough to do. Simply use the drawing tools to create your basic shapes, and then create a color fill for each of your seat colors. I typed in the "Bride" and "Groom" place settings at the top, to give you an idea of what the finished result would look like.
Tip: Once you've created your first table with seats around it, select all items and "group" them together. This way you can then just copy and paste to create the other layouts. Simply select and click "ungroup" to change the seating around.
Table Groups with Names Underneath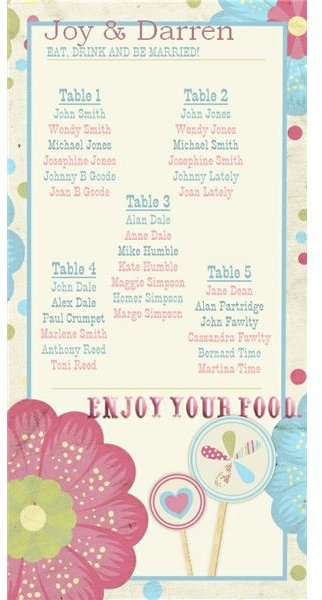 This is the most basic way of displaying a seating chart at a wedding, simply listing the names of people that are to sit at that table, underneath the relevant heading. It is a neat and tidy way to show people where to sit, but isn't ideal for larger weddings as it will take guests a long time to look through the list to find their place. If you want your guests to sit in a specific seat once they are at their table, then you can easily design some place cards to match with the seating plan for this purpose.
I've again used CraftArtist here, this time opting to use one of the ready-made templates, just leaving me with the job of adding the relevant details in a suitable font - job done. The one I've used was actually a menu template, but was easy enough to adapt to a wedding seating plan - I even left in the banner at the top as it seemed appropriate: "Eat, Drink & Be Married".
References
PerfectTablePlan - https://www.sharewareconnection.com/perfecttableplan.htm
Swirly Hearts, Love Romance Font - https://www.fontspace.com/blue-vinyl/love-romance
All wedding table plan images were created by the author (who retains the copyright), on Serif CraftArtist. Click this link for a free version of the software to create your own seating charts for a wedding.