10 Free Wedding Wine Labels to Download: Vintage, Traditional & Modern Designs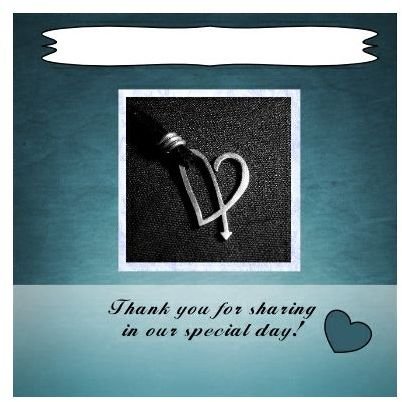 Make Your Own Labels, Or Download the Templates
All wedding wine label templates that follow were designed using Serif's CraftArtist software. There is a free version of this software that includes many great features to enable you to create your own. I've given tips throughout, so you have some guidance on how to create your own wedding wine bottle labels using this package, but it's easy to download the readymade templates too.
If you decide to download any of our wedding wine labels then bear in mind that they are suitable for personal use only, and are designed to be printed at a size of 4" by 4" - all are provided as JPEG downloads. Clicking on any image will make it larger, or you can download the template in full by clicking on the download link in each section. You can use these JPEGs in any software package you choose, just typing in the relevant details or handwriting them after printing.
Dark Blue Background with Metallic Heart
For a striking yet sophisticated wedding wine label, this unusual blue background stands out from the crowd. The text reads "Thank You For Sharing Our Special Day", and the banner at the top has been left blank so you can add your own details such as the names of the happy couple and a date.
This design was made in CraftArtist using a background that was already there, so all I needed to add was a frame and photo, a banner, and of course the text. The heart embellishment was made easily using the shapes drawing tool, using the color picker to take the dark blue from the top of the label, and applying a color fill to the heart.
Download: Wine Bottle Label With Metal Heart Embellishment
Round Butterfly Theme Wine Bottle Label
Although we've shown the wine label here with an added photo and date details, the download template will have these details blank so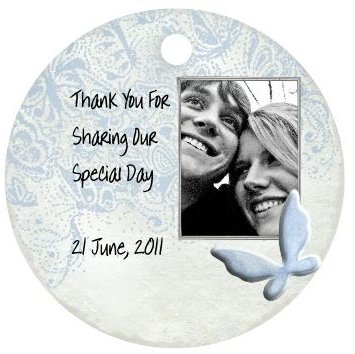 you can personalize it to you. The idea with this design is that you can just punch a hole out of the top of the label and thread through ribbon, meaning you can easily tie it around the bottle - no need for getting sticky, or trying to be super accurate in affixing your label straight.
This was a simple make in CraftArtist using a gift label embellishment with the butterfly background already set up. The butterfly embellishment was already there, I just adjusted the material depth to give it a more 3D look.
Download: Butterfly Design Round Wedding Wine Bottle Label
Heart Shape Wine Bottle Label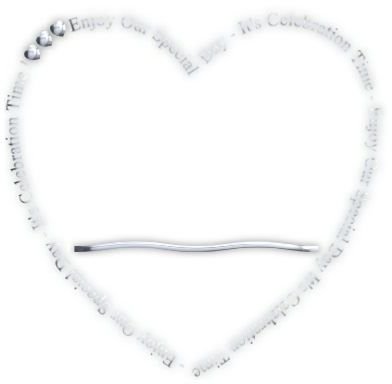 This is a classic style heart shape label with a bit of a twist. The text follows a heart shape and reads "Enjoy Our Special Day - It's Celebration Time".
You can easily create the same look by drawing a simple heart using the shapes tool, and then clicking to add text around the shape. I added some simple heart shapes to fill in the remaining space and then applied a metallic effect - although the material effects are only available in the full version of CraftArtist there are still many other effects you can apply to make it personal to you.
Download: Heart Shape Wine Bottle Label Template
Modern Swirl Wedding Bottle Label
For a modern minimalist approach with style, you might be tempted by this elliptical shape wine bottle label with a large swirl design in the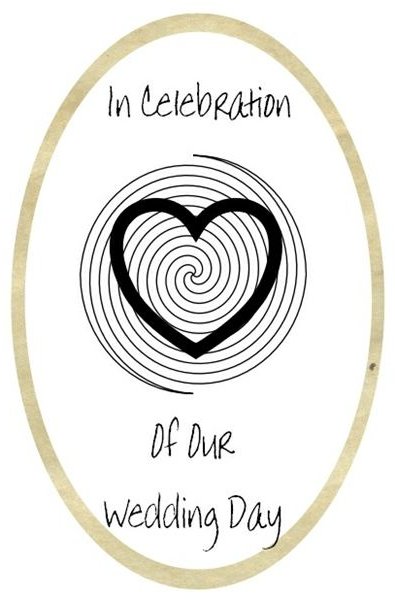 center. The text reads "In Celebration Of Our Wedding Day." The emboldened heart in the middle gives it another wedding/love feel without feeling too traditional.
Using CraftArtist made this an easy label to create. I used their wine label template and added a background to the border. The swirl and heart were both made using the shapes drawing tool - making the outline of the heart a little thicker to make it stand out.
Download: Swirl Design Wedding Wine Bottle Label
Red Floral Border Label
The red border and floral design, accompanied with plenty of black and white detailing make this wedding wine label a stand out choice.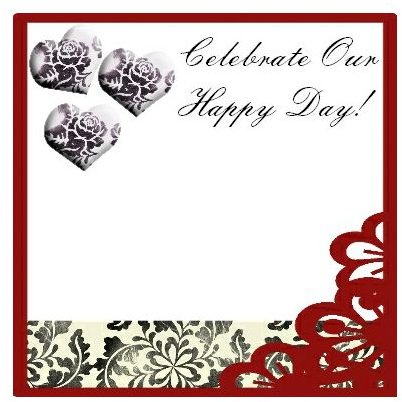 It's modern with a vintage twist, and there is plenty of room left for you to customize the design according to your needs. You could even incorporate some other hearts or maybe a modern bridal couple, using some of our recommended wedding dingbat images.
The red border was a free embellishment in CraftArtist which I sized to 4" x 4" to make it a suitable size wine label. The detail at the bottom was again a free material that I just moved around until I was happy with the position, and the hearts were freebie embellishments.
Download: Red Floral Border Wedding Wine Label
Traditional Wine Bottle Label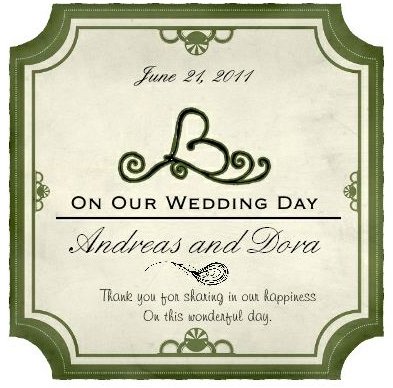 This wedding wine bottle label template is quite a traditional design, that wouldn't look out of place on any bottle, as the look is quite authentic. Although the picture I've included here includes name and date details, if you download the template these details are blank. So all you need do is download the small JPEG file, insert into whatever package you like and then type your details over the top.
This label was created using a pre-made embellishment for the bulk of the label, I just added some relevant swirls and wording, using the positioning tool to tilt elements until I was happy. Make sure to use an elegant wedding font, to suit your theme.
Download: Traditional Wedding Wine Bottle Label Template
Vintage Bird Theme Label
The simple and classic shape of this wedding wine bottle label template means that it is quite traditional, although the detailing gives it a more modern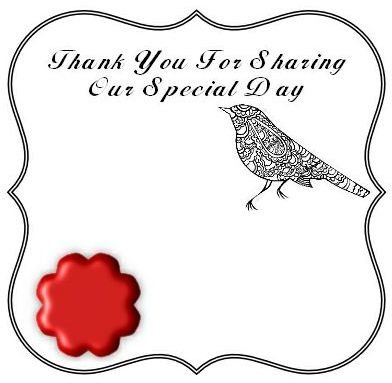 feel. Bird images are very popular at the moment, so if your wedding is featuring bird theme table decor, this is a perfect choice. There is a wax style seal that you can use to type or write the date over, and there is plenty of room in the center of the template to add names or even a photo.
The main outline of this traditional style wine label was easily created using the shapes tool in CraftArtist, and then applying a different line style to make it stand out - the other embellishments were easily added using the software too. I added material depth to the seal, to give a more 3D effect.
Download: Vintage Bird Theme Bottle Label Template
Notepaper Style Bottle Label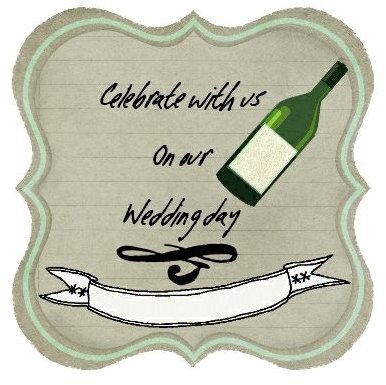 This is another old-fashioned shape wine label that is given a modern twist with a notepaper style background. There is a doodle-type banner at the bottom which brings the look bang up to date, as well as giving you room to type in names of the happy couple, or a date. There is even room on the wine bottle embellishment label to write or type a date too.
Try adding a bit of pizzazz to the wine label with a fake gem or two. Digital embellishments are available in the CraftArtist program, or visit craft stores for some inexpensive faux 3D gems.
Download: Notepaper Style Bottle Label
Comic Book Style Label
If you want to add some color as well as humor to the tables at your wedding, then this comic book style wine label template is for you. The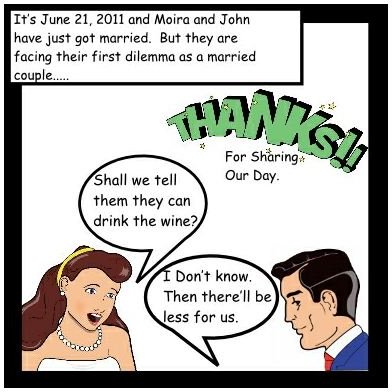 picture shown here has all details completed so you can see what can be achieved, but the template will come with the box at the top blank so you can complete your own story. If you want to match up the font, I used Comic Sans which usually comes preloaded on a lot of programs.
A comic book style is easy to create with a chunky black border and cartoon style clipart. Alter your speech bubbles and text boxes to have a thick black line around them to recreate the comic book style.
Download: Comic Book Wine Bottle Label
Art Deco Wine Bottle Label Template
Nothing is more elegant than the art deco style, and this wedding wine label is simple and definitely elegant. The art deco embellishment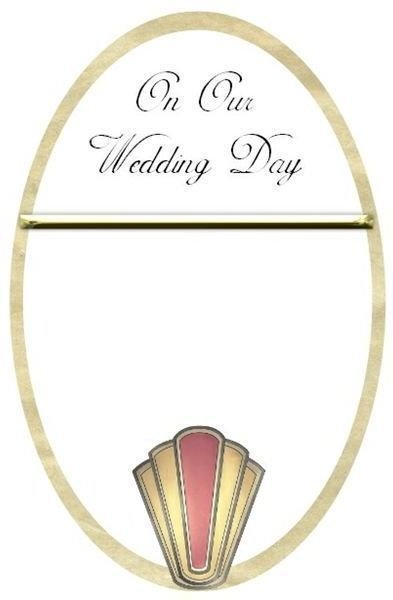 at the bottom was a free embellishment in the CraftArtist software package, and the template itself is using one of the ready set up shapes provided in this package too - so adding a background and border was really easy. The wedding font reads "On Our Wedding Day", and a metallic effect border underneath this means there's plenty of room to add your own details.
Download: Art Deco Wine Bottle Label Template
References
All designs are original creations by the author using Serif's CraftArtist. A free download of Serif CraftArtist Compact is available for you to make your own wedding wine bottle labels and other great craft projects.
Better Together - rachelcaitlin/Flickr
B & W Heart - photographerpandora/Flickr