Unique and Alternative Save the Date Ideas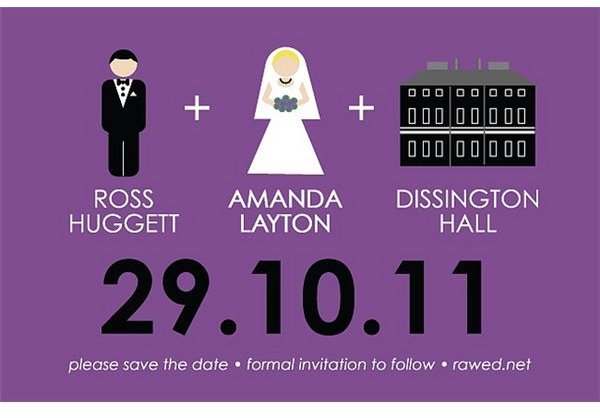 Traditional or Informal?
There are many routes you can take when considering the design of your save the date, but the first question is if you are going for a formal or informal approach. Even if your wedding is going to be quite formal, save the dates are a chance to let your independence and creativity shine. You can still choose a formal style save the date card, following appropriate etiquette and so forth, but let the design speak for itself. Formality doesn't have to mean boring.
A save the date announcement, in whatever form, is just to give your guests a heads up on a forthcoming event, so the etiquette certainly isn't as rigid as when sending out the formal invitations. As long as you use the appropriate wording, the design can be your chance to stamp your mark on the occasion.
This purple card for example, has all the pertinent details, but can be used in three different ways: as an informal postcard, as an e-card, or printed onto a folded card, with an insert and using an elegant wedding font inside.
Designs with a Twist
If you want to go for a more unique approach to the standard cards, these save the date ideas might be just what you are looking for.
You can easily use a similar design to the one above yet get your design printed onto a magnet-backed card, or even on a drink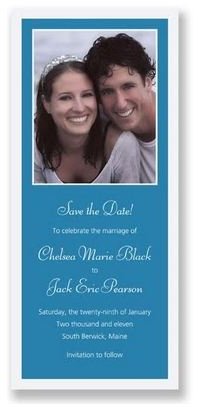 coaster. You can even purchase magnet-backed cards to go through your printer at home, cutting down on costs too. This is an individual idea that makes the guest take notice, and will also give them something useful too - having your save the date on the fridge will be a constant reminder not to forget.
Using bookmarkers is another great way to do this. If you don't fancy creating your own, then visit a business card website that features the new skinny design business cards - these could easily be altered into a change the date bookmarker.
Why not have a photobooth photoshoot, and use the results for your save the date? The couple in this example and have been prepared with hold up signs with the save the date details on, but these could just as easily be added on later.
Go for a simple but stylish approach of a calendar of the month page with the date circled. There are some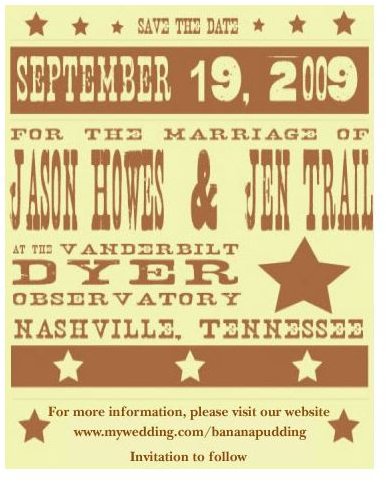 examples of this in our save the date clipart page, which makes creating your own individual design even easier, as you have a head start with the bulk of the design - all you have to do is circle the date and add the names and destination underneath.
Why not let the save the date fit your interests too with a crossword or word finder puzzle containing the information - a simple grid is easy enough to create even using a basic program. Making a simple poster like the one here is nonetheless effective, for its simplicity - again this would be an easy design to create yourself, even on something like Word using different fonts and sizes, if you don't have a basic DTP package.
Travel
Save the dates are commonly used when a wedding or event is going to take place overseas and your guests need time to make the necessary arrangements. So use one of these ideas for save the dates to suit your theme.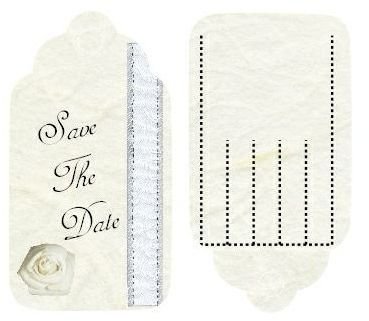 Shaped save the dates, such as luggage tags, are easy to design using a free package like Serif's CraftArtist Compact for example - in fact there are even templates of tags already there, so making your own save the date is a breeze. The big advantage of this approach is that you can fit around 10 tags on a sheet of cardstock, so you can design and print many in one go. The one here was created in minutes, and although quite formal in style, could easily be made into a less formal beach wedding theme, by incorporating a blue background and using some beach dingbats to add humor.
You can also go for the passport style save the date, a suitcase shaped card, or go crazy with a tropical island theme for your destination wedding.
And Now for Something Completely Different…
You can of course opt for something completely different. If you don't want to go down the card and paper route, no matter how informal the style, there are a number of more 3D ideas for save the dates you can use. Although significantly more tricky to package and post (not to mention higher postal charges), using save the date lip balm, or even creating a message in a bottle-style save the date could be a way to go.
Make sure your bottles aren't glass, of course, but other than that, even a simple save the date can be rolled up and placed inside - try using a free save the date template and then place confetti or faux gems inside the bottle. Small plastic pots of lip balm can be bought from manufacturers in bulk, or you could even utilize plastic travel pots for this purpose and fill your own pots. Then, you can easily create a save the date label, in a DTP package like CraftArtist to add to the top.
Your ideas for save the dates can be as unique as you are; so go and make the theme fit the card/bottle/tag/lip balm, and have some fun!
References
Images:
Luggage tag was created by author using Serif CraftArtist.
This post is part of the series: Save the Dates
This article series brings together everything you need to know about save the dates. We cover the best free save the date templates available, how to make your own save the dates, save the date wording, and save the date etiquette, as well as some alternative ideas for your save the dates.