How to Make Wedding Fan Programs

Multi-Layered Fan Format
Want to style your own wedding and add that personal touch too? It would be great to prepare wedding fan programs! These wedding fan programs not only inform the guests on what will happen throughout the ceremony and even during the reception, but these are also creative ways that can make your big day more special and unique! They should always be both functional and stylish, further reinforcing the theme of your wedding.
One format you can use is the multi-layered fan, made up of four to five designed cardboards in vertical orientation. This kind of fan can be opened and closed, with the layers on top of one another. You can customize your own size when you open a new file in Adobe Photoshop. The first one must contain the names of the couple, together with the venue and date. You can add more embellishments here because it contains little text, and will be placed on top of the other layers. For the other layers, you can enumerate the different parts of the ceremony on one piece, and those for the reception on another. You can also place the entourage list on one more. For other layers, you can opt to add your prenuptial photo shoot pictures, or incorporate a love quote in your wedding program.
For the background, a simple way of adding color is to use gradients for the layer. There are options to choose from too in Adobe Photoshop. Then you can use various kinds of brushes to design the sides or perhaps just the top and bottom parts. Lastly, add the text that you want to put here and choose the options for it, such as adding a shadow or an outer glow.
When you print these cardboards and put them together, you may want to create a fan-like shape better by narrowing the part at the bottom, such as in the shape of a cone with a rounded bottom. Then make the edges rounded too. After that, punch a hole at the bottom part and add a tiny metal ring so the hole will not tear easily, or lace the holes together with a ribbon that has the color of your motif. You may even hang a charm that matches your theme, such as a flower or heart made from felt cloth, or a small metal charm that looks like a slipper or a shell.
NOTE: If you do not have Adobe Photoshop or may not be familiar with it yet, you can also use MS Publisher and MS Word to edit your wedding program fans, or use some of our recommended fantastic wedding program templates.
Image source: Author's own creation
Examples of Wedding Program Fans
Here are some great examples of wedding program fans: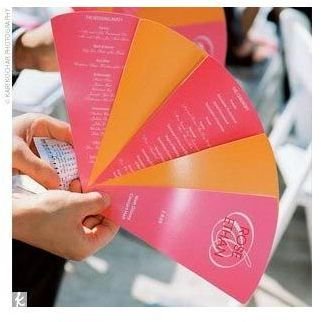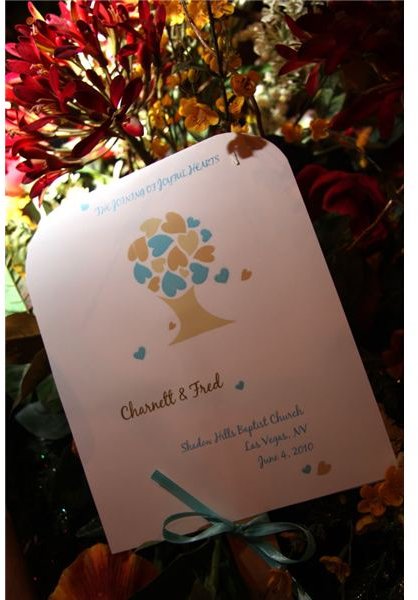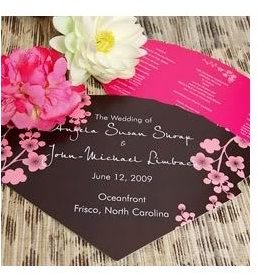 Square/Rectangle Fan Format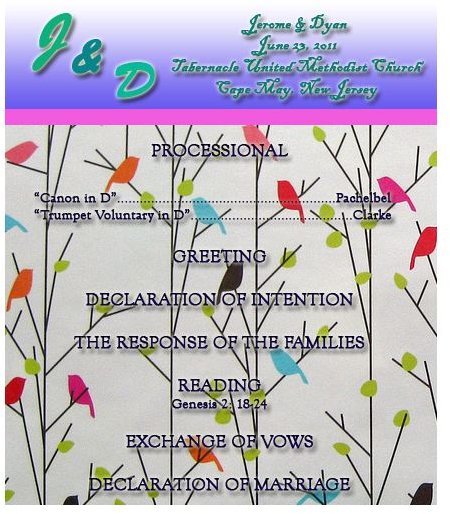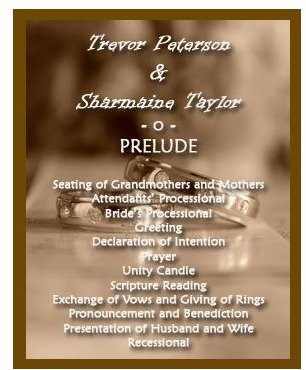 If you want a simpler fan format, you can go for one shaped like a square or a rectangle, affixing a stick at the bottom, to make it into a fan. It's up to you what size you would like, as long as you are able to add the necessary text to your wedding program and it would still be readable and attractive. Remember not to make the designs and text too crowded.
In designing this fan in Adobe Photoshop, aside from the techniques mentioned above, you may also wish to use a patterned background or a picture to serve as a backdrop for your text. Just be sure that the text still stands out (this can be arranged through editing options for text).
For this kind of fan format, there is no need to create several pieces for just one fan program. You need only one piece, which should already contain all the important information. If you think there is too little space, you can use the back too! You may opt to print on paper first and then stick on colored cardboard or craft paper. You can even stick on miniature gems and jewels for an added elegant effect.
Afterwards, do not forget to add a handle at the bottom which you can cut out from cardboard too. You can use thick popsicle sticks dipped in paint as well. And finally, tie a ribbon at the top of the handle right below the paper. Voila! You now have personalized, handmade wedding fan programs!
Now you know how to create a great looking wedding fan program, check out our article on the sample of a wedding program format, to make sure you include all the necessary details, as well as your wedding program looking good.
Image source: Author's own creation
Reference
Source: Author's own experience.
Microsoft templates - https://office.microsoft.com/en-au/templates/CT010104298.aspx
Pink and orange fan program - chicana_2065/Photobucket
Flower program fan - charnettm/Photobucket
Pink and chocolate fan - charnettm/Photobucket