What Is a Dingbat Font? A Great Resource for Desktop Publishers, Of Course!

What Is a Dingbat?
A dingbat is a type of font, only instead of seeing the letters, A, B, C as you type, you will see an image instead. They work in exactly the same way as ordinary fonts, so once you've downloaded a dingbat, you add it to your fonts folder and choose it just the way you would do with any other font. You can use these in regular programs like Word, or in DTP programs like Photoshop or CraftArtist, where you can really play around with them.
What Can You Do With Dingbats?
The DTP enthusiasts among you will no doubt be wondering how you can take the use of dingbats further. How

can you create a vector image from a dingbat font for example? This is often a pretty simple process, usually just a right click of the mouse will enable you to "create outlines" in Adobe Illustrator for example, meaning that you can now edit your dingbat image in whatever way you please. Other DTP programs may call this process "convert to curves." There are some great freeware options that you can use to do this too, such as Serif CraftArtist Compact.
Not only can you edit the dingbat images, taking out parts you don't like, adding highlights, shadows and details, but you can also colorize them or add texture effects. Converting a dingbat to a vector image also means that you can neaten up any blurry lines, as obviously most dingbat fonts are designed to be used at a small resolution.
Different Kinds of Dingbats
Now we've covered what a dingbat is, and what you can do with them, we'll take a look at the different kinds of dingbats available.
Dingbats have many uses. You can use them simply on their own in business presentations, as an element to a greeting card, or to create a textured background paper for digital scrapbooking. The uses are near limitless, and can obviously depend on the kind of dingbats you are looking at. Pretty much any image can become a dingbat. You can get dingbat frames, bulletpoints, cartoon images, swirls and flourishes, detailed pictures, or even just symbols - all from just the strike of a single key.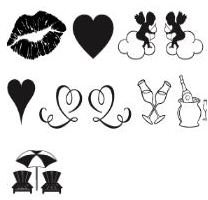 Wedding Dingbats - Perhaps one of the most popular genres of DTP is creating wedding stationery. If you click on the link at the beginning, you'll see how diverse dingbat images can be. These are perfect for save the date cards, invitations, wedding programs, wedding menus, even to decorate the wedding hall. By converting it to a vector image, you could colorize the champagne glasses, add bubbles, and add a highlight to show the reflection of the glass.
Some of our recommended free beach dingbats, could be used in conjunction with the wedding ones, to create some great scrapbook layouts of a tropical wedding or honeymoon.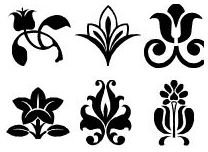 Dingbats with a floral theme will always be popular as their uses are so wide, but these collections of tulip dingbats are especially good for playing around with. Tulips have quite an art nouveau feel to them and are perfect for decorating. You could easily convert these dingbats to scalable vector images, and make them large enough to use for a wall stencil, or creating a wall decal using a digital die cutting machine.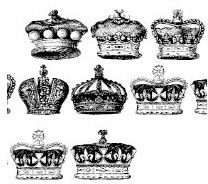 Not all dingbats are this basic though, as these ornate crown dingbats will prove. The detailing is so superb on some dingbat images that it is completely lost being used at a small size. Converting these dingbats to vector images is the best way of maximizing the detail. In the year of a royal wedding, these are perfect for many regal projects.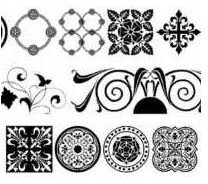 Even basic images like arrow/lightning dingbats can benefit from some added detail, such as shadows or a plastics texture to make them really stand out. Colorizing some of these gothic dingbats would make for some striking scrapbooking elements, or alter the transparency to make some great scrapbooking background paper.
So, what is a dingbat? A pretty useful tool to have in your DTP arsenal, I hope you are now thinking. They help you save time in designing something from scratch and can be put to pretty much whichever use in desktop publishing you can think of.
References
Image credits
This post is part of the series: Free Dingbat Fonts & Tips on How to Use Them
Dingbats are extremely versatile fonts that let you take the scalable properties of traditional typefaces and apply them to great images and clip art. This series describes, in more detail, how to use these tools and helps you find your own free dingbats to download.