Top 10 Free Dingbat Fonts of Arrow & Lightning Images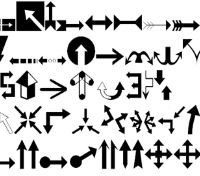 How Can You Use Dingbats?
Dingbats are just a different kind of font. Instead of seeing A, B, C when you type, if you use one of the following dingbat fonts you'll see a related image rather than just letters—they are an easy-peasy way of getting images into your projects with little to no effort. You can even add color to them to jazz them up (as demonstrated in some of the following collections), simply by changing the color of your font.
Carr Arrows
It's hard to find free dingbat fonts in the arrows, lightning category that are unique; arrows are just arrows after all. But Carr Arrows actually does seem to offer a bit of a different visual feel, that you'd be proud to include in many projects. From artsy curvy arrows, to more practical flow-chart arrow images, there is a good selection in this collection of 79 arrow dingbats.
Digits Font by Dieter Steffman
This free dingbat font with arrows imagery also includes numbers, hearts, and even the four suits from a deck of cards—useful if you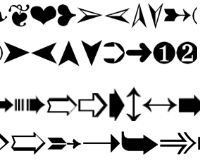 want to create your own playing cards. The majority is numbers and arrows however, and there are some really unique ones, as well as the standard arrow designs. The arrow with a trail is a perfect image for indicating "speed", and there are some other classic arrows suitable for a medieval or Robin Hood project too.
DTP Dingbats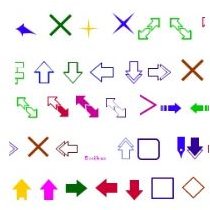 The great thing about DTP dingbats is that although it is mostly quite an angular and simple font that would be perfect for presentations and flow charts, there are also some other great images in this collection too. Why not try one of the pointing fingers instead of using an arrow?
Lightning Bolts Font
If you are after some realistic looking bolt of lightning images, then this is the perfect arrows/lightning dingbat font collection for you. Due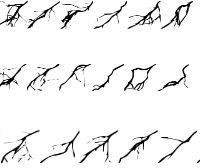 to its artistic, rather than cartoony nature, you would do well to use this as a background paper for your scrapbooking layouts, or perhaps use it to create striking bulletpoints to make a "point" in your presentations at work.
Pfeile by Manfred Klein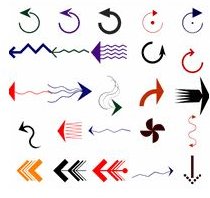 You would think it would be hard to make a truly distinctive collection of free dingbat fonts of arrows and lightning images, but this font proves it's possible. There is a definite artistic flair to these complex and swirly arrows, that would make it suitable for many projects, from creating a teenage greeting card, to creating your own scrapbooking paper. These arrows would also be sure to jazz up any business presentation too—no right angles to be found here.
Roadgeek 2005 Arrows 2
If you want dingbat images of arrows from roadsigns, then this is the ideal free arrow dingbats font for that purpose. There are some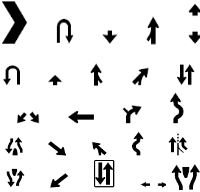 great road sign type arrows that you could use to demonstrate "Which way now?", or "This isn't just a one way street" etc. With 30 characters, as well as a further 94 in the Arrows 1 collection, you'll have more arrow dingbats than you'll know what to do with.
Dingsbums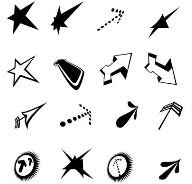 This is one of the best combined free arrow and lightning dingbat fonts, as well as having some stars, suns and snowflakes thrown in too. It's got quite a fun vibe going on, and some of these dingbats would make superb scrapbooking elements. The feel is very much a cartoon-like approach, but the images still retain a certain depth too. They definitely add a bit of something different to the usual arrows and lightning images.
ArrowsOSeven
Consisting of mostly arrows in boxes, this free dingbat arrow font adds a bit of something more personal than the common or garden-variety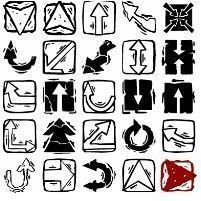 arrows. The angular but artistic way the creator has made these arrows, makes them a perfect addition to any masculine greetings card as they have that "stamped" look, and would build up well into a 3D decoupage element. Wouldn't look out of place in a modern business presentation either.
Distro Bats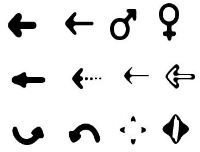 OK, so these arrow dingbats aren't fancy, but they are sturdy and practical, which might just be what you are looking for. They are pretty basic images, but retain a certain doodle-type charm. If you're looking for the symbol of man with the up pointed arrow, then this collection has that, along with the symbol for woman too. As well as the usual arrow images, you'll also find a CND symbol, stars, an old fashioned soccer ball, and a smiley face symbol.
Pizzadude Bullets Font
Unsurprisingly given the name, I'd recommend this font to be used as bulletpoints for a report or a presentation. They would also look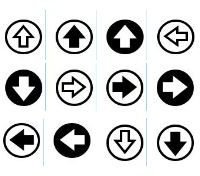 great at the end of a page to indicate someone should turn the page over. If you download this free arrows dingbat font, you'll also get some other snappy bulletpoints, such as targets, crosses, stars, and triangles.
How Do You Use Yours?
Arrow dingbats are so versatile that there are near limitless possibilities for their use. The collections here offer a good range of strict right angle arrows, to fancy flourish ones, and some fun, unique ideas too. The obvious use for many of these is in a business presentation, but a lot of them could easily be used to create scrapbook elements, or to add superb detailing to a greeting card. Have we left anything out? Let us know what you use your dingbat fonts for.
References
Carr Arrows - Fontspace
Digits Font by Dieter Steffman - Fontspace
DTP Dingbats - All Free Download
Pfeile by Manfred Klein - Fontspace
Roadgeek 2005 Arrows 2 - All Free Download
Lightning Bolts - FFont
Dingsbums - Fontsy
ArrowsOSeven - Fontspace
Distro Bats - Fontsy
Pizzadude Bullets Font - Fontsy
Dingbat images remain the property of the original designer.