Free Business Lunch and Learn Invitation Forms: Options for MS Word and Publisher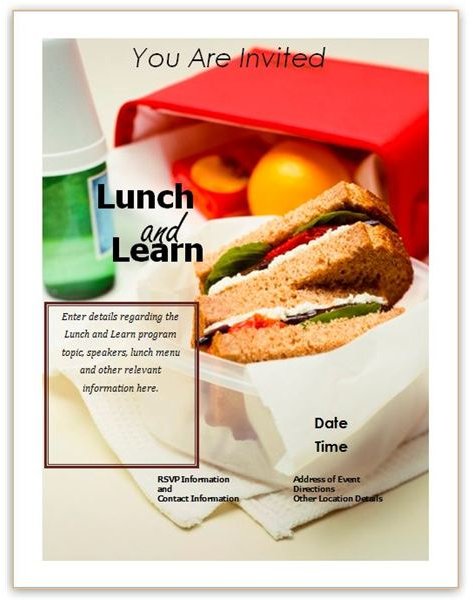 If you have Microsoft Publisher 2003 or later or Word 2007, 2010 or 2003 with the Compatibility Pack installed you can use the following business lunch and learn invitation forms. Click on any image to enlarge it, and click the Download Page link to download any or all of these templates
Using this template, you can create and print eye-catching flyers to post around the office, fold and mail in envelopes or even send via e-mail. The template uses a colorful luncheon picture as the background. If you would rather use a different image or not use an image at all, you can simply change the page background. There are several different text boxes on the page into which you can type information such as the name of the lunch and learn program you are hosting, the time and location, and other pertinent details. If desired, you can also change the font faces, sizes and colors of the text. You can add or remove borders around the text boxes as well. To make changes, simply click on the text box to select it. Right-click and choose Format Text Box or Format Shape.
Download Page: Lunch and Learn Flyer for Word
Lunch and Learn Postcard for Word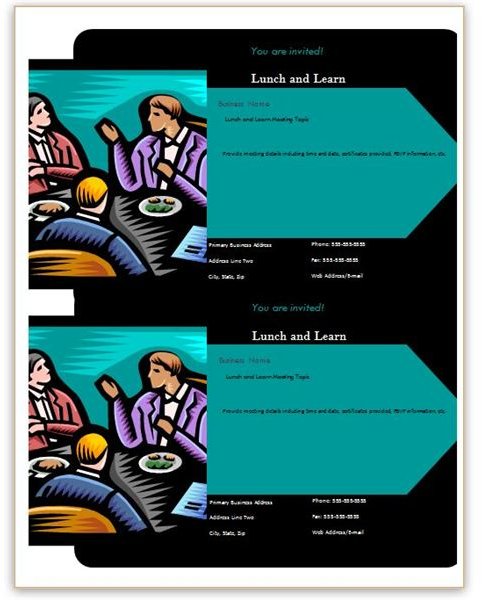 Enjoy the ease of sending out postcards instead of folding and mailing letters using these business lunch and learn invitation forms. The template produces two identical postcards per page. A clip art image shows a group of business professionals engaged in conversation at a lunch table. The rest of the template shares the same bright hues as the clip art. Sample text in the first two text boxes state, "You are invited" and "Lunch and Learn." There are three separate text boxes atop a teal arrow into which you can enter your organization's name, the topic of the program and relevant details. Two matching text boxes at the bottom of the post cards contain your contact information. After printing the postcards, save even more time by performing a mail merge to create address labels for your recipients.
Download Page: Lunch and Learn Postcard for Word
Lunch and Learn Quarter-Fold Card for Publisher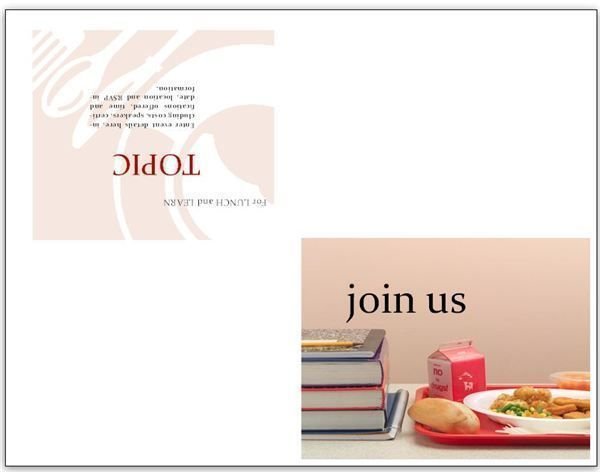 A quarter-fold invitation is a thoughtful, formal way to invite guests to your lunch and learn meeting, and Microsoft Publisher makes it easy to create one. This is especially true when you use a template, such as this one. The front of this card features a photograph of a school lunch on a tray along with books, notepads and a pencil. A text box is positioned on the picture with the words, "join us" in lower case letters. You can change the text or font if you desire. The interior of the card features a washed-out background image of a plate and silverware. Three text boxes with varying font sizes and colors contain sample text, which you can simple replace with your own details.
Download Page: Lunch and Learn Quarter-Fold Card for Publisher
Lunch and Learn Postcard for Publisher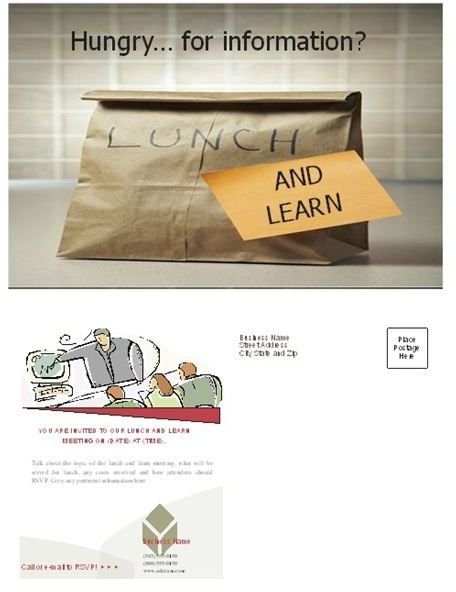 The final template offered in this collection of business lunch and learn invitation forms is a double-sided postcard for Microsoft Publisher. The front of the postcard has a text box across the top of the card reads, "Hungry… for information?" The postcard features a picture of a sack lunch sitting on a counter. "Lunch" is written on the paper bag in black marker and there is an orange sticky note on the bag as well. A text box placed on the sticky note states, "And Learn." The back of the postcard displays a clip art image of a training session as well as text boxes for details and place holders for your return address and postage.
Download Page: Lunch and Learn Postcard for Publisher
Be sure to check back regularly, as more Microsoft Publisher templates are being added all the time. For more help with Publisher, go to the Bright Hub Microsoft Publisher Tips library.