10 Beautiful Wedding Scrapbook Layouts & Pages, Plus Great Freebies to Download!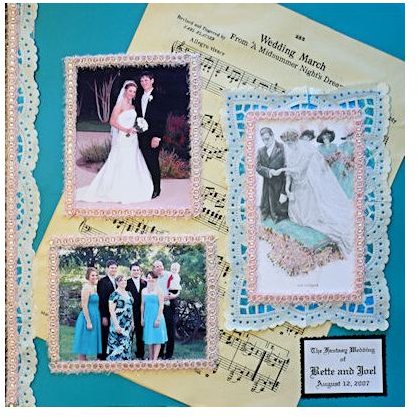 We've tracked down the best layouts for wedding scrapbook pages that you can find on the web, and examine just why they are great, and how you can achieve similar stunning results in your own scrapbook layouts. For download links to any of these sources, please see our references section at the end of this article.
Vintage Images
The vintage style is very on trend in the world of scrapbooking at the moment, and it is a style that lends itself well to wedding scrapbook layouts. Whether you are scrapping a modern wedding or a past wedding of your parents or grandparents, the vintage style can be adapted accordingly.
Photo tinting has been used on this page, as well as utilizing a copy of the sheet music to the classic wedding march as a background feature.
The Vintage Image Craft website, offers full instructions on achieving this layout, as well as free downloads of the wedding sheet music, and a free pdf of the classic vintage wedding image on the right.
Romance Blooms by Keepsake Garden Designs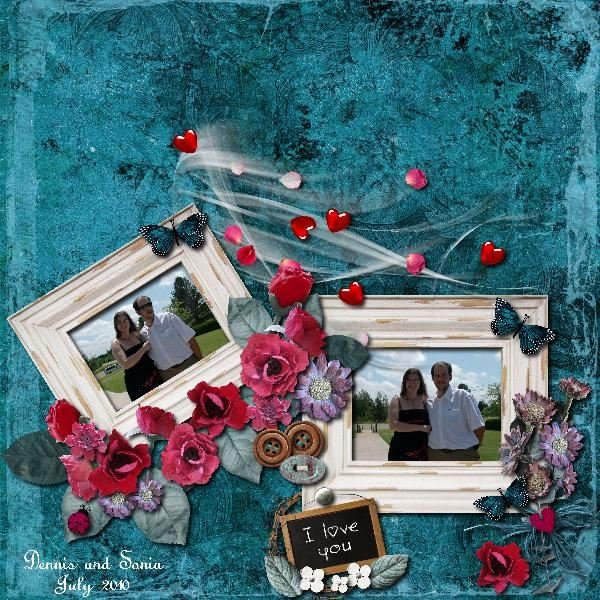 This "Romance Blooms" digital scrapbook wedding layout just goes to show that you don't need big fancy titles or lots of journaling to make a good page. The use of "white space", at the top of the page works well in balancing out the highly detailed bottom section, and the wide frames chosen to surround the photos help with this too. Ideally, in design, it helps to display items in odd numbers, but the two photos in this layout works due to the framed "I love you" at the bottom.
Try using one of Bright Hub's own free digital scrapbook papers, to start your own wedding layout using this layout as a template guide.
In Laws - Digital Vintage Layout by Kittylicious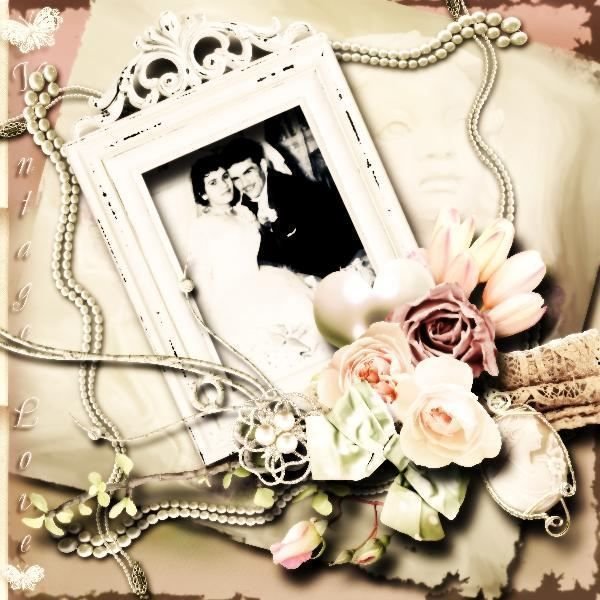 The vintage feel of this wedding layout proves that digital scrapbooking doesn't have to be hard edged or lacking in texture. The "In Laws" page was created using the Hollyspring Vintage Love kit, to put the photo in an old fashioned frame, with plenty of embellishments toward the bottom corner. Using embellishments in a corner is a great way to balance out an artistically tilted photo.
The creator of this page, explains more about her thinking when creating this page on her scrapbookflair page (see references section), who also have some great free software, embellishments and designer collections up for grabs if you become a member. Bright Hub also recommends some other fantastic sites for free digital scrapbook elements.
Love on Our Wedding Day by Jane Swanson
With gray being one of the hot new color trends, why not try using it as a background color for your wedding scrapbook pages. Not a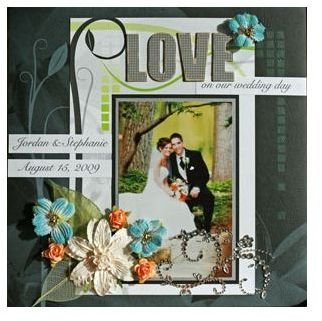 conventional color choice for weddings, but it can serve as a great background for showing off brighter accent colors such as the flowers, in this "Love on Our Wedding Day" layout. When using a single photo, try tilting it, or putting it slightly off center as shown here, and balance it up with titles and embellishments.
Falling in Love by Bear Family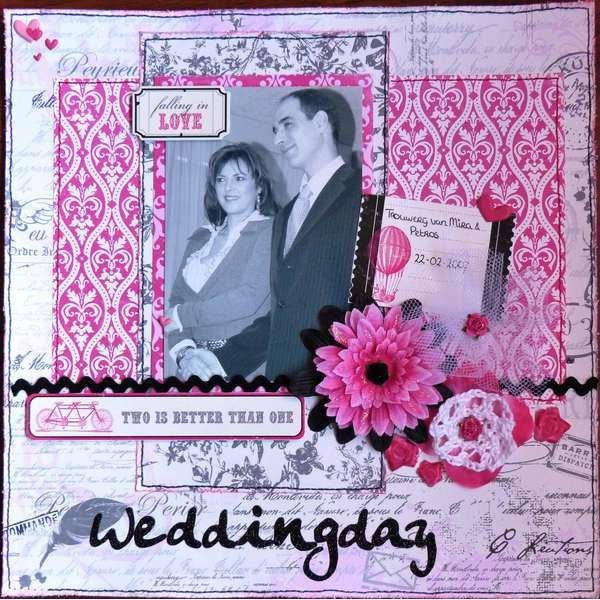 If you want to use detailed patterns for your background papers, then make sure not to overwhelm the whole page with too many colors. The use of a black and pink color scheme, with the black & white photo in this "Falling In Love" layout is a good example. Use the rule of thirds and place a single photo one third the way up from the bottom of the page. There is then room for a large title, and space to put your embellishments wherever you wish, without fear of overcrowding.
Why not try using this wedding scrapbook idea layout and create your own embellishments for wedding pages, by downloading some free wedding dingbats. You use dingbats just like fonts, and they can be incorporated into your titles too.
Continue on to the next page for more wonderful wedding scrapbook layouts.
My Man by Tasha Rock
Wedding scrapbook ideas shouldn't just center around the bride, and getting ready photos are a superb way to document the day as a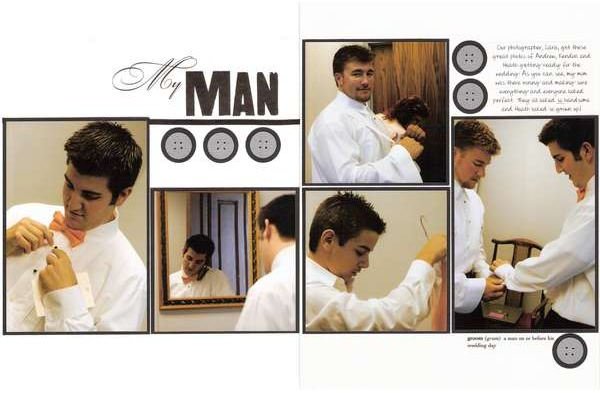 whole. The "My Man" layout is a great example of how to use multiple pictures on a page to tell a story, without it becoming overwhelming. Using a double page works well too, and means you don't have to cram all your pics into a small space. Use pictures cropped to different sizes, and fill in the gaps with simple embellishments, and a striking title.
Elegant Wedding Album by Andrea Steed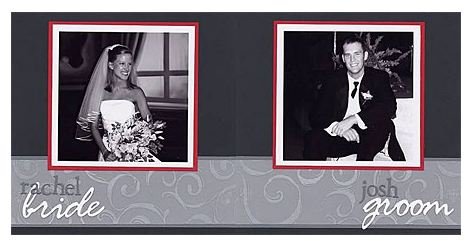 Simple wedding scrapbook layouts can often be the most effective, when done well. Try a double page spread to start a wedding scrapbook album with the bride on one page, and the groom on the other. The use of white space is very important with simple layouts, as is the choice of a suitable wedding type font for the titles to compliment the pictures. Andrea Steed (the creator of the layout pictured), offers more guidance in putting together a whole wedding album, along with suitable templates to use, and how to create suitable embellishments on her scrapbookjazz page (see references).
Shopping for the Perfect Dress by Physioscrap
The beauty of digital scrapbooking is that you can do things on a scrapbook page that would be hard, if not impossible, to accomplish on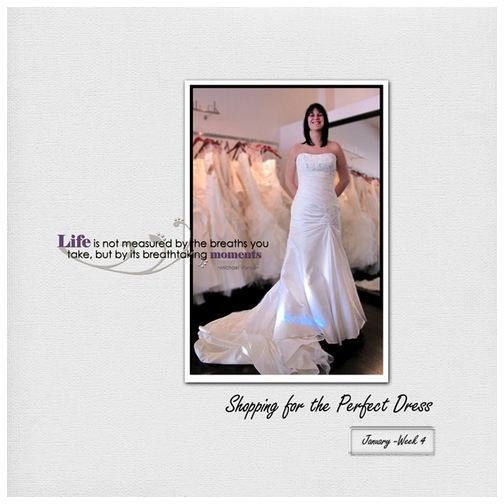 a physical scrapbook layout. The beauty of the photo in the "Shopping for the Perfect Dress" layout, is kept at the forefront with little interference from embellishments. The journaling is allowed to impede onto the photo, but as it's digital, you can still see the background from behind, which could only be achieved with rub-ons with a physical page, and would be difficult to accomplish neatly. This wedding layout for a scrapbook proves that simplicity works.
Forever by Art Teacher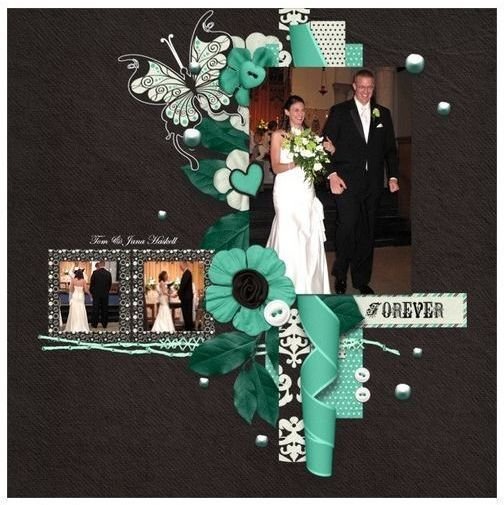 Another digital layout for a wedding scrapbook, that is sure to get your creative juices flowing, is "Forever", using the JennCK Designs 'Forever' kit. To achieve a similar look, start with a dark background, and add colored strips one third from the edge and almost right down the page. Build up your elements and add the photo. The space to the left has been used here for smaller pictures, but could just as easily be utilized for a large title, or a journaling block.
Something Old Something New by Lisa Storms
Another great way of documenting a part of the wedding process, is to devote a page to the choosing of the dress. One tip you can take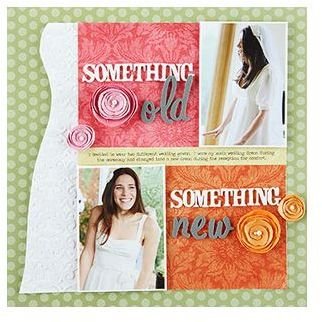 from this Something Old, Something New layout, is to use a piece of card or paper to imitate the shape of the dress, and use it to frame your layout. Balance is created by choosing two pictures, both with titles, and switching the order around for each.
You can find more information on the materials used to create this wedding layout for a scrapbook by visiting the scrapbooks etc. website (see references). This site also offers plenty of great freebies in the form of sketches, patterns, and paper piecings too.
Wedding scrapbook ideas for layouts often just need a different approach to what you have been used to, in order to get you creating some imaginative wedding pages in no time. Use these superb wedding layouts as inspiration to make your own unique creations.
References
Shopping for the Perfect Dress
All scrapbook images remain the copyright of the original creator.