Top 5 Free Gothic Dingbats: Great Images & Ideas for Any Gothic-Themed Project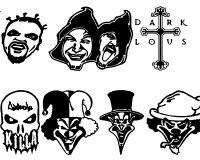 Going Dingbats
A dingbat font is like a regular font, only instead of displaying letters and characters, one strike of the key adds an image to your screen. These can be basic silhouettes or cartoon images, or even quite detailed drawings. All of the dingbat Gothic fonts in this list are free to download, with the simple click of your mouse.
Psychopathic Font
Unsurprisingly, given the psychopathic name of this free Gothic dingbat, the images are very much in the horror side of the gothic genre. The most appealing, and certainly most versatile, image in this collection is the gothic style cross, that could find its way into many Gothic horror projects, from making your own Halloween party invitations, to "Twighlight" inspired papercrafts. There are plenty of other scary clowns, skulls and masks as well, to keep the darker side of you entertained too.
Source: https://www.dafont.com/psychopathic-font-v2-0.font
Crime & Punishment by Emerald City Fontworks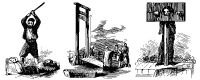 This Crime & Punishment Gothic dingbat font treads the line between horror and medieval authenticity very well. There is not a huge amount of images in the collection (just 12) but they are all superbly detailed and very authentic. In fact the origin of the design for these fonts was taken from some old wood cuts. The images vary from ducking stools, to guillotines, and other fairly unsavory depictions of medieval style punishments. Perfect for any authentic Renaissance fair poster or flyer, or could even be used in a medieval school project.
Source: https://www.eaglefonts.com/crime-and-punishment-ttf-63939.htm
Medieval Dingbats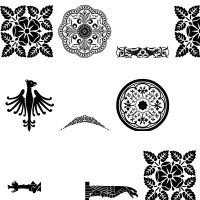 If you are looking for more symbols or classic medieval designs and patterns from your Gothic dingbats, then this collection is a must have. There are many patterns and tiles, as well as gothic swirls and other fillers, that could be used in many scrapbook layouts, and even to add the odd flourish to a Renaissance fair poster.
There is a good collection of Gothic crosses, medieval shields and classic fleur de lys images too, so if historical battle reenactments are your thing, there will be an image here for you. Or combine some of these images with the Calaveras gothic font below, for some truly stunning Halloween wedding invitations.
Source: https://www.fontriver.com/font/medieval_dingbats/
Calaveras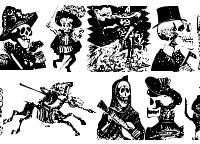 This is a brilliant/scary dingbat font that manages to be both Horror, as well as retaining a certain medieval Gothic charm. OK, so the spooky skeletons aren't charming exactly, but the images are so very well detailed and seeing a skeleton dressed up medieval style, or charging on a horse, are just not images you are going to see anywhere else. Perfect for adult Halloween party invitations, or even as some great images for a Mexican Day of the Dead project.
Source: https://www.dafont.com/calaveras323.font
House of Lime - Skeleton & Medieval Motif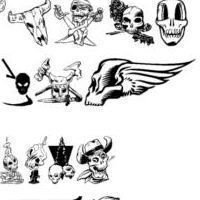 House of Lime have so many great dingbats that it's hard to choose just one of their dingbat collections for this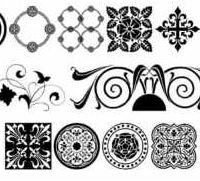 list, so take your pick. Here, I've reviewed Skeleton, and Medieval Motif, but they have many more options to suit lovers of all types of Gothic images.
The skeleton Gothic dingbats are fairly detailed and would suit any Halloween project, or even if you are searching for a Gothic image for a new tattoo. The authentic medieval motifs and tiles are so detailed you could even use them as inspiration for medieval decorating projects. Combine the two dingbat Gothic fonts, and you have a great range images to suit any Gothic inspired project.
Source: https://www.houseoflime.com/dings/medievalmotif.htm, https://www.houseoflime.com/dings/skeleton.htm
References
All images supplied courtesy of the respective artists and websites.