Top 10 Free Wedding Dingbats & Fonts: Best Free Images for Wedding Invitations, Thank You Cards & Beyond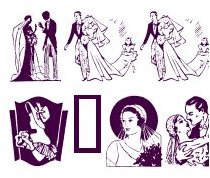 Dingbats are amazing things! They are basically images created by just downloading the relevant dingbat font and then using one hit of a key on your keyboard, and hey presto, an image appears.
They are a kind of font, only instead of displaying letters, they display images. Some of these can even be quite detailed, so don't think you are just getting basic silhouettes or cartoon-like images. The free wedding dingbats in this article are suitable for many wedding projects, from creating inexpensive wedding invitations to wedding cards. You can also use then to embellish wedding menus, order of service, thank you cards…. many of them are great to use on wedding scrapbooks, anniversary crafting projects, and Valentine's Day cards too.
Wedding Dingbats Cool Font
While this wedding dingbat is superbly detailed for a dingbat, and provides some great vintage wedding images, to class it as a collection would be stretching it. There are just 9 wedding images in this range, but then again, they are quality images and they are free. Would work well for a 1920s or vintage Hollywood themed wedding, especially good font if you're making your own wedding invitations, due to the detailing. A boon for any paper crafter needing a perfect vintage image for a handmade wedding card.
Source: https://www.coolfonts.info/font-5597-wedding_dingbats.php
4 YEO Oval
There are some very clear, distinct images in this dingbats for weddings collection, so they would work really well in a large font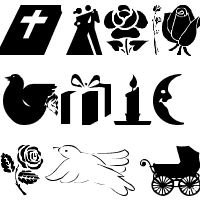 image, without losing quality of detail. The dove image and flower images are wonderful, but there are some strange ones in this dingbat font too - moons, candles and prams say "wedding" to you?
Great for save the date cards, through to the wedding menu - just don't use the pram dingbat for the save the date card as your guests may get mixed messages!
Source: https://www.dingbatdepot.com/details/4YEOOval
Love Romance by Blue Vinyl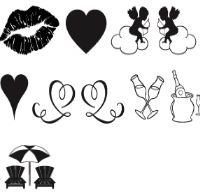 This dingbat collection is perfect for weddings, anniversaries and Valentine's Day crafts alike. They have a definite modern feel, and the dingbats are super clear, so they could even be blown up on a copier to help decorate a wedding hall. There are some great images to use on wedding menus and thank you cards too.
Source: https://www.fontspace.com/blue-vinyl/love-romance
Hearts Galore
With the Hearts Galore wedding dingbat font, you get exactly what you would imagine—more hearts than you would know what to do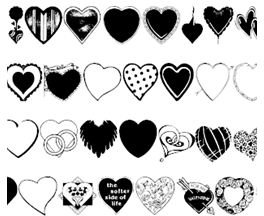 with. There are some wedding specific heart images you could use, that incorporate things like wedding rings and flowers, but there are also Valentine's specific ones too, and even a wreath one, that would work well on a Christmas card to a loved one.
Source: https://www.fontspace.com/cyberbuny-creations/hearts-galore
AEZ Wedding Dings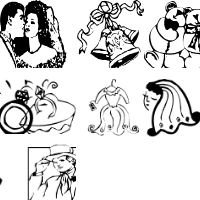 There's quite a good mix of varying wedding images within this dingbat collection, from more minimal modern dresses and cupcakes, to vintage grooms in top hats. There's also a pair of cute teddy bears too. You could use these free wedding dingbats for anything from bachelorette party invitations, to order of service handouts for the church or wedding venue.
Source: https://www.dingbatdepot.com/details/AEZWeddingDings
Isn't It Romantic
This dingbat wedding font for free download, is so detailed you could frame the images—or at least use them as some great images for wedding cards, or
wedding invitations. Not all of them are "wedding appropriate", as the general theme here is vintage romance, but there are some definite winning images in this collection you could use for any number of wedding projects.
Source: https://www.fontspace.com/dani-foster-herring/isn't-it-romantic
Heart & Soul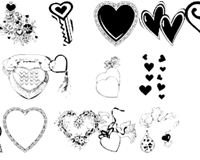 Unsurprisingly, given the name, the theme here is hearts… but with a difference. Many of these dingbat wedding images are other objects made into heart shapes, such as the pair of swans, or the heart shaped telephone—this image would be superb used as a "phone me" RSVP message on a reply card or wedding invitation. There's also a charm necklace with hearts, a heart shaped key, and a heart shaped easel—perfect for an artist's wedding.
Source: https://www.fontspace.com/dani-foster-herring/heart-and-soul
Frames by Dingbat Crazy
Use this comprehensive collection of elegant frames, for creating an inexpensive printed wedding menu in conjunction with one of our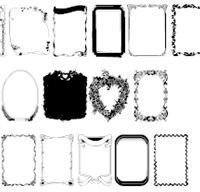 recommended free wedding fonts, for visual impact with little effort involved. There is a hearts and flowers frame, which would work particularly well for wedding crafts, especially to create free scrapbook elements for a wedding scrapbook page.
Source: https://www.fontspace.com/dingbat-crazy/frames1
Multicasion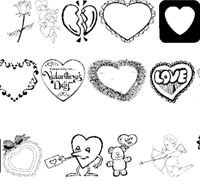 As the name suggests, this dingbat font is for multiple-occasions, but predominantly the theme is wedding and Valentine's, so there are lots of hearts, flowers, cupids and doves, as well as offering you some images for other times of the year such as Halloween, St Patrick's Day and New Year—there's even a dingbat image for Oktoberfest!
Source: https://www.fontspace.com/gemfonts/multicasion
House of Lime Wedding Dingbat Collection
Probably the most comprehensive and well designed of all the dingbat wedding fonts for free download. There is something to suit every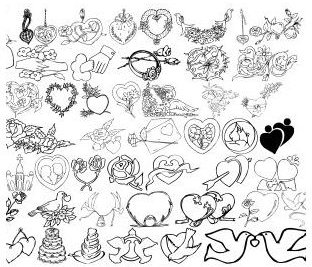 wedding occasion in this collection, such as superbly detailed doves, joined hands, flowers, hearts. This is the only wedding dingbat font that has wedding cake images too. Although you can download this wonderful font for free, the owner of the website asks for donations toward the costs of running the site.
Source: https://www.houseoflime.com/dings/wedding.htm
References
Dingbat Depot - https://www.dingbatdepot.com/
Cool Fonts - https://www.coolfonts.info/
Font Space: https://www.fontspace.com/
House of Lime: www.houseoflime.com
This post is part of the series: Free Dingbat Fonts & Tips on How to Use Them
Dingbats are extremely versatile fonts that let you take the scalable properties of traditional typefaces and apply them to great images and clip art. This series describes, in more detail, how to use these tools and helps you find your own free dingbats to download.