10 Cute Valentine Heart Templates & Patterns for Digital Scrapbooks, Cards, and Other Desktop Publishing Projects

Choosing Your Craft or Gift Idea
Valentine heart templates and patterns can be used for many things. Valentine's Day is a holiday for giving. Whether you are just looking for ideas to make cards with your little ones to bring to school for their friends or looking to impress your own sweetheart with something handmade from the heart, these can come in handy.
Most Valentine heart templates and patterns require the use of either a graphic software program if you would like to try your hand at making your own, or you can often find many that can be edited through Word and just printed off with a standard laser or inkjet printer. Once you have printed the templates off, you can pin them to a piece of cloth and trace them or simply cut around them to sew onto a shirt, a bag, a pillow, or anything else you can think of that would make a nice Valentine's gift. Here is a list of some places you can find free templates.
First School.ws
https://www.first-school.ws/activities/shapes/animals/owl_hearts.htm
On this site you can find easy to follow instructions and templates that can be used for Valentine's Day or other holidays and special events.
Image credit to https://first-school.ws.
Familyfun.go.com
https://familyfun.go.com/printables/heart-pattern-703484/
This is another great site for printables, templates and other Valentine fun ideas for the whole family. This site is part of the Disney Family Community.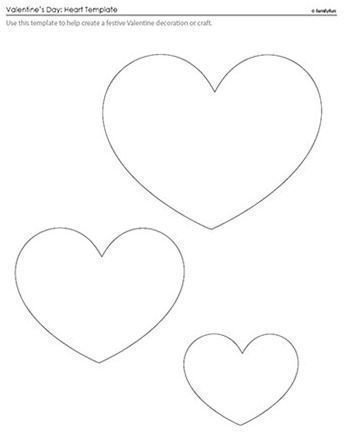 Image credit to https://familyfun.go.com
Craft Ideas 4 Kids.com
https://www.craftideas4kids.com/valentine-heart-box/
Valentine heart templates and patterns can be found on this site for a variety of crafts and projects from something simple to more complex. If your child is looking for something a little more challenging, this template can be printed out and comes with instructions for your child to make their very own heart box to either use for a present or to keep all of their treasured Valentines cards.
Country Home.com
https://www.countryhome.com/projects/holiday/valentinedecor_3.html
This is more of a challenge for the homemakers of the world. If you are looking to add some color and love into your home, you can use these heart templates and decorate your walls in the kitchen or living room so that when your family comes home, they will be able to share in the feeling of love all around them.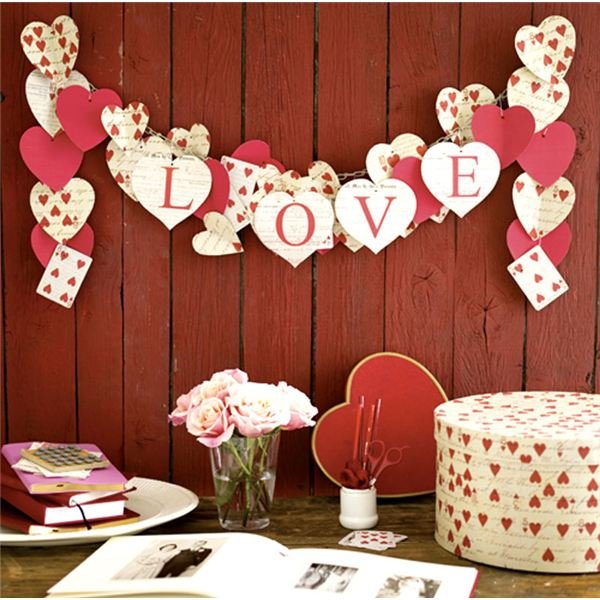 Image credit to https://countryhome.com
Specialed.about.com
https://specialed.about.com/od/integration/ss/Valentinesartsample_2.htm
If you are a teacher, babysitter or mom looking for some Valentine heart templates and patterns that will be simple and work for those who may have some learning challenges, this site offers simple to follow instructions for downloading and using their heart template.
Small Personal Biz.com
https://smallpersonalbiz.com/heart-template/free-heart-templates-collection/
If you are looking for a template that has a 3D look and feel to it, this free printable template is the perfect choice. While it is still simple, it gives a more layered look to add to your projects, postcards and more. There are three heart designs available to print off.
Make-stuff.com
https://www.make-stuff.com/projects/heartblanks.html
This is another simple template you can just print off for your kids to make their own Valentines cards or for you to use in a sewing project. It can also just be used for the youngest children as a coloring page.
Activity Village.co.uk
https://www.activityvillage.co.uk/heart_templates.htm
More simple heart designed templates for your children to share. Not only does this site have easy print outs you can use, you can find craft and gift ideas for every holiday that are fun and easy to do.
Martha Stewart.com
https://www.marthastewart.com/article/valentines-day-heart-garland?backto=true
This is one of the most fun Valentine heart templates and patterns you can find today. This is a little more tricky and is to be used to make a heart garland to hang for decorations or add to the front of a craft book, scrapbook or making your own cards. Step by step instructions show you how to use the template to create your project.
DLTK's
https://www.dltk-holidays.com/valentines/m-shapes-heart.htm
This is a template that is used for creating a heart project from various shapes. You can teach your children about circles and squares and show them how shapes can be used together to create things such as a heart. You print out the template for the shapes, and follow the instructions to create the craft. You children will have loads of fun and feel proud when they give their gift to someone they love.