PhotoShelter Review: What Does This Tool Offer Photographers?

PhotoShelter is a website builder for professional or amateur photographers. It is designed for image proofing and sales. The website provides the photographer with the ability to build a website, organize images, and use SEO (search engine optimization) for promotion and sales or distribution of images. PhotoShelter offers photographers four different plans: Starter, Basic, Standard and Pro. The website builder is customizable with advanced tools and has templates for those less familiar with creating web pages.
Overview (4 out of 5)
PhotoShelter's layout is set up for quick information and a nice tour of their product features. The tour is informative and has all the information on the tools, plans and costs of the product. The site is easy to navigate and it is easy to set up a trial account in just a few minutes.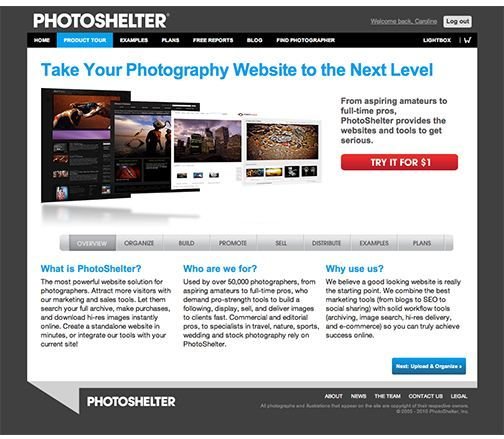 Plans (4 out of 5)
As mentioned previously, PhotoShelter has four different plans a photographer can choose from: Starter, Basic, Standard and Pro. Here's a look at what each plan has to offer:
Starter - The Starter plan is free, but has limited options and features. The Starter has a custom web address, optional Flash slide show, gallery archive search, image resizing and buyer options. The marketing and sales tools are not available at this level. You get the image delivery options, support, limited self-marketing tools, image security, community tools and limited archive space. The starter package is amazingly robust for a free service. They do take a 30 percent transaction fee at the free level.
Basic - The Basic plan costs $9.99 a month and has all the same features as the Starter plan, but you get listed in the photographers directory and can post in the forums. The transaction fee is much lower at 10 percent at this level. There is not much difference between the Starter and the Basic, which does not seem like a big incentive to upgrade. Unless the user has a high volume of sales, it is a better choice to stay at the Starter level.
Standard - At the Standard level, the marketing tools are available and all the credit card tools are included. With the other plans, you have to have an initial investment of $50. The Standard plan costs $29.99 per month. All of the tools and sales options are available at this level.
Pro - The Pro plan costs $49.99 per month and the only difference between the Standard and Pro plans is in storage. The Standard has 20GB/month and the Pro 50GB/month with more overall storage space.
Upload and Download Options (5 out of 5)
PhotoShelter has covered the basis with upload and download options. They support TIFF, RAW, PDF, JPG, GIF and PNG files for image uploading and downloading. Many other similar services have limited file format options that reduce the variety of ways a client can get an image file.
Upload
Web browsers
Desktop loader
Photo editing software
Send a hard drive
Download
FTP
Simultaneous FTP (This is a very nice feature)
High resolution files
Archive access download
Watermarks are installed with a fingerprint feature
Sales Tools (5 out of 5)
The customer tools are exceptionally easy for the client and offer a variety of formats and options the client can choose from. The proofing is easy to navigate with plenty of styles to choose from.
Images can be sold in a variety of ways as stock, prints or image downloads.
PhotoShelter has a print lab for photographers who do not have printing capabilities.
They offer analytics and reports.
You can sell to 16 currencies.
A tax chart is included.
Coupons and sales options are available.
Full rights managed pricing (This is an extremely useful tool. More sites should include this type of pricing flexibility).
Merchant of record sales. This means that all sales are instant and go directly into your account.
PayPal or Netbilling
The tools are easy to access, easy to use, have a great selection of convenient options for the photographer. Many similar sites offer nice options, but they do not offer some of the special tools such as 'Merchant of record' sales and 'Rights Managed pricing.' These are exceptionally useful tools which offer something for both professionals and amateurs.
Website & Gallery Builder (4 out of 5)
Site Builder
The user can choose to use a template or to customize their website. It only takes a few minutes to set up a simple site and start selling right away. The site builder guides the user through the process seamlessly. This is nice feature for photographers who want to get their site up right away. Overall, everything is user friendly and quick to set up.
Galleries
There are unlimited gallery possibilities and PhotoShelter has partnered with WordPress and Graph Paper Press for a large selection of theme designs. The photographer controls page text, watermarks, layout style, size, navigation and design. Another plus is the variety of galleries that can be created. Most websites are static in design. They offer one type of gallery. Most photographers will shoot a variety of photographic projects and the 'one gallery fits all' style is not the most productive or best suited for all types of projects. Thumbs up for versatility.
The only knock here is many of the themes are not as slick as custom website services.
SEO Tools
SEO Tools is not rated because they are evaluated over a longer period than I've been using PhotoShelter. They do offer all the latest SEO tools and marketing reports. These are integral to professional photographers looking to build their business and find new clients globally.
PhotoShelter offers SEO tips and learning tools, a SEO scanner that analyzes how your SEO is set up and blog links. They do not have Flash design because the major search engines do not read the sites. They use viral marketing and Google Analytics.
Time will tell how effective the SEO tools are at PhotoShelter.
Summary
PhotoShelter offers enormous versatility in both website design and functionality. It is easy to set up and use for both the photographer and the client. The designers have thought through a global marketing concept and sales functions. For the photographer and user the sales and purchasing tools are a breeze. Make buying easy for the customer and they will return often. The SEO and report tools are well thought out and offer different marketing options.
The package plans are little pricey considering they are taking 10 percent of the sales. Comparatively they are on the high side in cost, but they offer more interactivity and variety in choices of design and sales. Some of the more well-know photographers hosting sites have some stunning designs and unique websites. These are custom designs and come at a higher price.
Bottom line is PhotoShelter offers a great product that is easy to use and any photographer would be happy with the product. You can check them out for yourself by visiting the PhotoShelter website.