Review of Corel Paint Shop Pro Photo X2 – Photo Editing Software Review
Overview and System Requirements
Corel Paint Shop Pro Photo X2 is the latest generation in the popular image editing software that has been around under various names since 1992. In addition to the basic features offered in most all image editors, Paint Shop Pro also features an intuitive learning center that helps beginners step into the more advanced concepts of photo editing and an express lab that speeds up and simplifies the editing process.
The following list provides the system requirements for Corel Paint Shop Pro Photo X2.
Windows XP or Windows Vista
512 MB RAM (768 MB RAM if using Windows Vista)
1GHz processor
1.5 GB hard drive space
24-bit color display, minimum 1024 x 768 resolution
DirectX 9.0c or higher
Learning Center (5 out of 5)

The Learning Center feature of Paint Shop Pro Photo X2 is more than just an online help system. It's a step-by-step guide incorporated into the software that walks users through anything from the basics to some of the most complicated editing tasks.
The Learning Center can be viewed in the left pane of the software while you're editing your photos so there's no need to jump from screen to screen when trying to learn a new trick. However, if you're a more advanced user and find that the Learning Center just gets in your way, it can easily be hidden by deselecting it from the Paint Shop Pro Photo X2 Help menu or by pressing the F10 key.
Express Lab (4 out of 5)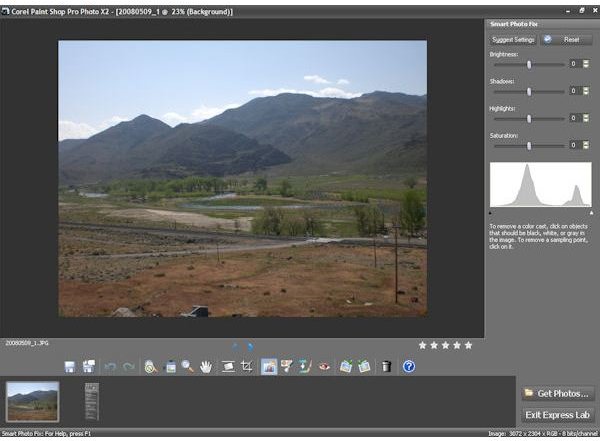 I have to confess that I don't spend a lot of time with the Express Lab. It can be a great tool if you're making multiple small changes to several photos at once, but I prefer working on one photo at a time in the main screen of the application.
With that being said, the Express Lab does provide all the main brushes used for editing along with controls for Brightness, Shadows, Highlights, and Saturation on one screen. Having all these commonly-used tools available in one place can be a great boon for those who don't want to jump from brush to adjustment and back again while editing a single photo.
One-Step Photo Fix (4 out of 5)
The One-Step Photo Fix tool in Paint Shop Pro Photo X2 makes automatic adjustments to the brightness, color, and sharpness of a photo with just one click of a button. This is another great tool for beginners, but its use is definitely not restricted to the mere novice.
While the "suggested" changes made by some photo editors can leave you wondering what the developer had in mind, this tool in Paint Shop Pro Photo X2 actually makes good recommendations. There are times when I want to apply changes manually in order to achieve a certain effect I'm looking for, but I'm quite happy to take the results of the One-Step Photo Fix 90% of the time.
Price and Overall Rating (4 out of 5)

With the release of the Ultimate upgrade, the suggested retail price of Corel Paint Shop Pro Photo X2 has dropped to $69.99. If that's still not within your budget, you can sign up for Corel's Zoom In newsletter that has been regularly offering promotional discounts of up to 50% off the purchase price during the last year or so. Of course, due to the general price reduction, these promotions may start to taper off now.
If all you're looking for is the ability to make basic changes such as cropping and resizing, you're probably better off sticking to one of the free photo editing programs described in this listing. At the opposite end of the spectrum, if you're looking for a photo editor that can do everything but take your pictures for you (and they're probably working on an upgrade that will do just that), you might want to take a closer look at the higher priced, but more robust, Adobe Photoshop CS3. However, if you're more in the market for software that can perform all the basics, is packed with tons of additional features, and has a reasonable price tag, Corel Paint Shop Pro Photo X2 is worth checking out.