TagsImage.com Review: Free Photo Sharing Website & Image Hosting
TagsImage (3 out of 5)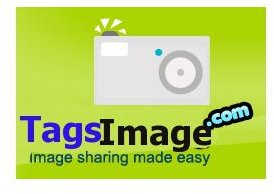 TagsImage.com is a free online photo sharing and image hosting website. They offer public and private storage of images. Images can be viewed by friends and family or just stored for linking to blogs or websites. TagsImage does not require a registered profile to upload images, but registration is free and has the added benefit of image tracking. This simple no-frills website lets people share photos online for free.
Ease of Use (4 out of 5)
Uploading images to the TagsImage server is simple. Just click on the 'Browse' button and navigate to the picture(s) that are to be uploaded. Once the image is uploaded, a new window opens that gives the entire link address for the uploaded image. (Figure 1) There is an option to have the links emailed.
The main toolbar includes Home, My Photos, Gallery, Profile, F.A.Q., Terms and Log Out buttons. There are not any bells or whistles to be had here, just a place to view and store images with ease.
The 'My images' tab has a simple list of photos than can be deleted or public/private setting changed. The list shows the name of the image, file size, number of views, status and bandwidth in megabytes (MB). (Figure 2)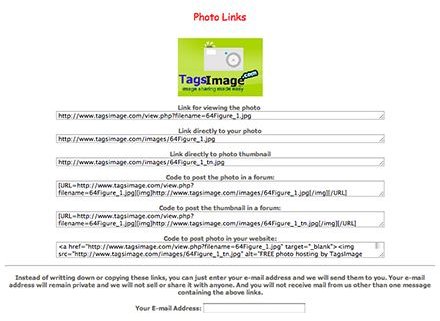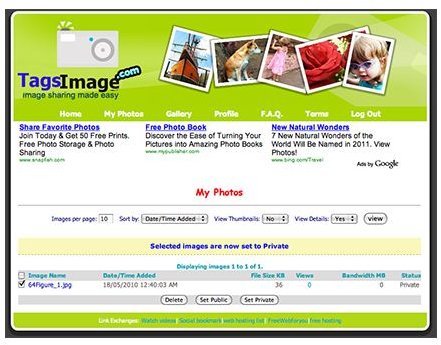 Tools (2 out of 5)
The only tools available are the upload and links tools. Most of the site is set up to browse other users images or as a image viewer for friends and family. The links tool is nice for putting images on multiple sites and locations. The HTML code is listed so the user can copy and paste the code directly into their website.
There are not any real photo tools available. The user does not have any way to view only their images. The photos have to be viewed from the 'Gallery' tab along with all the other users photos. There is a search tool to find particular images, not a section for just one user's images.
The 'Gallery' tab is fun to look through all the different images on the website. It is basic and just for browsing. (Figure 3)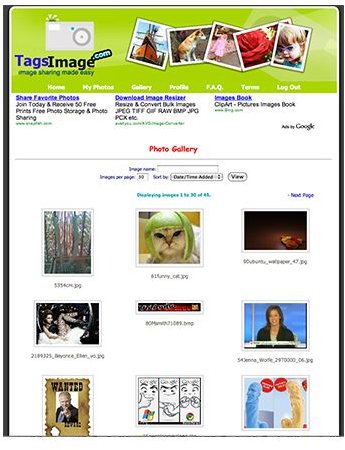 Storage (3 out of 5)
TagsImage offers free online storage of digital images of 5MB or less for members and 3MB or less for guests. This is an ample file size for users of this website. This is not a professional storage site. Most of the images are for fun or friends and family to view. They are not set up for high traffic and have a bandwidth limit of 1 GB per image for both members and guests. Images must be formatted in jpg, gif, png or bmp. They do not accept adult content or images of illegal activities. This is a family friendly hosting site.
Overall (2 out of 5)
Most online image storage sites offer more interactivity and tools so the user can track and organize images. TagsImage is a large bulletin board for pictures. The only real functionality is with the links code. This is a nice feature that makes putting images on multiple sites easy. It is time saver for avatars and other multiple use images.
While TagsImage does not have all the bells and whistles of other online image storage sites, it is free and great for people who want to share photos with friends and family. This is not for professionals or for people who have large image files that they want to share.
The 'Gallery' is fun to look through and the images on the site have the links information on each public image. This is good for those wanting to put others photos on their website. The downside is that if an image is public on TagsImage, it is available for anyone to put the link on his or her website, so you may want to consider watermarking your photos first.