Book Review: The Digital Photography Book Volume 3 by Scott Kelby
Who is This Book For?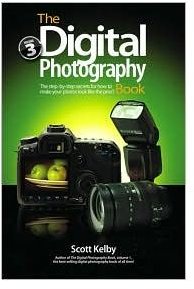 It is aimed primarily at DSLR users, but whether you shoot with a Nikon, Canon, Pentax, Sony or Olympus, the information in this book can pretty much be applied to every camera. The hints and tips included in Volume 3 are not necessarily aimed at more advanced photographers, just at photographers who have already read and applied some of the knowledge gleaned from volumes 1 and 2.
Do you need to have read volumes 1 and 2 before reading volume 3? It depends. If you are new to Digital SLRs, and have a limited photographic background, it may be best to work your way through volumes 1 and 2 first. There are lots of things that you will learn and can apply to your photography in this book, but in volume 3, Kelby builds upon what he teaches you in volumes 1 and 2, and then takes it to the next level.
Consequently, there is a certain amount of assumed knowledge taken for granted, but not a huge amount. If, however, you are a more experienced photographer, or are looking for a great gift for a photographer that has read and enjoyed either or both of the previous volumes, then volume 3 of would be a great purchase.
Style and Content (5 out of 5)
Kelby's writing style is lighthearted and easy to read. He explains complex techniques like studio lighting in layman's terms, and never bombards you with the technical vocabulary that some photography books utilize. Each chapter is prefaced with a vaguely relevant, but highly entertaining, introduction that is as much designed to give your brain a break, as it is to inform you about what is about to follow.
In The Digital Photography Book Volume 3, you will find chapters on using a flash, using a studio, tips on how to use lenses, how to shoot product shots, shooting outdoors, photographing people, shooting sports events, and tips for avoiding the most common photographic problems.
Each chapter has a goldmine of tips that are communicated in an uncomplicated and approachable style. Step-by-step instructions are given, where necessary, while other scenarios are simply explained for what they are with suggested camera settings and equipment setups.
What Will You Learn? (5 out of 5)
By reading this book you will soon learn to fill in the gaps in your photographic knowledge, and build a deeper understanding of what Scott Kelby discusses in the first two books. For instance, did you know you can tell what a studio photographer's lighting setup is like by looking at the catch lights in a photograph? Has anyone ever told you to lock the exposure on your DSLR before shooting video? Do you know the proper way to clean and protect your lenses? Did you know you can take pictures while your camera is plugged in to your HDTV or laptop? These questions, and many more, are addressed in this book.
Final Verdict (5 out of 5)
Scott Kelby has a unique way of communicating his vast photographic knowledge in a clear and easy to understand format, and this innate ability makes this book a great read. Reading this book has made me use my DSLR in ways I would never have thought of myself. It is undoubtedly a worthy addition to this excellent series of photography books, and one that I have no hesitation in recommending you read for yourself.
At the moment The Digital Photography Book (Volume 3) sells on Amazon for about $13, but it can also be purchased as a boxed set of all three volumes. The second option may just save you money in the long run, because once you have read one of these fantastic books, you will soon want to read the rest.
References
Book cover image courtesy of https://www.kelbytraining.com/.
This post is part of the series: Reviews of The Digital Photography Book series by Scott Kelby
These reviews cover all three volumes of Scott Kelby's Digital Photography Books. These great photography technique books should be in every photographer's collection.