FotoSketcher Review - Photo Editing Software
Introduction (4 out of 5)

For quite some time now I've been looking for a program that could turn some of my landscape photos into something that looks like they were pieces of art. I've tried playing around with these photos using Photoshop's photographic filters but it is tedious to do this effect on Photoshop. And besides Photoshop would not let me convert batches of photos.
I'm glad I found out about FotoSketcher.
FotoSketcher Features (4 out of 5)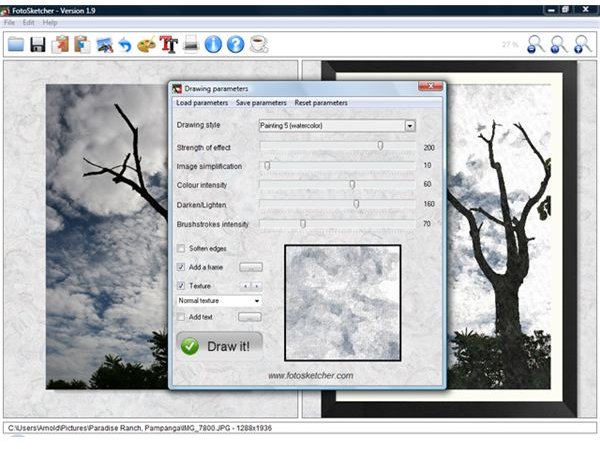 FotoSketcher is a very simple program that will most likely be enjoyed for photo enthusiasts who likes playing around with their photo outputs. It is so easy to use and in few seconds you can have your photos turned into digital works of art.
FotoSketcher gives you various controls that you can adjust and play with to come up with the output that you like. It gives you three drawing styles that you can use on your photos - Pencil Sketch Effects, Pen & Ink, and Painting. Each of these drawing styles have specific styles as well to further enhance their outputs.
Aside from drawing style, you can also adjust the drawing's strength of effect, image simplification, color intensity, darkness/lightness and brushstrokes intensity. All these parameters are pretty simple to adjust using a slider similar to Adobe Photoshop's interface.
In addition, FotoSketcher also lets you specify whether you want your final output to have a frame and also to specify what texture you would want to apply on your photos. You can also add some text to your converted photos. Perfect for adding a watermark or signature. You can also convert photos by batches.
FotoSketcher saves your final output into JPEG format, so you can still open it using Photoshop, although I don't really see a need to do this since you can pretty use your photos once it is processed by FotoSketcher. You can immediately print or save and have it printed by professional printers.
Our Verdict (4 out of 5)
While the quality of FotoSketcher's final output may not be close to a real work of art, it is good enough for a digital art. FotoSketcher is fun software that extends what you can do with your photos before you decide to print them or share with your friends.
Most importantly, FotoSketcher is a free app, so if you like playing around with your photos, you might want consider downloading it.