Turn a Digital Photograph into a Drawing with AKVIS Sketch V.8.5
Overview of AKVIS Sketch V.8.5
For most people, it's a lot easier to snap a digital photo than it is to hand-draw a sketch or portrait. Because of that, there are a number of applications on the market that allow almost anyone to summon his or her inner artist and convert a simple photograph into a sketch or painting. AKVIS Sketch is one of these utilities that concentrates more on drawings than paintings, but it does possess the capability of creating images that resemble watercolors as well.
Available for both the Windows and Mac operating systems, Sketch has two different versions – a standalone application that can be used without host software and a plugin that is compatible with most popular photo editing applications, including Photoshop Elements and Paint Shop Pro. In this review, we'll be looking at the independent program as well as the plugin when used in conjunction with Paint Shop Pro.
Installation and Setup (5 out of 5)
The Windows version of both the plugin and the independent application were tested for the purposes of this review. The installation and setup were typical of Windows applications, and no problems were encountered. However, if you are using the plugin version of Sketch, you may have to perform a few additional steps to make sure that your host photo editor adds the plugin to its list of recognized add-ons. Paint Shop Pro users can find a description of these steps in this article on third-party plugins.
Ease of Use (5 out of 5)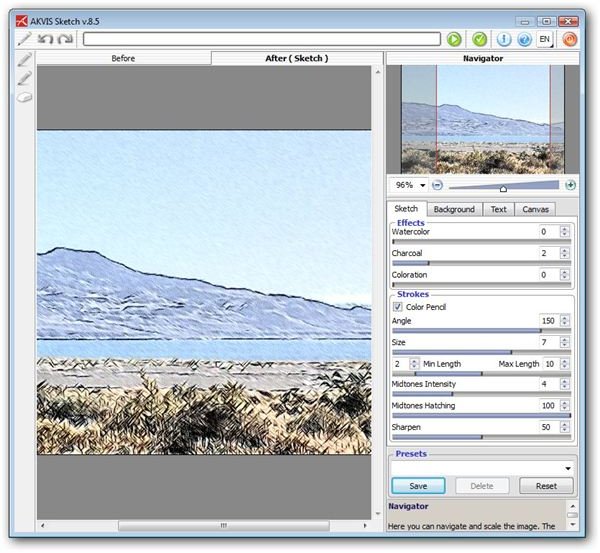 Like most all AKVIS products, the user interface of Sketch is quite easy to navigate and simple to understand. The Before and After tabs allow you to see the original photograph as well as the proposed changes, and you can preview any modifications before actually applying them to the image itself. If you don't want to keep passing back and forth between the two tabs, you can right-click on the "After" image at any time in order to see the original photo.
(Click on any image for a larger view)
Features (4 out of 5)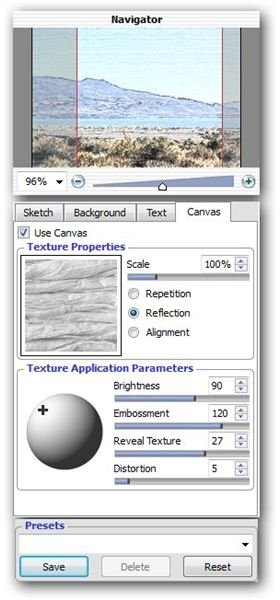 One feature that I really like in Sketch is that you can choose a texture right along with your other modifications so that your final image will have a "canvas" effect. The Sketch texture library comes bundled with dozens of appropriate canvas-like materials that you can customize in several ways. In addition, you can load your own personal texture favorites for the application to use.
Another nice option in the program is the ability to add text to the image. This provides a means to "sign" or watermark your artwork, or you can even use this feature to add a short message to your drawing if you plan on using it as a design for greeting cards or stationery.
Price to Value (3 out of 5)
You can purchase a standard Home license for Sketch for either the plugin or the standalone application for $72. However, you can obtain both versions of the product with a Home Deluxe license, which currently costs $89. If you plan to use Sketch for any commercial purposes, you will need to spend $139 and purchase a Business license.
All licenses permit installation and registration of the application on two separate computers.
Overall (4 out of 5)
Although I think that the price for Sketch is quite high for a plugin, it's not so bad for an independent application. With that being said, if you do go for the standalone product, I highly recommend spending the little bit extra and getting the Home Deluxe license. Even if you don't have a host photo editor that is compatible with Sketch now, you may end up buying or having access to one in the future. And, while it's nice to have the option of creating these images in a standalone program, using them in conjunction with an application like Photoshop or Paint Shop Pro makes the process even easier.
A free 10-day trial of Sketch is available from AKVIS if you want to give the software a try before making the investment. If you do find that you like it, you may want to look into some of their other products as well since a substantial discount can be had when purchasing one of AKVIS's bundled collections.