Digital Photography Noise Reduction Software – Review of AKVIS Noise Buster v6.1
AKVIS Noise Buster v6.1
AKVIS Noise Buster is a noise reduction tool that is available as either a standalone product or as a plugin compatible with several photo editing applications, including Paint Shop Pro and Photoshop, on both Windows and Mac systems.
Both the plugin and the independent application are virtually identical in terms of user interface and function. In this review, we'll be looking at both the standalone version and the plugin version as it is used in conjunction with Paint Shop Pro.
Installation and Setup (5 out of 5)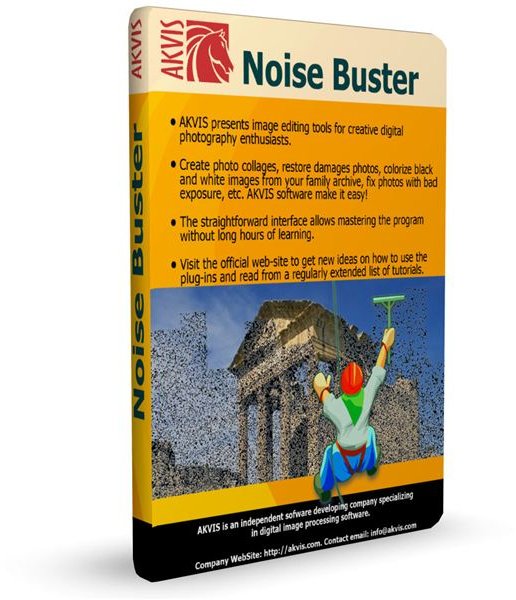 The download and installation of AKVIS Noise Buster was smooth, and no problems were encountered during the setup of the application. Depending on the directory you choose to install the software, you may have to make some modifications to your photo editor in order for it to recognize the plugin portion of the application. If you're a Paint Shop Pro user and having trouble getting the software to recognize Noise Buster, take a look at these instructions for installing third-party plugins.
(Click on any image for a larger view)
Ease of Use (5 out of 5)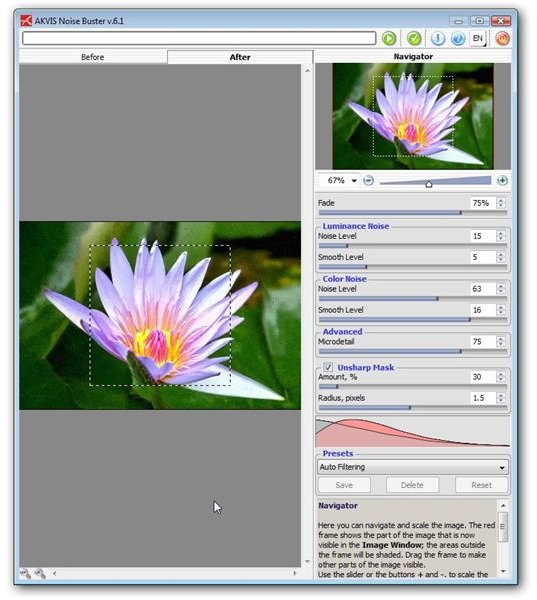 In addition to offering several customization options, Noise Buster also has a preconfigured "automatic" setting that allows users to fix the noise problems in many digital photographs with just a couple of clicks. For those who do want to have more control over the noise reduction settings, the user interface is simple and straightforward, allowing for changes to be easily made.
As with other AKVIS products, a preview window lets you see how changes will look before actually being applied to the digital photograph. At any time, if you want more information about the control settings, you can move the mouse pointer to that area of the interface and an explanation of that option will be displayed in the lower right-hand corner of the application.
Performance (4 out of 5)
AKVIS Noise Buster focuses on correcting both luminance noise and color noise with separate control settings for each of these categories. One feature in the application that is particularly nice is the histogram that detects and shows, with a single glance, both luminance and color noise levels in the digital photograph you are editing. This is very helpful feedback for those who want to depend on more than just the naked eye when making adjustments.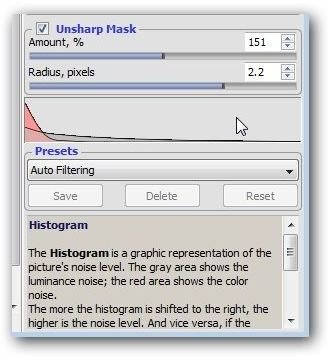 When dealing with larger images, processing time can become quite slow. This is to be expected, to some degree, because of the modifications that are being made, and the time taken to complete the noise removal process seems very much in line with other applications of this type. Fortunately, you can make and preview several changes and then apply them all at once. This way, you can save all of your waiting time until the end of your photo editing rather than sit and endure after each minor change.
How does the program fare when it actually comes to removing noise? For common minor noise problems, Noise Buster does an excellent job. However, the application did not seem to perform as well on images with major noise issues or on ones riddled with compression artifacts. If you have to deal with these problems often, you may want to seek out another application, such as Topaz DeNoise, for your editing projects.
Price to Value (5 out of 5)
There are three different types of licenses for AKVIS Noise Buster. The basic Home license can be purchased for $49 and covers either the independent application or the plugin version. If you'd prefer to have both versions of the application, you're better off buying the Home Deluxe license and obtaining both for $55. Those who plan to use the application for commercial purposes will need a Business license, which is available for $89 and includes the standalone product as well as the plugin. All three licenses allow you to register the software on two different computers, making the price of the software even more competitive.
Overall Rating (4 out of 5)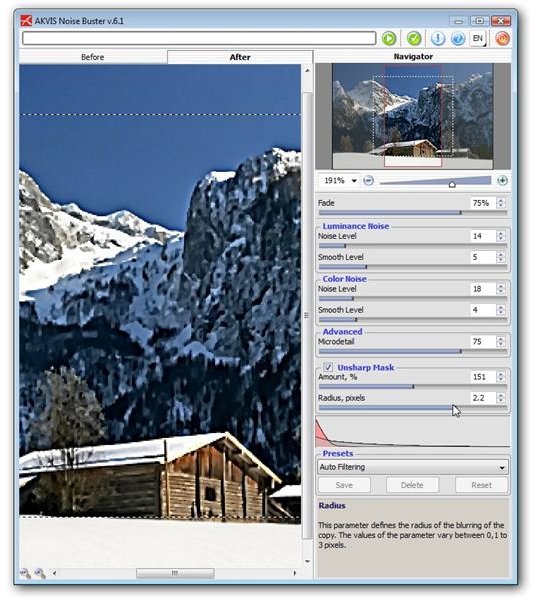 For common noise problems, especially those associated with using compact digital cameras, Noise Buster provides pretty good noise reduction, and most of these problems can be corrected using the automatic detection settings. The price of the application makes it even more attractive, especially for digital photography hobbyists who don't currently have a major photo editing application at their disposal and are looking for an independent noise removal utility.
On the other hand, if you're looking for a more robust tool to get rid of major noise and clean up highly compressed images, you may want to wait and invest in a more feature-rich application. If you're not sure about how powerful a utility you need to correct your images, you can download a free 10-day trial of Noise Buster from the AKVIS web site and test the product yourself.
If you're a Paint Shop Pro user and are interested in other plugins and photo editing tips, be sure to browse through the other plugin reviews and tutorials available on Bright Hub's Digital Photography Channel.
If you'd like to learn more about image noise or discover tips on how to manage the problem directly from your digital camera, please check out this article on understanding image noise.