What Shots You Must Take When Shooting Your First Wedding - Wedding Photography Tips and Wedding Photo Ideas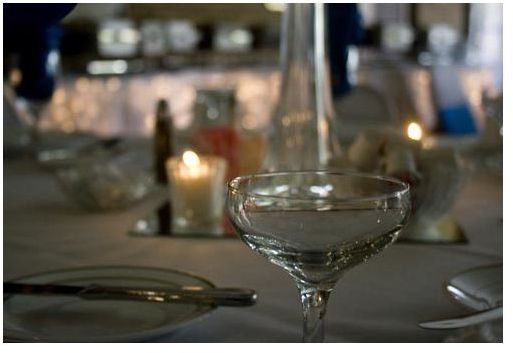 SHOTS TO GET
Below are listed many shots that I am always sure to capture. By writing out a list, I not only have something concrete that I can look at, but the process of writing it out also will help me remember what to do and when to do it on the wedding day. I would encourage you to make your own list, which will have many of the shots listed below, but it will also have shots that you and your couple have talked about as well as your own original ideas. Personally, I like to break them down into sections, so I know exactly what I'm shooting at any given point in the day.
BRIDE'S HOUSE
• Bride having makeup applied
• Bride's necklace (and other jewelry)
• The wedding dress – hanging near a window
• Bride's shoes
• Bride and bridesmaids laughing, relaxing, preparing for the big day
• Bride putting on dress (check with her first)
• Bride applying perfume and putting on garter
• Flowers and Bouquets
• Groom's wedding ring next to flowers or on invitation/wedding program
• Bride in dress – veil up and down
• Bride with bridesmaids in dresses
• Bride with mother and father (individually and together)
GROOM'S HOUSE
• Groom and groomsmen dressed, relaxing, joking around
• Bride's wedding ring next to flowers or on invitation/wedding program
• Details of the tuxes
• Portraits of the groom with each groomsmen and then group shots
CEREMONY
• More pictures of the groom waiting for his bride.
• Groom interacting with his groomsmen
• Groom with mother, father, and then both
• Minister/Officiant walking towards groom
• Bride's car arriving
• Shot from the front of the limo/car to get the Bride with parents/bridesmaids
• Bride in car with window rolled down
• Bride exiting car
• Bride and bridesmaids walking down the aisle
• Ring bearer and flower girl
• Father handing away bride / Father-Bride kiss
• Moments of emotion during ceremony – bride, groom, parents, grandparents, etc.
• Placing rings on fingers
• Recitation of vows
• Lighting of candles (or variation)
• THE KISS – don't miss!
• Bride/Groom/Party leaving the ceremony
• Rice throwing, bubbles, or other variations.
Shoot the Details
FORMALS
• Bride/Groom
• Newlyweds with parents
• Newlyweds with wedding party
• Newlyweds with ring bearer/flower girl
• Newlyweds with grandparents
• Newlyweds with family members that they've requested
The Special Moments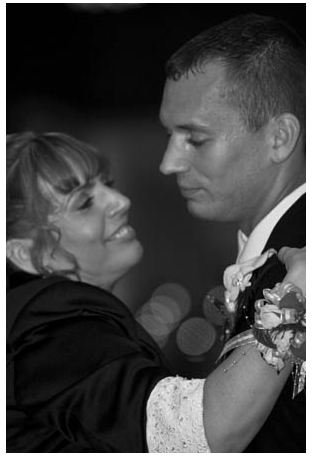 RECEPTION
If at all possible, get to the reception hall sometime before the ceremony so you can shoot the following:
• Champagne glasses
• Set tables
• Shots of the cake (if it's out already)
• Pace cards
Then, when people start arriving:
• People signing the guestbook
• Guestbook with a few signatures on them
• Many shots of the cake (before it's cut)
• Newlyweds (and bridal party) entering the reception hall and sitting down
• Reception toasts (with bride/groom reactions)
• Formal dances – Father/Bride, Mother/Son, Bridal Party
• Informal dancing
• People leaving, saying goodbye – hugs, kisses, and tears of joy
As you can see, there is a lot to shoot at a wedding. During the last wedding I photographed, I shot a little over 1,200 photos. There are many more shots that you can take besides these, but this is just a starter list – build off of this.
Making this list will help you organize the event in your mind. If you want to take the list along with you, feel free (just don't let anyone see you with it!). If you have time, you can cross shots off as you go along, but you'll probably find that that time is not available. The bottom line is to be familiar with the shots you want to get.
In the next section of this series, learn some tricks of the trade and what to do during the actual wedding day.
All The Small Things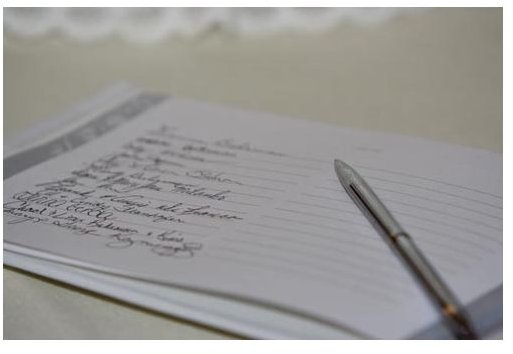 This post is part of the series: How to Shoot Your First Wedding - Wedding Photography Tips
This series of articles will cover what to do before the wedding, during the wedding, and after the wedding. This guide will equip you with useful skills, ideas, and advice to make your first wedding shoot a success.