Looking for a Free and Easy Photo Sharing Website? Top 5 Easy-to-Use Photo Sharing Websites that are Free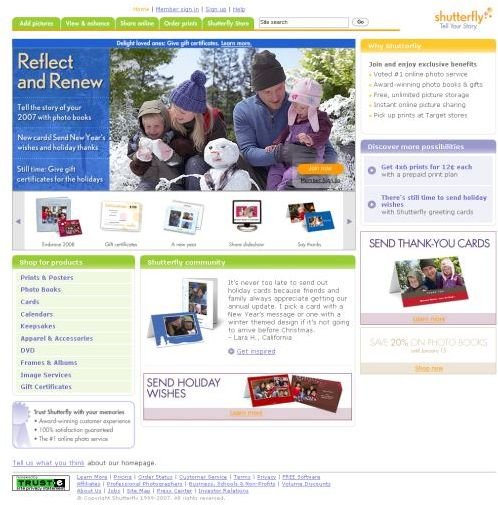 With the large variety of photo sharing services available, it can be a little overwhelming trying to figure out which free and easy photo sharing website is the best for you. Here is a quick look at 5 of the best secure photo sharing sites.
1. Shutterfly.com
Users of Shutterfly don't only get unlimited storage for free; they get access to basic photo editing tools as well. You can crop photos, eliminate red eye, add a border, and adjust the sharpness and contrast. Another useful feature is the ability to order prints from the website and have them delivered – or you can pick them up at a local Target. To share photos online, you have the option to invite only certain people to view them or you can share them with everyone. Shutterfly is quickly becoming the favorite free and easy photo sharing website of amateur photographers.
2. Flickr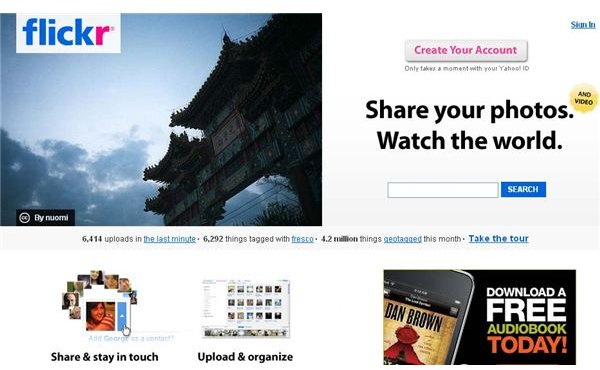 Yahoo-owned Flickr has been around since 2004. Flickr makes it easy to upload your photos to blogs and it has an active online community with many photographs available for you to browse through. You can also "geotag" your photos and let everyone know where they were taken. A free Flickr account has monthly upload limits, and you can only show 200 of your most recent photos on the website. It does save everything you upload, though. For $24.95 a year you can upgrade to a pro account and get unlimited access.
3. Mejuba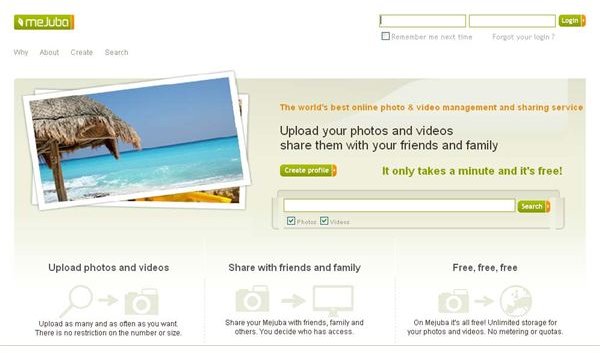 Mejuba is a new service similar to Flickr, but it is completely free and has unlimited storage for your photos and videos. Sharing digital photos directly from your phone or iPhone is possible with this free and easy photo sharing website. If your photos have "geotags" associated with them, Mejuba will automatically detect this and will add an index of photos sorted by the location where they were taken. One of the big problems with using Mejuba is no one you know is probably on there yet because it is so new, but you can send invites to your friends and family using their email addresses and share photo albums with them.
4. Facebook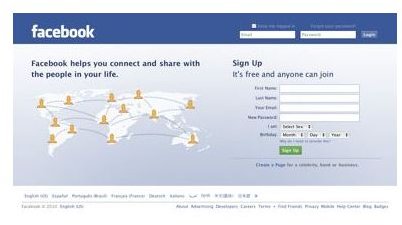 Facebook is the hottest social networking site, but it also ranks as one of the most popular photo sharing services available on the web. If you want to share photo albums with family and friends, all you have to do is log onto your account, go to your profile page, click on the "Photos" tab, and then click on the button on the right that says "Create a Photo Album." Then you add your pictures. You can make your photo albums public or you can choose to use Facebook's secure photo sharing features and limit access to just people on your friend's list. It's even easier to use Facebook with the software some digital camera manufacturers are now including that allows you to upload your pictures directly to the free and easy photo sharing website.
Image Credit: First-search.com
5. Photobucket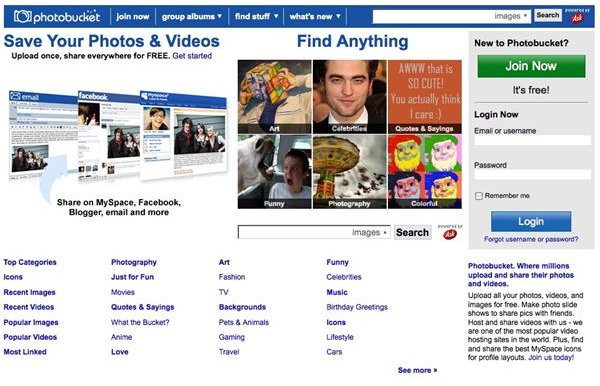 People have been sharing digital photos on Photobucket since 2003. With a single click you can upload pictures to blogs, Facebook, MySpace, and other websites (like eBay). Like Shutterfly, you can do basic edits on your images. Unlike Shutterfly, Photobucket supports all image types. Photobucket is the most popular free and easy photo sharing website.