Tips on How to Master the Adobe Lightroom Workflow
Mastering Your Workflow in Adobe Lightroom
Adobe Lightroom is state of the art photography organization and manipulation software. It allows the photographer to do everything from importing from the camera, deciding which images to keep, completing metadata, and most processing. Mastering your workflow in Adobe Lightroom is an easy and intuitive process.
Many photographers do the bulk of their work in Lightroom and never open a more comprehensive image processing package like Photoshop. There are many tasks that still need to be done in Photoshop, but most of these aren't tasks that need to be performed on every image. The most notable processes that will still need Photoshop or Photoshop Elements are layers, masking, and cloning.
Importing Images is the First Step
Importing Images
The first thing in the photographer's workflow is importing images. Lightroom has an option so that whenever an external device is attached to the computer, Lightroom will start up and show the import images window. If the only thing one attaches to the computer is a camera or card, this is a handy feature. Anyone who frequently attaches other devices to the computer will want to turn this feature off.
The import images window is very straightforward. There are options on how to handle the import, where to copy them to, how to organize them, how to handle duplicates and backups, as well as file naming and metadata options. This allows the photographer to make a backup copy on the same computer or another device attached to it at the same time. One can also keep the filename as the camera named it, or give it a more meaningful name. Finally, the ability to add a metadata preset at this time, which allows the photographer to stamp every image with their copyright information before anything else is done.
There are Many Tools to Help Organize Images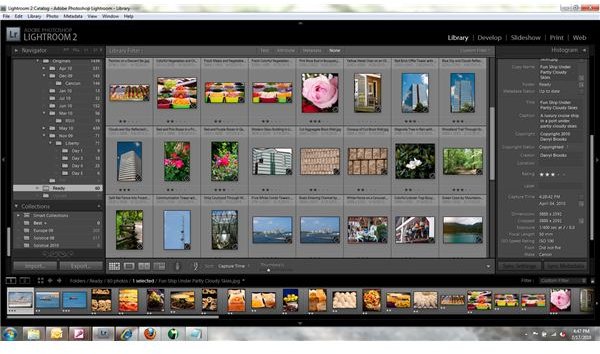 Organizing Images
The next step in the Lightroom workflow is organizing the images, looking at them, rating them and deciding which ones to keep. Images can be sorted and/or filtered by a dozen or more criteria. They can be flagged and rated using flags, stars or colors. The flexibility provided by the software allows the photographer to adapt the software to their workflow and not the other way around.
Processing Images in Lightroom is Easy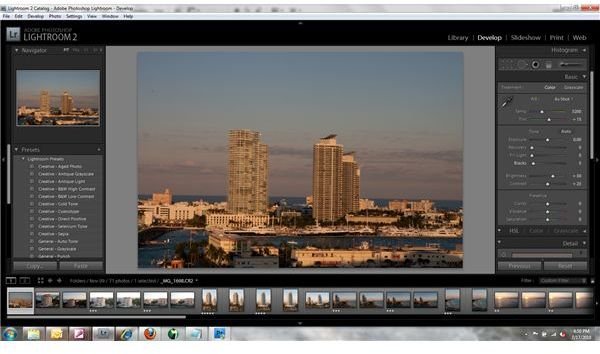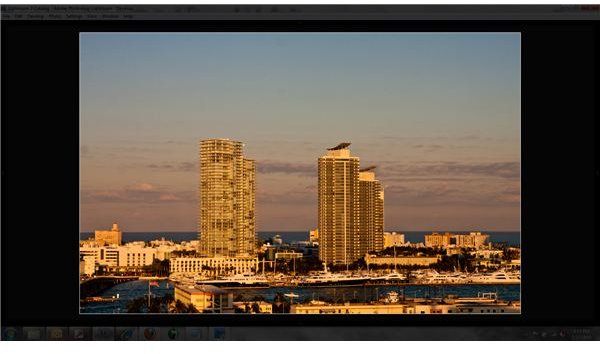 Process Your Images
Once the keepers are decided on and organized, it's time to process. Lightroom has a lot of tools to do processing within its Develop module without ever going to other software. The develop module contains basic cropping and rotating features, including a nice leveling tool. All of the normal color correction tools are available as sliders including white balance, exposure, tone, contrast, and saturation. Three very nice tools unique to Lightroom are Blacks, Clarity and Vibrance.
All three are difficult to describe without seeing them in action, but once the photographer uses them, they become indispensible. Blacks will tone down the dark areas which can help contrast without changing the highlights and midtones. Clarity is similar to a sharpness tool, but without the overkill sharpness can bring to an image. It is also useful for softening images a bit – great for portraits. Vibrance is similar to saturation, but it's not as easy to overdo it, while still giving a lot of pop to colors.
There are many other tools available to the photographer for processing including saturation, sharpening and noise reduction, and handling chromatic aberration and vignetting. The photographer can also add to the metadata loaded at import by giving the image a meaningful description and keywords so it can be found later.
Name and Archive Your Images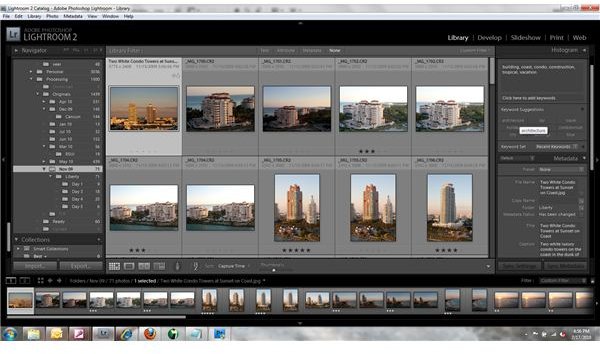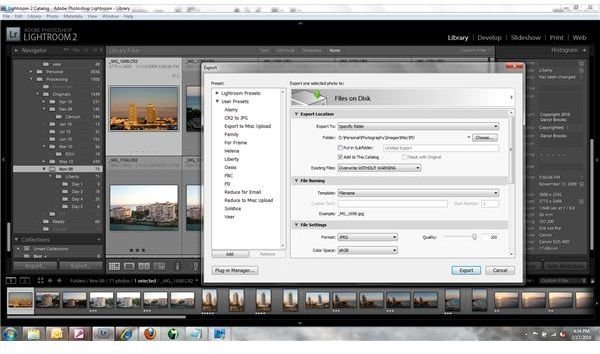 Archive and Finish Your Workflow
Finally in the Lightroom workflow is organizing the images the way the photographer wants to archive them. Some people use a time based system with every folder being a month of a year and individual shoots within those. Some use a subject based hierarchy. The main thing is devising a scheme early on that makes sense and that can be maintained not just with dozens of images but thousands or tens of thousands.
The workflow described in this article covers the basics followed by most photographers and how it can be accomplished using Lightroom. There are also modules that allow the production of slideshows, manage printing, and even the development of simple web pages. For the photographer that needs to bring some flow to their workflow, Adobe Lightroom is a great tool.