How to Photograph Shoes: Tips, Tricks & Fun Poses

You may be photographing your shoes for several reasons. One of the most common is to put your shoes up for sale on the web. Maybe you just bought a new pair of sneakers and you can't wait to send a photo to your friends. Or maybe you just want to use some shoes as part of an artistic shoe photography shoot. Whatever the reason, shoes can be photographed in many different ways and they are often used creatively in photographs. What you'll want to focus on during your shoe photography shoot, no matter the reason, is getting the correct lighting and creating an interesting composition. Depending on what purpose you are photographing shoes for, those elements may vary; those concepts are explained in more detailed for the two types of shoe photos listed below.
Photographing Shoes You Want to Sell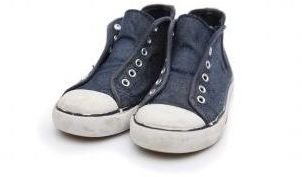 If you're looking to sell your shoes by photographing them, the most important thing is to make those shoes look good. This can often be accomplished by giving them a good cleaning and tying up the laces properly before photographing shoes. Also, keep the focus on the shoes by utilizing a neutral background which complements the shoe color. For lighter-colored shoes, stick to darker backgrounds like black or navy that will help the shoes pop on camera; do the opposite for dark-colored shoes.
As for lighting, you'll want to avoid harsh, bright lights and stick to softer lighting instead. You can accomplish this by bouncing the light off nearby walls or using a softbox. This, combined with the neutral background, gives your photos a more professional feel and will help potential buyers get a great look at the shoes. You should use a tripod to position the camera at different angles when photographing shoes. Try getting a view from the side, front, back, top and bottom. It seems like a lot, but your buyers will want to know all the details about the shoes' condition before making a purchase. For the purpose of selling your shoes, stick to straightforward compositions with your shoes; line them up side by side or just photograph a single shoe straight on.
Having Fun With Shoe Photography

Most of the other reasons for photographing shoes are just for fun. You might want to show off a new pair of heels by posting a picture online, or take a photo of how great your feet look in your new sandals. If you're taking artistic photos, shoes can express a lot of character and become an interesting device in a photograph. As for lighting, you can do just about whatever you want in your photos. However, natural lighting often brings out the best as far as texture and color in shoe photography. Another way you can play with composition for these shoes is to have them either on your feet or off. Unlike photographs intended to make a sale, it's okay in these pictures to photograph shoes while your feet (or someone else's) are in them.
Since the format for fun photos of shoes is so broad, try using the character of the shoe to inspire your lighting and composition. For example, sexy heels can be photographed in romantic, darker lighting. Try placing sandals or hiking boots in the dirt or in the grass for an outdoorsy look. Have fun and be creative!
Final Shoe Photography Tips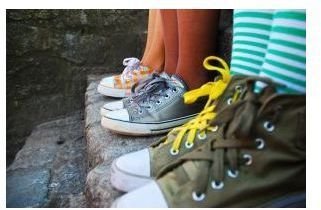 The last thing to consider when photographing shoes is camera equipment. Other than your lighting and tripod, you'll most likely want a macro lens that can capture the up-close details of the shoe. Since most of your shots while photographing shoes will be from a short range, these zoom lenses should do the trick. Remember, when it comes to photographing shoes you should focus on ways to make the shoes stand out on camera, whether it's by highlighting their color, texture or purpose.