How to Take Pictures of Plus Size Models - Photography Tips & Techniques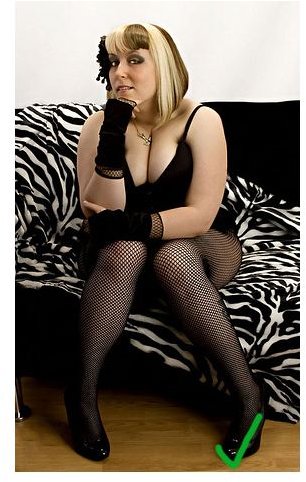 Photographing Plus Size Models
Not surprisingly, the tips for photographing plus size models do not vary too much from tips for photographing any other type of model. There are certain elements necessary when photographing any model to make the shoot a success, and a plus size model is no exception. Here are some tips that can be used for photographing plus size models perfectly.
Have a Confident Plus Size Model
The model you are to photograph will need some confidence in order to take beautiful pictures. It is the model's job as much as the photographer's to make each picture show her in a flattering way, and she can do this by using or "working" her entire body in a photo. Depending on what mood you'd like your pictures to have, your model will need to smile brightly or pose sexily with total confidence to make the pictures believable.
Use Great Lighting
I've found that my favorite lighting source for plus size models is from above and slightly behind because it actually highlights curves, which are something you do NOT want to shy away from. A great source of lighting is natural lighting from the side. No matter where you choose to place your lighting, it helps to make it bright and airy, to avoid any unflattering shadows. While showing curves is wonderful, creating shadows that might age or drown out a plus size model is not a very good idea.
Lighting Examples for Plus Size Models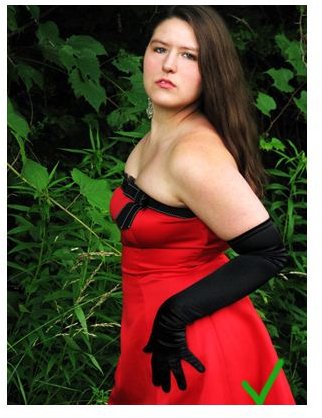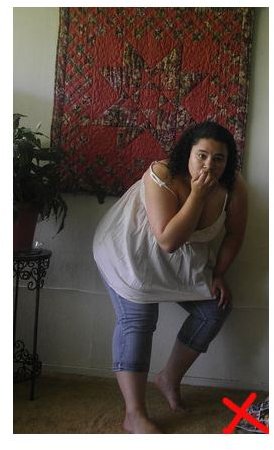 Choose a Great Wardrobe for Plus Size Models
It doesn't matter what you're photographing a plus size model for - a casual wear sales ad, a fancy dinner party, or a sexy lingerie line - the model should be wearing clothes that fit and flatter. Believe it or not, clothes that are too tight don't look good on anybody! Size does matter when it comes to picking the right clothing. If you are doing a professional photo shoot, you will also have the opportunity to pay attention to colors and shapes which are best for your model and the way every garment drapes on him or her before choosing them. If the model is wearing a great pattern, color, and cut, but is swimming in it, your photos are going to look ridiculous. Clothing that works with your model's curves perfectly will go a long way when photographing her. When simply shooting events in which you have no control over garments, try to work with what the person has chosen to wear, and hopefully they are pretty good at choosing what works well for them!
Every Detail Counts
When preparing for a shoot, you will want to be sure you have all of the equipment, lighting, and clothes which will be needed during the entire session. Stopping for prolonged periods can ruin the mood and effect your pictures. You will also want to be sure every detail of your model is attended to. Flattering makeup should be a bit heavier than normal. It can be slightly reflective in places such as the cheekbones or around the eyes, but should NEVER be shiny. Be sure her hair is done and looking fantastic, and that even her hands, nails, and feet are well groomed. You never know what will be seen in that "perfect photo" and chipped nail polish on your plus size model can ruin it. The only thing you can really control when photographing a plus size model at an event is your equipment, so be sure you come prepared for many different types of shots!
Clothing for Plus Size Models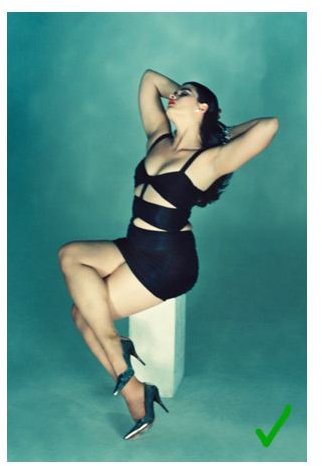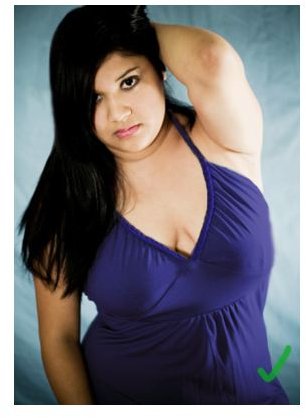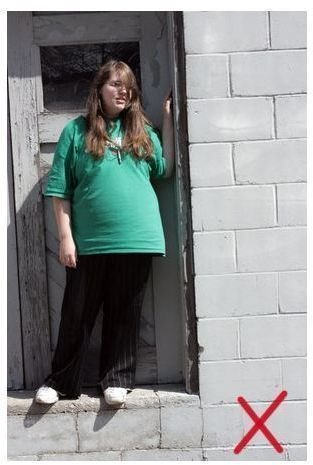 Ask for Model Input
Many plus sized models have a good idea of what angles and positions they look best in or favor when being photographed, so it always helps to talk to your models about their past experiences rather than trying to figure that out for yourself. It can save a lot of time and money so don't be afraid to simply chat with your model or client before photographing her. Ask her things like what angles of herself she is most happy with, what lighting she has had the best photos with, and what mood she particularly favors in her photos. If she has other photos of herself she'd like to show you (such as a portfolio for professional models), you can flip through them and get a fair idea of what you're working with and ask the appropriate questions beforehand.
If you happened to be hired by a client for a project such as bridal or engagement photos, it will help tremendously to ask her to bring in a dozen of her favorite photos of herself. When trying get absolutely stunning bridal photos, the photographer and model need to be able to work very well together. Your model may not be a pro, but she is a bride and wants to look better than she ever has, so be sure you have a firm idea of how to achieve this.
Don't Try to Hide What's There
I think the most important piece of advice for photographing plus sized models is don't try to cover up or hide the fact they are plus sized. It creates a lack of confidence in your photos, from both your end and hers, and will produce very lack luster results. Whether you are photographing a wedding or shooting for a magazine, you will have much better results photographing the real model instead of trying to hide her or cover her up.
While a little post-touchup is perfectly fine and even necessary, don't drastically change your model's size and shape to make the photos look better. If you do your job as a great photographer, your model should already look fantastic in her natural shape! Remember that touching up should not mean totally overhauling your photos because you think your model is unattractive. I'm sure that any plus sized model would agree.