Free Photography Podcasts - Top Photography Podcasts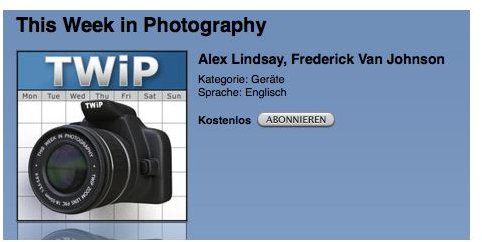 Free Photography Training
Technology has changed the way we live and interact. Especially in regard to educating people, the internet has opened doors to ways that one could not have imagined ten years ago. Given the growth of the internet and the availability of rich media, one should not limit oneself to sticking to classical forms of learning like books, workshops and seminars. In this article, we will look at ten podcasts that will help you educate yourself on the art of photography.
All the podcasts mentioned below are available from the iTunes Store and can be subscribed to free of cost. If you don`t use iTunes, you can still subscribe to the RSS feeds from the individual sites and can listen/watch using any standard feed reader that supports attachments.
1. TWiP - This Week in Photography
I have been a TWiP listener for quite a while now and love the show. Show hosts Fredrick Van, Alex Lindsay, Ron Brinkmann & Scott Simon bring you a complete update of all the happening things the previous week in photography. They cover everything from camera releases to software updates, and the best part is the listener questions and guest interview. An absolute entertaining listen for any aspiring photography enthusiast.
2. D-Town TV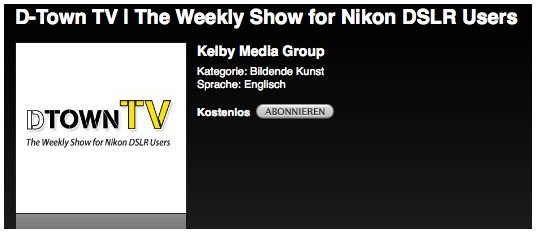 Nikonians rejoice! A podcast completely dedicated to Nikon dSLR shooters presented by the famous Scott Kelby & Photoshop fame Matt Kloskowsky. These guys just get into nits & grits of Nikon dSLRs be it the D40 or the D700. Everything from firmware and accessories to shooting tips from big names like Moose Peterson and Joe Mcnally, its all here. A wonderful video podcast not to be missed.
3. The Art of Photography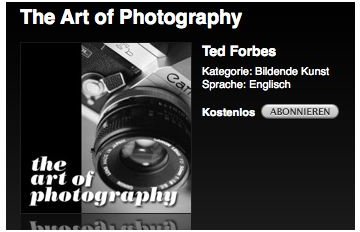 The Art of Photography by Ted Forbes is a podcast that is wholesome and soul satisfying. I've never developed film in a darkroom even though I shot with film SLRs, so looking at darkroom process and learning about them is just a dream come true. Ted deals with the fine details of photography, like the various cameras - some classics included, some film darkroom techniques and finer aspects of shutter speed, aperture values and so on. It`s an educative show that takes you beyond just the techniques and art of photography and is highly recommended for a complete understanding of the art of photography.
4. Photography 101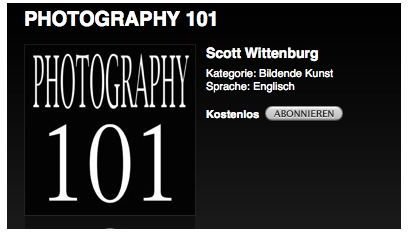 Photography 101 is a video podcast hosted by Scott Wittenburg and, as the name suggests, it`s the 101 course for digital photography. Scott deals with the fundamentals like what do the preset modes on your camera, like shutter priority and aperture priority, mean and when to use them. He talks about everything from cleaning your camera to how to hold your camera and so on. There are also tips on different styles of photography and the stuff you can learn from this podcast is just endless.
5. PhotoWalkthrough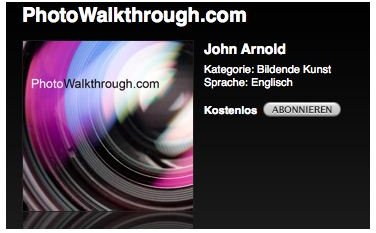 The PhotoWalkthrough podcast is hosted by John Arnold and is an informative and interesting podcast for any aspiring photographer. The podcast is almost designed as a photography course dealing with post processing and also product reviews. The tips and techniques you pick up from this show will help you make more productive use of software like Adobe Photoshop, Adobe Lightroom and so on. The show includes screencasts and detailed explanations on the accompanying blog and also photo competitions with great prizes.
6. The Art of Adventure Photography
The Art of Adventure Photography is a show hosted by Bruce Percy, and is basically a slide show of some of the most stunning photographs covering several genres. Remember all the time you spend just looking at photography on Flickr, this is sort of the same but with some background music, narration and, of course, some stunning photography. I love the podcast not only for the amazing imagery that you see but also for the narration as why and what was running in the photographer's mind while the shot was taken is just the kind of information that enhances your creativity.
7. Photofocus
Photofocus is a podcast hosted by renowned bird photographer Scott Bourne and the famous Rick Sammon. This is mostly a Q & A based podcast where these guys answer questions and queries from listeners on photography. It`s a relatively new show with only two episodes out so far but has great potential to be one of the top photography podcasts in the iTunes store. The Q & A format is a new attempt (as far as I know) in photography podcasting and definitely worth the time. Furthermore, the Photofocus show has a blog with fabulous and informative articles on everything related to photography. Be sure to check it out.
8. The Candid Frame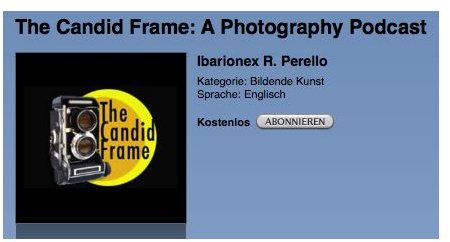 The Candid Frame is a different kind of photography podcast. Photographer and host Ibarionex R. Perello interviews photographers, both established and emerging, and they talk about their approach to photography, life and much more. You might wonder how does this help me become a better photographer? Well, the answer is that you need to learn photography from the inside, it`s not just about reading books and following techniques! It is about thinking is terms of a photographer's perspective and that's exactly what you get from The Candid Frame. Every photographer that Perello interviews also suggests a photographer's work they like and that way you get exposed to the work of so many different artists.
9. Pop Photo Podcasts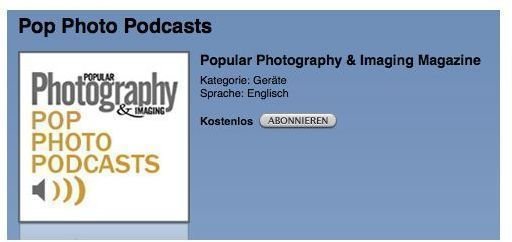 Popular Photography is one of the all time favorite photo magazines and they do a pretty good job on their site with interesting articles and reviews. I am a subscriber to their digital edition and love it. Their podcast complements their magazine and site content. The podcast includes coverage of popular photography events like PMA & CES and covers all news articles and press releases including new camera & lens releases. All in all, it`s an informative source to keep up with the photography gear industry.
10. Tips and Tricks Photography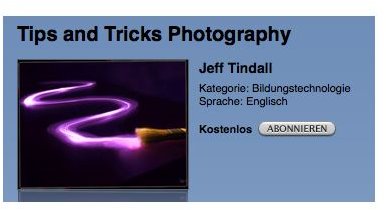 This last photography podcast on our list isn't actually a podcast in classical terms. It does not contain any audio or video content but rather a pdf file! So it may be called a "pod- magazine" (ok, that's a word that I made up!). The content of Tips and Tricks Photography is pretty much straight forward as the name suggests. Every issue includes tips and tricks on photography dealing from anything like framing your photographs - no not the composition, I meant literal framing! - to photography techniques like panning and pin hole photography. The blog shows you the contents of the current "episode" and topics being dealt with. It is well designed and written by Jeff Tindall.