Taking Portraits of Friends and Family for Fun and Profit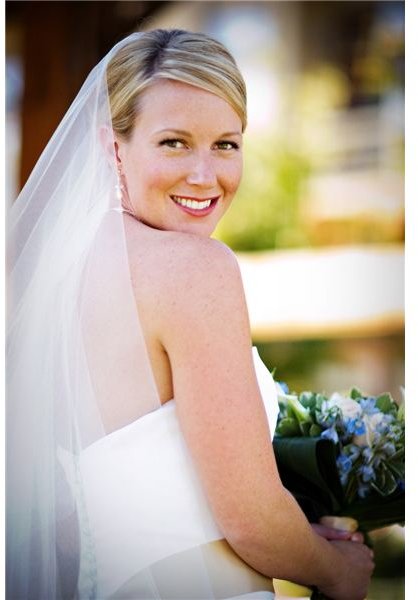 Part 1
If you missed Part 1 of this series: Semi-Pro Photography - Taking Pictures of Friends and Family for Profit and Fun
Portrait Mode Automatic Setting
Many DSLRs and some compact digital cameras come with a portrait mode. While the specifics vary among manufacturers, the general idea is the same. Portrait mode will attempt to use settings that produce a blurry background and soft image. The idea is that most "standard" portraits are taken with these goals in mind.
The blurry background ensures that the subject is the focus of the picture and that the background does not provide a distraction to the viewer. Notice how in this picture, nothing behind the bride is recognizable. As a result, the brain will ignore the background and the full focus will be on the subject.
The soft image is a subject of some debate, but the theory is that softer photos are more flattering. Keep in mind that depending upon the abilities of your digital camera, these goals may not be achievable given the light and composition. So, this can be regarded as a best attempt only. The better the lighting and composition, the more likely the camera will be able to achieve these goals, so it can be a good way to test your setup.
Many cameras will also alter the default focusing method in portrait mode and some may also alter the method the camera uses to calculate exposure. Refer to your camera manual to find out if any of these changes apply to your portrait setting. If so, make a note of them and be sure you test the non-portrait values of these settings when you start using the manual modes.
Semi-Manual Portrait Settings
Most digital cameras also come with what are referred to as semi-manual or half-manual settings. In this mode, the photographer selects either the aperture or the shutter speed and then the camera selects the other one according to what it needs for the proper composition. For portraits, the semi-manual mode in which you can set the aperture is the most useful. Setting the aperture as low as possible will produce the least depth of field, or blurriest background. Since your camera will calculate the shutter speed based on your aperture, this is the only setting you need to make.
However, if your lens is not capable of producing an acceptable exposure based upon your aperture setting, the camera will alert you, either by blinking one of the numbers in the display or providing an error sound. Try the next higher aperture setting, or increase your lighting to take the shot.
Next Up – Digital Camera Portraits With Manual Settings.
This post is part of the series: Semi-Pro Photography - Taking Pictures of Friends and Family for Profit and Fun
Sooner or later, people are going to notice that you are good photographer. When they do, they'll want you to photograph them and their events. By building up your skills as a semi-professional photographer, you can earn money and develop your craft. If along the way you become full pro, great!