Photography Tips: How to Shoot Church Photography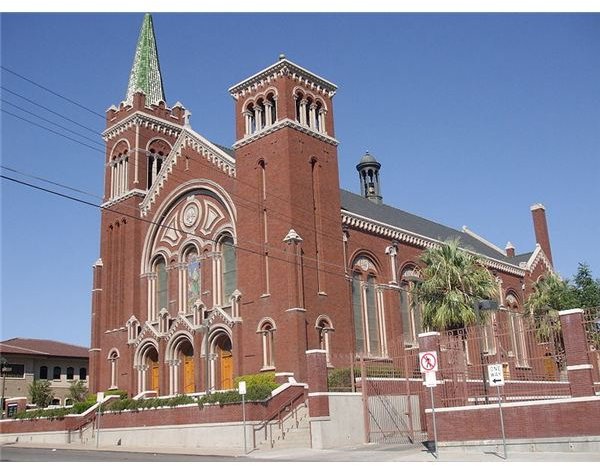 Holy Light
Many locations are documented with photography not because it needs a realistic representation, but instead beauty photography intended to show the grand nature of a location or present it in a holy light. This may be the basis of church photography, which is often used to either portray a religious context or just present the attractiveness of the architecture that marks many churches. Here are a few tips for those new to church photography.
Image credit: Wikimedia Commons/Lyricmac
Tilt
Positioning of the camera lens is always crucial when you are determining how to characterize objects and subjects. Tilting down at them to provide a downward angle of the camera lens diminishes their power, while tilting up and looking up at them presents them with a grander appearance and more authority. This works in church photography both with the church as subject or as setting. You will find few images of churches where the camera is not tilting up at them to make them look taller, and the same goes for objects within grand churches such as the pulpit, organ, or artwork. This is also one of the basic elements used in architecture photography often. The priest has this even more so because of their social class amongst the parishioners, and this is almost universal for church photography unless you are trying to expose the priest as a distinct human away from their social role.
Art Church
Churches do not work like normal pieces of architecture, which tend to have a more distinct sense of practicality to them. Instead, churches are large scale works of art that people gather in to be inspired in a supposedly divine way. The best way to approach church photography is to play with, not against, the visual system of the church. Allow pieces of art in the location to exist in your photos in their entirety rather than being afraid that they will dominate the composure of the image. Churches often have a great deal of photography, especially if they are utilizing rows of pews, so you may want to play with this and avoid asymmetry when characterizing the appearance of the church. Some of this may go against the assumed elements of design in digital photography, yet it is a good way to approach this type of architecture photography.
Colors
Churches tend to run with distinctive color patterns, which traditionally deals with colors of wealth like gold. In U.S. churches you will find many patterns based on wood tones, brick colors, clear white for the exterior, and a generally warm color palette. This gives you the option for how you should approach white balance and color temperature and you can really shift the colors during the photos and during the photo editing process. Avoid an overwhelming number of colors for your photos and instead try to bring out the express colors that are in the church as these are the colors that the church finds characteristic of their point of view. Church photography is really about trying to bring out the hidden elements of this type of place.
Churchgoers
Church can be a very personal place for parishioners, which is why church photography is not always focused on them individually. If you do want to gather the images of those attending the church you will really need to communicate both with the church leaders and the individuals themselves. There is a very serious sense of assumed privacy in a church, especially the relationship between priests and churchgoers, so expect that you will need explicit photo release forms. This is probably a good idea for all church photography, except when you are just looking to do architecture photography with this type of location.
References
Source: Author's own experience.
This post is part of the series: Photography Tips and Tricks
Articles with tips for different types of photography.