Top 5 Free Photo Editing Software for Mac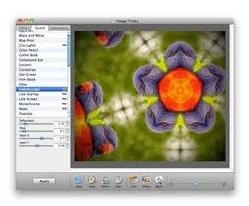 Free photo editing software for Mac can be as powerful as paid applications. If you are not ready to invest on a photo editor, you can try some of these great photo editors for the Mac to see if their extensive capabilities can sway you to stick with the free apps.
Image Tricks
Using the Core Image filters of Mac OS X together with Quartz Compositions for additional special effects, Image Tricks provides a free way for Mac users to produce enhanced images. In addition to these filters, users can get more creative with the images by utilizing the program's tools for adjusting colors, image distortion, and modification of shape and perspective. It also has the ability to generate random images that can be used for all kinds of desktop publishing projects like web design, business cards and all kinds of print materials. All of these features can be utilized through a clean and easy to use user interface.
Pixen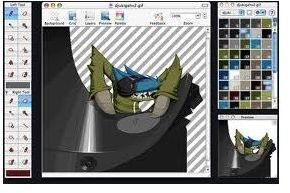 Pixen can handle all kinds of image editing tasks from the simple to the complicated. It is however optimized for use in creating low-resolution images, which is perfect for people who usually work on icons and pixel art. It has a smart color palette swapping feature that makes manipulating both foreground and background imagery easy and efficient. It may be focused on pixel-based images, but it can also handle more sophisticated photo editing.
GraphicConverter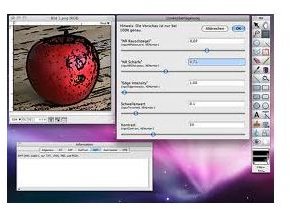 For image conversion, GraphicConverter is a free tool that is a must-have for people who usually work with all kinds of image formats. It can support import and export tasks for about 80 image formats, including the import of images from scanners and cameras. Aside from these key features, GraphicConverter also has capabilities for batch conversion, image browsing, AppleScript support, slideshow generation and basic to advanced image editing tools. It also has a plug-in architecture that lets you install plug-ins that provide additional functionality if you want more sophisticated and complicated features for image editing and management. This image editor can function as a basic image management tool or as a high performance image editing tool.
ChocoFlop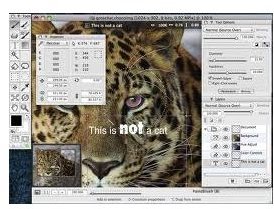 As a non-destructive image editing software, ChocoFlop gives users the chance to play around with its editing tools, including filters and other special effects, without destroying the original image. This means the user does not have to worry about losing the original image even if they have applied a lot of effects and modification to the image. The changes applied will remain visible but they do not actually get applied until the user saves the changes. This is a perfect training tool for people who are just getting started with photo editing. They can practice and develop their skills without the threat of losing their original images. It is a lightweight program, which means anyone can install and launch it quickly and easily.
GIMP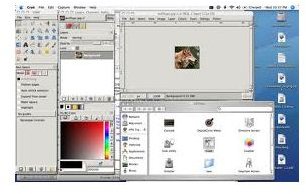 We can't talk about free photo editing software for Mac machines without talking about GIMP. GIMP is the most popular, most trusted and most widely used free software of its kind on the Mac. Its features rival those of paid applications, so you are assured that it is very powerful. It supports basic image editing tasks as well as complex image enhancements, so it is a very versatile piece of software. Whether you are a casual user or a professional designer or artist, GIMP is always a reliable tool for image editing.
References
https://belightsoft.com/products/imagetricks/overview.php
https://www.macupdate.com/app/mac/13363/pixen/
https://www.lemkesoft.com/content/193/key-features.html
https://www.gimp.org/features/